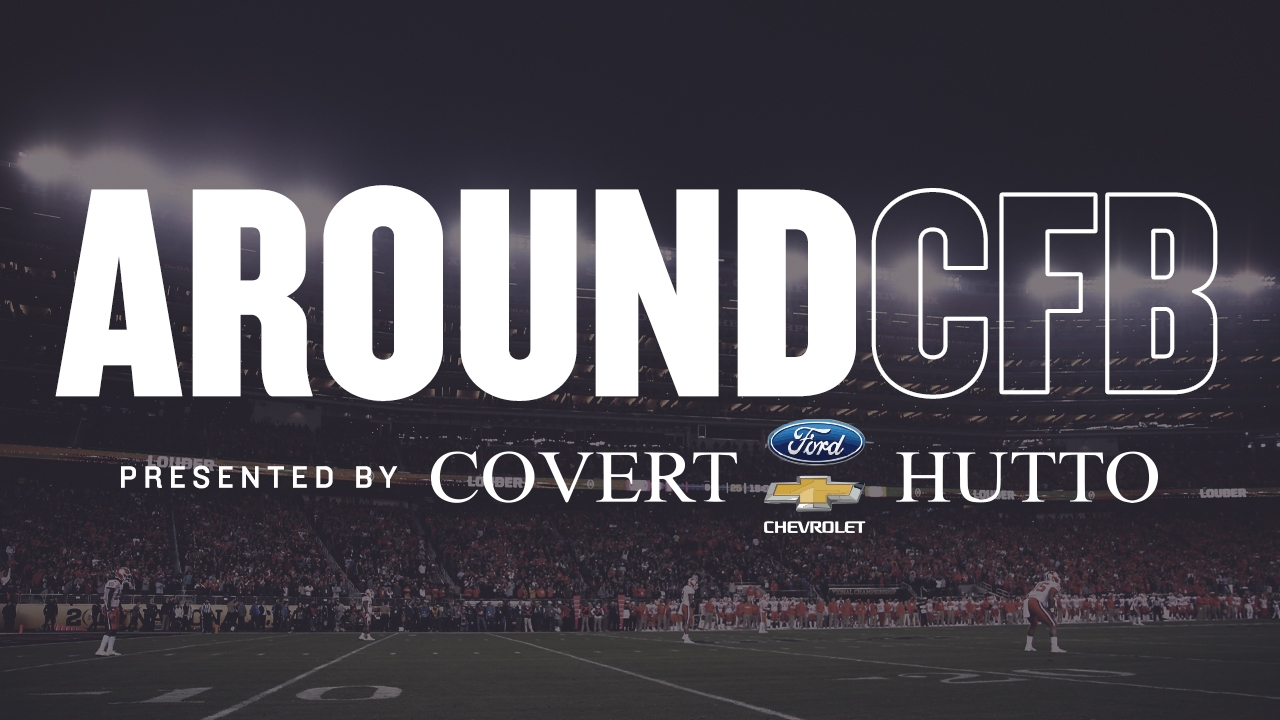 Photo by Mark Rebilas-USA TODAY Sports
Texas A&M Football
Hart of the matter: Fisher isn't under-delivering, just facing more challenges than most
---
During the telecast of Texas A&M's 24-17 football victory over Ole Miss, SEC Network play-by-play announcer Tom Hart suggested that A&M coach Jimbo Fisher has been a disappointment.
"It would be fair to say he has under-delivered at this point," Hart said.
That seemed like an odd comment about a coach whose team improved by two victories and won a bowl game in his first season.
Perhaps, more accurately, it was just an uneducated comment. Maybe Hart wasn't fully aware A&M lost 10 players who are now on NFL rosters or that three projected starters (running Jashaun Corbin, tight end Baylor Cupp and center Ryan McCollum) suffered either season-ending injuries or were able to play sparingly.
Maybe Hart didn't realize six true freshmen, a redshirt freshman and three sophomores were in the starting lineup that night, while only two seniors played.
Then, there is the seemingly convenient omission that A&M's three losses are to unbeaten Clemson and Alabama and 6-2 Auburn.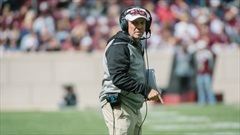 Rey Romo, TexAgs
If that's a disappointing start, imagine how despondent Clemson fans must have been when Dabo Swinney finished 6-7 in his second full season as coach there. LSU fans might have been clinically depressed when Nick Saban managed only eight victories in two of his first three seasons in Baton Rouge.
Still, some could argue that Texas A&M's season has been disappointing because the Aggies were ranked No. 12 in the preseason Associated Press poll.
That ranking was likely a respect to what Fisher may have been able to accomplish rather than projections of where A&M would actually finish.
Of course, A&M's schedule featured four opponents ranked among the Top 6 in the preseason polls. Therefore, most figured in a best case scenario A&M would finish 8-4. Only a handful of four-loss teams typically finished ranked.
If A&M is disappointing, then the Aggies certainly aren't alone. There are several preseason-ranked teams that have failed to deliver, despite playing schedules that aren't as challenging as Texas A&M's.
Texas (5-3) opened at No. 10. The Longhorns lost to TCU (4-3) and narrowly escaped Oklahoma State and Kansas.
Washington (5-3) opened at No. 14. The Huskies lost to Cal (1-4), Stanford (4-4) and Oregon.
Central Florida (6-2) was No. 17. A loss to Cincinnati isn't so bad, but the Knights also fell to Pitt.
Michigan State (4-4) opened at No. 18. Losses to Ohio State, Wisconsin and Penn State are understandable, but how do the Spartans explain a 10-7 home loss to Arizona State?
Iowa State (5-3) was No. 21. The Cyclones have lost at home to Iowa and Oklahoma State.
Syracuse (4-4) was No. 22. Here's your most disappointing team. A loss to Clemson is forgivable. Losses to Maryland, NC State, Pitt and Florida State? Not so much.
Washington State (4-4) opened at No. 23. Its losses included a 67-64 collapse at home to UCLA, in which the Cougars blew a 32-point third-quarter lead.
Nebraska (4-4) opened at No. 24. The Huskers were a popular pick to win the Big Ten West Division. That was before losing to Colorado (3-5).
Stanford (4-4) opened at No. 25. The Cardinal has lost to UCF, USC and UCLA as well as Oregon.
That might not quell the notion that Fisher is under delivering and A&M's season disappointing, but it should at least add some perspective.
Also, consider there are 10 currently ranked teams that opened the season unranked. Of those, only two have victories over currently ranked opponents — No. 22 Kansas State defeated Oklahoma and No. 12 Baylor defeated Kansas State.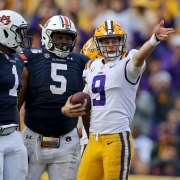 Chuck Cook-USA TODAY Sports
Heisman Watch
(If my ballot was due today)
1. Joe Burrow, LSU, QB: In his first action against an elite defense, Burrow led LSU to a clutch 23-20 victory over Auburn. He completed 32 of 42 passes for 321 yards and a touchdown. Burrow also rushed for a touchdown. He is second in the nation in passing and third in total offense. He's thrown for 2,805 yards and 30 touchdowns.

2. Jalen Hurts, Oklahoma, QB: Imagine the statistics Hurts could compile if he played against OU's defense. Don't blame him for the Sooners' 48-41 loss to Kansas State. Hurts accumulated 491 yards of total offense, passed for a touchdown and rushed for three. He's second in the nation in total offense, has passed for 21 touchdowns and rushed for 13.

3. Tua Tagovailoa, Alabama, QB: Not penalizing a player for missing a game with an injury. Tagovailoa sat the Crimson Tide's 48-7 victory over Arkansas, but still is ranked 15th in the nation in passing. He's thrown for 2,211 yards and 27 touchdowns with only 2 interceptions.

4. Chase Young, Ohio State, DE: Let's be honest. A defensive player has to be unusually dominant just to get in the Heisman discussion. Young qualifies. He posted four sacks, another tackle for loss and forced two fumbles in the Buckeyes' 38-7 destruction of Wisconsin. He leads the nation with 13.5 sacks for 95 yards in losses. He's forced five fumbles. He's also broken up a pass and blocked a kick.

5. J.K. Dobbins, Ohio State, RB: Could just as easily put Buckeyes quarterback Justin Fields here. But while Fields has been consistently productive, Dobbins has been on a tear of excellence in recent weeks. He's averaged 158.2 rushing yards and has scored 4 touchdowns over the last four games. That includes a 163 rushing yards and 2 TDs in the victory over Wisconsin. Dobbins is second in the nation with 1,110 rushing yards and averages 7.2 yards per carry. That's the nation's highest average for anyone with at least 120 attempts.
Predicted playoff participants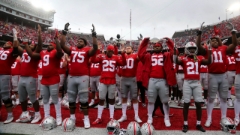 Joe Maiorana-USA TODAY Sports
1. Ohio State: The Buckeyes are the nation's most complete team. The offense is ranked seventh nationally. The defense is ranked second.

2. Alabama: Assuming Tua Tagovailoa is healthy, he's better equipped than anyone to exploit the holes in LSUs secondary.

3. Clemson: Since their close call with North Carolina, Clemson has posted three victories by an average margin of 39.3 points.

4. LSU: Until LSU actually beats Alabama again, I'll take the Tide. However, if the Tigers fall in Tuscaloosa, that might well be their only loss. Even with a road loss to Alabama, the Tigers' resumé figures to trump any other contenders. Besides, television networks would love to hype LSU quarterback Joe Burrow against his old team, Ohio State.
This week's biggest games
No. 8 Georgia vs. No. 6 Florida: It's no longer PC to call this the game The World's Largest Outdoor Cocktail Party. The winner, though, can have a drink to celebrate prevailing in what figures to be a de facto SEC East championship game.
No. 9 Utah at Washington: The Utes have quietly crept back into playoff contention after falling to USC four games ago. A victory in Seattle would certainly help their case.
No. 7 Oregon at USC: The trip to LA looks to be Oregon's last significant test until the Pac-12 championship game.
No. 15 SMU at No. 24 Memphis: There are legitimate aspirates at SMU to reach a New Year's Six bowl game. Memphis is good enough to dash those dreams.
Virginia at North Carolina: The top two teams in the ACC Coastal Division standings square off. The winner gets an inside track at advancing to the conference title game.
MESSAGE FROM OUR SPONSOR
Call or text Chad at Covert Ford in Hutto at 512-633-4819 For new Fords, Chevys and over 900 pre-owned vehicles. Thanks and Gig 'em.
Never miss the latest news from TexAgs!
Join our free email list
PRESENTED BY