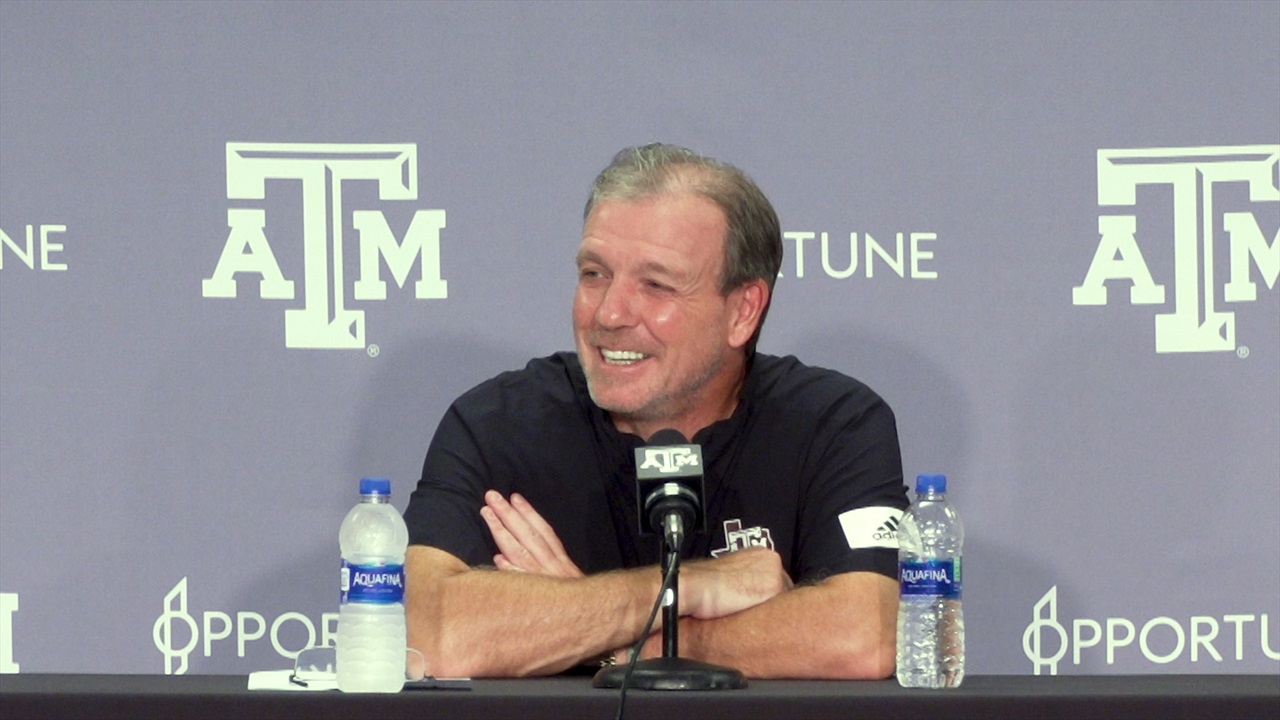 Jimbo Fisher
Kellen Mond
Buddy Johnson
Keldrick Carper
Braden Mann
Ryan Renick
Texas A&M Football
Press Conference: A&M looking to continue rolling against UTSA
---
Texas A&M is looking to continue their winning streak as the UTSA Roadrunners come to town on Saturday. Jimbo Fisher and select players met with the media on Monday to discuss their new-found momentum as well as preparing for UTSA.
NOTE: Videos are being added to the story as they are rendered and become available.
---
The following are live, paraphrased notes from head coach Jimbo Fisher's press conference prior to Saturday's game against UTSA.
After evaluating the film, I think our guys are slowly getting better. The little things are making more and more of a difference. A lot of little things that I have seen in practice are becoming more and more in the run game. We created three big turnovers, and our offense transitioned really well. One of the things we have to work on, on offense, is finishing them off. Special teams — we covered things really well. Ainias Smith almost got out of there on one of the punts. We continue to make strides, and we are taking things from practice into games. Our young guys are making a big impact. There is still a lot of room to grow. Often times, when things are bad, they aren't as bad as you think they are, and when they are good, they aren't as good as you think they are. We are looking forward to playing UTSA this weekend.

When you can create 1-on-1 battles by spreading the ball around, they can't double team. With that regard, Kendrick's size and length and his physicality has been excellent. He has potential, and he has been knicked and knacked all year. We told him, 'we can only stay with you so long.' He has started getting the results now.

At the end of the day, you can't just ask your players to do something. You have to make them do it. It's not about whether you can do it right, it's about can you do it wrong? You have to do stuff so many times that you can't mess up. With the young guys, you have to ask yourself: why are certain things not happening? Can they not do it, or are little correctable things preventing them?

Ryan Renick and Devin Morris had huge games for us on Saturday. It's really cool because they are from around here, and you grow up wanting to play close to where you grow up. Renick is a super player; he is always doing what he is supposed to.

Sometimes walk-ons aren't given as many opportunities, which tells me so much about Renick. He takes advantage of his opportunities. He has it all, and he is going to be successful in whatever he does in life. He is really tough and is playing really good football for us.

Just because you played a really great game doesn't mean the light has come on. Sometimes lights flicker. But after a good game, you have to review why it was good and try to replicate that in the future. If you learn why you have successes and failures in life, you can get better.

I see a guy in Kellen Mond who really knows exactly what is going on out there. The game is bigger than anyone guy or team who has ever played. He trusted his eyes out there and wasn't selfish. He did some really good things and made the right decisions, and we really excelled around him.

Elijah Blades and Demani Richardson are getting checked out by the trainers. They should be good to go.

I don't have a problem with playing non-conference games in the middle of the SEC season.

I understand where Colton Prater is coming from by taking the shoe, but I don't condone it. Let the official take the shoe. It comes from a good place, though, but really, over a shoe? Maybe if he was beating up his quarterback, it would be different. But a shoe? I tell Kellen just to score next time and that wouldn't be a problem. I love Colton and would walk down an alley with him no problem.

UTSA presents a lot of things defensively. I have known their head coach, Frank Wilson, for a very long time. Some of the stunts and things they do are as good as anybody that we have played.

You have to push these freshmen, and then, hug them after. It doesn't surprise me how well they have done because they are so talented. You just never know how guys are going to adjust. In today's college football, it's more like a 53-man roster than an 85-man roster with all the transfers, injuries, redshirts, etc.
Never miss the latest news from TexAgs!
Join our free email list