Texas A&M Football
Week Eight Overnight Sensation: DeMarvin Leal, Defensive Lineman
---
Each Monday during the 2019 Texas A&M football season, we'll identify a first or second-year Aggie player who delivered an exceptional performance and earned the distinction of being the week's 'Overnight Sensation.'
---
"He's such a versatile guy. You're talking about a guy who is 6-4, 280 pounds, can play outside, can play inside, there's so much he can do and he is so athletic...a phenomenal football player."
That was Texas A&M head coach Jimbo Fisher just hours after securing the signature of one of the most pivotal pieces of the Aggies' 2019 Signing Class. That signee was DeMarvin Leal.
Making his second straight start in as many games on Saturday for the Maroon & White, Leal began to consistently show flashes of why the Aggies' National Championship head coach raved about him on signing day.
Coach Fisher wasn't the only one who thought highly of the borderline five-star coming out of high school. TexAgs co-owner and executive editor Billy Liucci laid out his evaluation of Leal after he committed to the Aggies.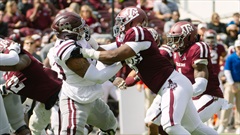 Rey Romo, TexAgs
"At nearly 6-4 and almost 280 lean pounds, DeMarvin blends incredible quickness, raw athleticism and explosive power into a frame that will probably carry around 300 before all is said and done. Leal's skill set combined with the type of relentless effort you just don't typically see from blue-chip defensive line prospects north of 260 pounds should translate into a very quick transition to the college game and rapid ascension into the starting lineup."
It hasn't been an easy path for Leal since he set foot on campus in January as an early-enrolee. The defensive lineman suffered a knee injury during workouts and was forced to sit out all of spring football and A&M's spring game, slowing his adjustment period to the speed of the college game.
But now the first-year man out of Converse Judson High School is making up for the lost time. In his two starts against Ole Miss and Mississippi State, DeMarvin has recorded 11 tackles during Texas A&M's two-game SEC win streak. The one thing still eluding Leal on the stat sheet, however, is his first career sack.
He will look to secure that next Saturday at Kyle Field as the San Antonio kid and the Maroon & White take on the UT-San Antonio Roadrunners in the Aggies' final nonconference game of the season.
Leal's stats against Mississippi State:
Tackles: 6 (career-high)
Solo Tackles: 2
Tackles for loss: 0.5
Leal's season stats:
Tackles: 17
Solo Tackles: 3
Sacks: 0
MESSAGE FROM OUR SPONSOR
With a privileged location directly across from Kyle Field, the Doug Pitcock '49 Texas A&M Hotel and Conference Center offers 250 guest rooms, rooftop pool, dining outlets, a two-story bar and lounge, and conference center with 35,000 square feet of meeting and event space.
Never miss the latest news from TexAgs!
Join our free email list
PRESENTED BY