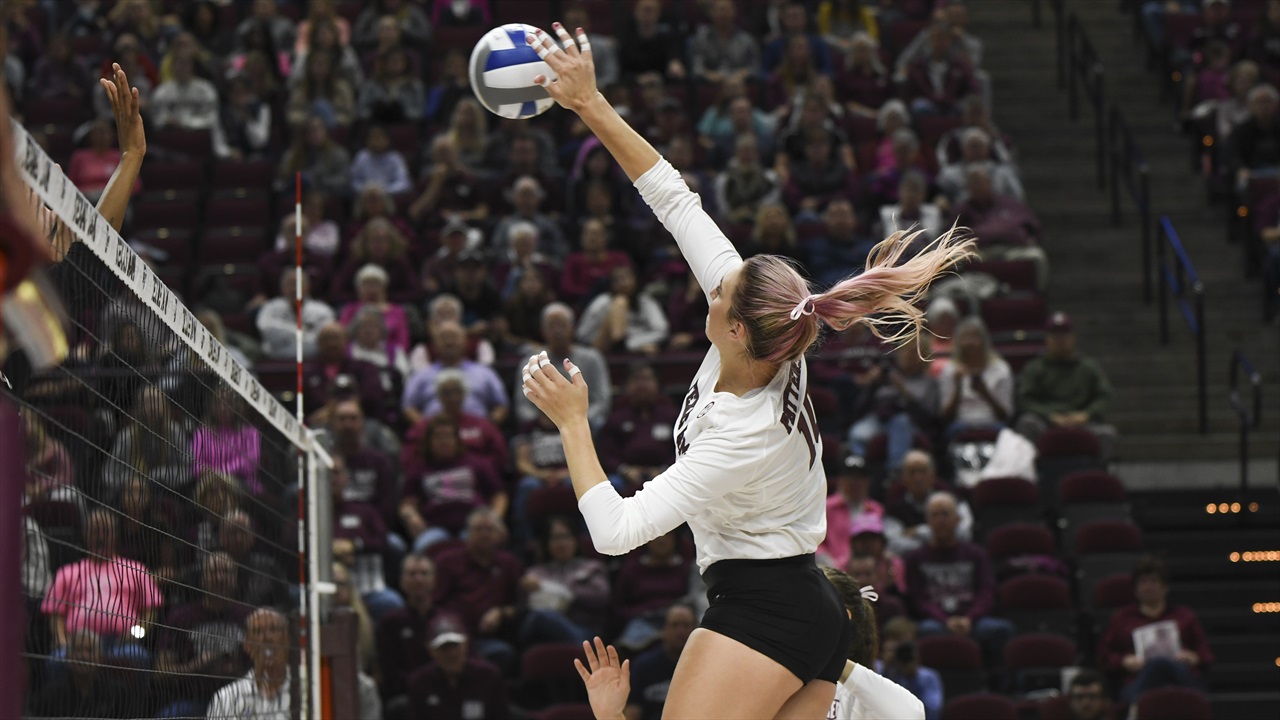 Texas A&M Volleyball
A&M volleyball team sweeps South Carolina in first of two-game weekend
---
Texas A&M Volleyball (11-4, 3-2) defeated the South Carolina Gamecocks (10-7, 2-3) in three sets. The Aggies returned to Reed Arena to continue their undefeated home streak (6-0), celebrating their first October home game with their annual "Dig Pink" night in support of breast cancer awareness. The Aggies got a much-needed win after going 1-2 on their three-game conference road trip, with both losses occurring in five sets.
Set One: Texas A&M 25-15
The Aggies took care of business in set one, finishing 25-15 to take the early match lead. After jumping out to a 12-5 start, the Aggies maintained control throughout the set. The Gamecocks called timeout, down 19-11, as a last effort to earn back some momentum but the Aggies responded with offense. Makena Patterson slammed down her third kill at set point for the win. The Aggies dominated with a .440 kill percentage; Mallory Talbert led the team with four. Three Aggies including Hollann Hans, Allison Fields, and Camila Gomez, recorded aces in the set.
Set Two: Texas A&M 25-17
Texas A&M claimed set two despite faltering their lead midway through the set. The Aggies were on top early; however, the Gamecocks fought their way back to a 10-9 lead and forced an A&M timeout. Offense allowed the Aggies to regain the lead, totaling a kill percentage of .364 while holding the Gamecocks to .083. Another three Aggies: Taylor Voss, Makena Patterson, and Camille Conner served aces in the set. Hans had a team-high eight kills in the set and a total of ten thus far.
Set Three: Texas A&M 33-31
Set three was a back-and-forth battle with ten lead changes and 22 tie scores. The Aggies rallied for a 33-31 win, not only securing the set and match victory but serving as a huge momentum piece for a team that has struggled winning deep in sets. South Carolina was in control until the Aggies tied it at 17 after winning a tip challenge. Conner followed that point with an ace and from then on, momentum wavered between the two teams. With the score knotted at 28, Hans had a monster kill to put Texas A&M at a 29-28 match point but the Gamecocks stayed alive. Hans ended it for good with a kill for the 33-31 win. She led the team with eight kills in the set and Talbert followed with five.
Postgame Thoughts
"A 3-0 win in this conference is solid, we'll take that. It's great to be home," said coach Laura "Bird" Kuhn. "We've focused on holding the lead after Texas and after Tennessee it was competing and finishing. This week was more centered around pressure situations where they had to compete."
"We've been working on defense in practice. We also spent a whole week on situational drills where we have to finish. Coming into the game it's so much easier," said junior setter Conner.
"Finishing has been our focus and it showed the way we composed ourselves and finished strong. We've been talking about not looking at the score, but next the play. [South Carolina] played really well in that third set but we didn't let up," said senior outside hitter Hans.
Up Next
The Aggies are back at it again at home on Sunday against No. 14 Florida with first serve at 12:00 p.m.
Never miss the latest news from TexAgs!
Join our free email list