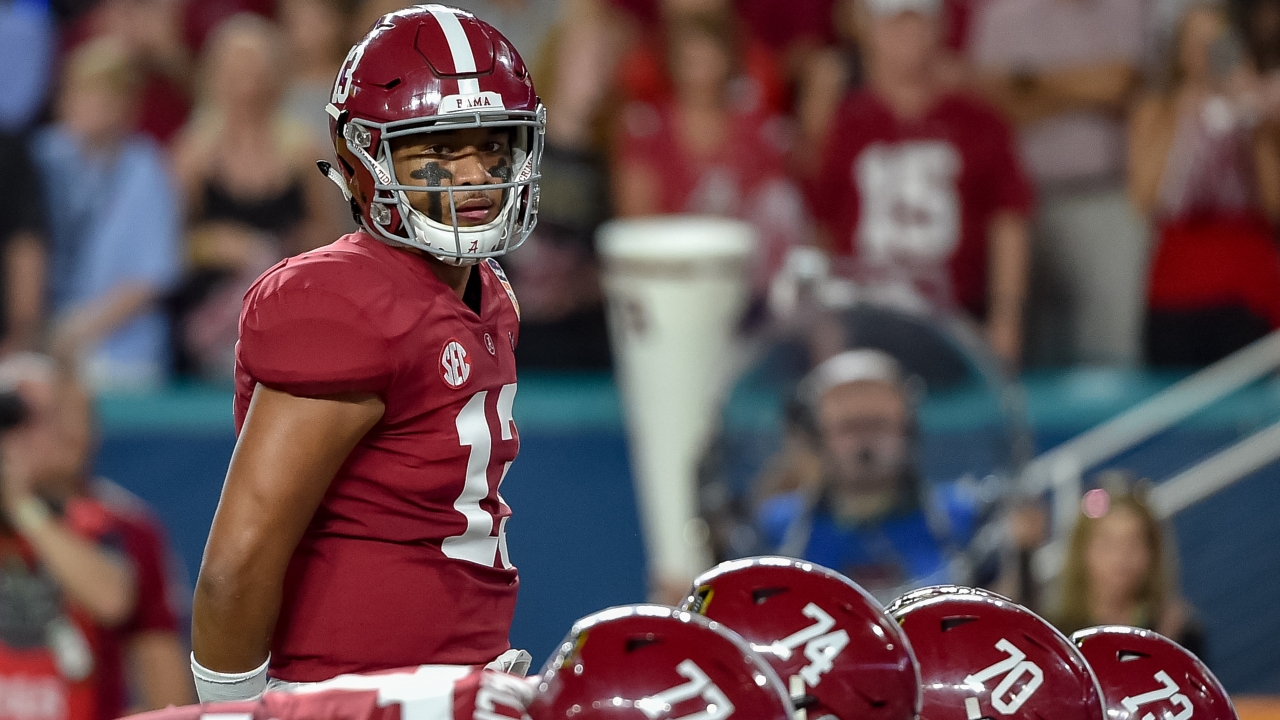 Photo by Steve Mitchell-USA TODAY Sports
Texas A&M Football
SEC Round-Up: Tide struggling to live up to fanbase's sky high expectations
---
An uncharacteristic angst has emerged in Tuscaloosa.
The usually supremely confident Alabama fandom is dumbfounded by the Crimson Tide's substandard play.
The traditional powerful running game is averaging a pedestrian — by Alabama standards — 174 yards per game. Adding to the concern, center Chris Owens is hobbled with a knee injury and may not play on Saturday against Texas A&M. That will cause a shakeup in the offensive.
There is even more angst about the defense, which hasn't been its typically suffocating self. Linebackers Dylan Moses and Joshua McMillon sustained season-ending knee injuries before the first game and were replaced by true freshmen.
Consequently, the Tide has produced only ten sacks in five games and are ranked 51st in the nation in rush defense. Just two weeks ago, Ole Miss backup quarterback John Rhys Plumlee rushed for 109 yards against the Tide.
Alabama coach Nick Saban acknowledged a need for dramatic improvement against running quarterbacks, like A&M's Kellen Mond.
"I think it's player awareness," Saban said. "We certainly try to do those things on a daily basis ... but players have to be disciplined in doing their job. That's something we definitely have focused on and need to improve on."
With so much focus on improving the Tide's spoiled fan base, the team appears to have lost some of their focus. Despite a mediocre ranking in some statistical categories, Alabama is ranked No. 1, has won all five games by at least 24 points and averages more than 50 points behind a brilliant passing game led by Heisman Trophy-contending quarterback Tua Tagovailoa.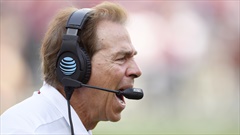 John David Mercer/USA Today Sports
"They're No. 1 for a reason," A&M coach Jimbo Fisher said. "Defensively, upfront, they've got experience with (Terrell) Lewis and (Anfernee) Jennings. Raekwon (Davis) is a huge guy inside that has played a lot of football. The secondary is really experienced. (Patrick) Surtain is a really good corner.
"We know the offense starts with Tua just commanding things, making decisions, accurate with the ball. Their receivers are dynamic."
Goals at Alabama are different than most college football programs. Anything short of a national championship is considered a disappointment. That's why some there is so much angst in Tuscaloosa.
But the No. 1 ranked Tide might be the best team in college football whether its fans realize it or not.
Around the SEC
This week's games: Alabama at Texas A&M; Arkansas at Kentucky; Florida at LSU; South Carolina at Georgia; Ole Miss at Missouri; Mississippi State at Tennessee; UNLV at Vanderbilt
Who's hot: Ole Miss defensive tackle Benito Jones has 4.5 tackles for loss in the last two games. He now leads the SEC in that category with 7.5.
Who's not: Kentucky quarterback Sawyer Smith is finding life in the SEC rough. The transfer from Troy (who was thrust into the starting lineup when starter Terry Wilson suffered a season-ending injury three games ago) is struggling mightily. In the last two games, he's completed just 26 of 73 passes (35.6 percent) for 322 yards and no touchdowns. Thus far, he's thrown four touchdown passes and five interceptions.
Keep an eye on: Missouri's run defense has been among the best in the SEC. The Tigers have allowed 147 total rushing yards over the last four games. However, that was accomplished with linebacker Cale Garrett leading the defense. Garrett had surgery on Tuesday to repair a torn pectoral tendon suffered in the first quarter of last week's 42-10 victory over Troy. Garrett, who is second in the SEC in tackles and interceptions, could miss the rest of the season. That could put a big hole in the Tigers defense, especially against the run. Garrett will be replaced by sophomore Cameron Wilkins of Del Valle. The Tigers face Ole Miss, which is second in the SEC in rushing offense.
The pressure is on: Arkansas has lost 13 consecutive SEC games. The Razorbacks trip to face struggling Kentucky might represent their best chance to notch a conference victory. Auburn, Alabama, Mississippi State, LSU and Missouri also remain on the schedule. If the Razorbacks don't win in Lexington, it's a real possibility — some would say probability — they go winless in conference play for the second consecutive season.
Best matchup: Behind quarterback Joe Burrow, LSU's offense has gone from stone-age to space-age. The Tigers are averaging 416 yards per game to rank second in the nation in total offense. However, the Tigers haven't yet faced a strong defense. Their four FBS opponents are all ranked 103rd or worse in pass defense. That will change against Florida. The Gators are 19th in pass defense and have allowed just four touchdown passes while grabbing a national-leading 12 interceptions. Florida is also tied for third in the nation with 26 sacks.
Never miss the latest news from TexAgs!
Join our free email list
PRESENTED BY