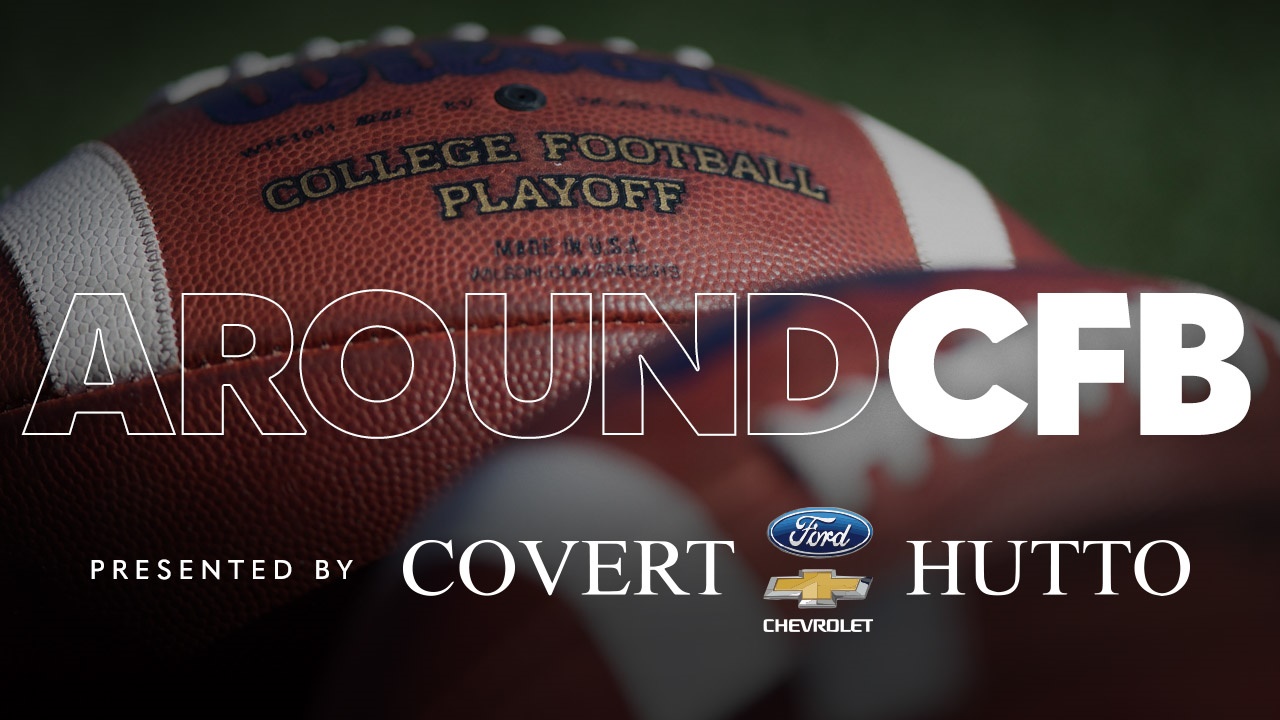 Photo by Jeff Hanisch-USA TODAY Sports
Texas A&M Football
Around CFB: Strong Week 7 slate should provide more clarity, excitement
---
You waited nearly eight months between college football games only to see late August mismatches. But it was better than nothing.
A few early games got your attention — Oregon vs. Auburn, Texas A&M at Clemson, LSU at Texas — but the vast majority of games weren't too interesting.
Sure, Georgia State's stunning upset of crumbling Tennessee and Florida State's overtime escape from ULM was amusing, but you really wanted more. Especially more than the Week Three yawnfest that matched no ranked teams and was highlighted by that always nasty Iowa-Iowa State rivalry.
Many of the top-ranked teams in the country haven't legitimately been challenged. Alabama's toughest opponent thus far? Probably Duke (3-2). Ohio State's toughest game? A 24-point victory over Michigan State. Oklahoma's greatest challenge was subduing Houston (2-3), 49-31.
So far, you've learned:
The Pac-12 is — for all practical purposes — already eliminated from playoff consideration.
The Big 12 is clearly a two-team race.
Clemson's only threat in the ACC is its own lack of interest. Unless the Tigers lose focus and allow another inferior opponent to sneak up on them — as North Carolina did — they figure to cruise to another conference championship.
The SEC, again, is the strongest football league in the land as five teams in the current Top 12 will attest.
You've enjoyed the appetizers, but you want the meat-and-potatoes of the college football season. This is the week for which you've been waiting. This is the week in which strong teams begin consistently colliding in games that will have conference championship and playoff implications.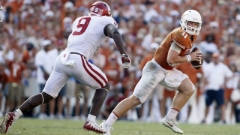 Tim Heitman-USA TODAY Sports
Four games match ranked opponents. The best team in the Big 12 will be determined with No. 6 Oklahoma and No. 11 Texas sparring in Dallas. No. 5 LSU's dazzling new pass-oriented offense will face its first real test against No. 7 Florida. No. 10 Penn State will look to defeat No. 17 Iowa and show it can at least challenge No. 2 Ohio State in the Big Ten East. No. 24 Texas A&M looms as No. 1 Alabama's greatest test to date.
Also, USC and Notre Dame renew their storied rivalry, though the Trojans may not hold up their end. The same goes for Florida State against Clemson.
Michigan State at Wisconsin, Washington at Arizona, Washington State at Arizona State and Texas Tech at Baylor are at least interesting.
More good weeks of great games are to follow, too. But if for some reason college football gets too exciting — and you need more stress-free more dull like those so prevalent earlier in the season — you can still look forward to the first week of November.
Georgia and Florida play that week. The other games on the schedule then look to be pretty weak.
Heisman watch (If my ballot was due today)
1. Jalen Hurts, Oklahoma, QB: Hurts had a rather pedestrian performance in a 45-20 victory over Kansas. He passed for 228 yards and 2 TDs and rushed for 56 yards and 2 TDs. Though pedestrian by his standards, that's still the fourth game in which he's accounted for at least four touchdowns. Hurts remains second in the nation in total offense with an average of 404.4 yards per game. He's responsible for 21 touchdowns — 14 passing, seven rushing. This week he faces Texas, which is ranked 126th in pass defense.
2. Joe Burrow, LSU, QB: Yet another big game from Burrow. He passed for 344 yards and 5 TDs. He also rushed for 42 yards and another score. Burrow is third in the nation in total offense with an average of 385.2 yards per game. He's accounted for 24 TDs, 22 of which through the air. The only question about Burrow is the quality of competition. The four FBS teams he's faced are ranked between 103rd and 126th in pass defense. He can answer doubters this weekend against Florida, which is ranked 18th in pass defense.
3. Tua Tagovailoa, Alabama, QB: The Crimson Tide was open last week. Tagovailoa remains third in the nation in passing with 1,718 yards, 23 touchdowns, and zero interceptions. He's also sixth in total offense. He's rushed for 2 TDs. He next faces Texas A&M, which is ranked 31st in pass defense.
4. Justin Fields, Ohio State, QB: Fields had a strong showing in a 34-10 victory over Michigan State. He passed for 206 yards and two touchdowns and rushed for 61 yards and a touchdown. He's rushed for 283 yards and passed for 1298 while accounting for 26 TDs — 18 passing, eight rushing. The Buckeyes are idle this week.
5. Sam Ehlinger, Texas, QB: Ehlinger passed for 211 yards and two touchdowns and ran for 2 TDs in a 42-31 victory over West Virginia. He ranks ninth in the nation in total offense with an average of 336.8 yards per game. Ehlinger has passed for 17 touchdowns and rushed for 3. This week he'll face Oklahoma, which is ranked 46th in total defense.
Predicted playoff participants
1. Ohio State: The Buckeyes are fast on offense and defense.
2. Alabama: Sure, there are questions about the defense. The offense is fantastic, though.
3. Oklahoma: The nation's highest-scoring team just has to get by seven more Big 12 defenses.
4. Clemson: The defending national champions have issues, but the bet here still is they finish unbeaten.
This week's best games
No. 7 Florida at No. 5 LSU: This game should determine how legitimate LSU's offense really is.
No. 6 Oklahoma vs. No. 11 Texas: Whatever it is, take the over.
No. 10 Penn State at No. 17 Iowa: Nits look to prove they're indeed for real. Hawkeyes already have shown they're not.
USC at No. 9 Notre Dame: It's a classic rivalry. Not sure how good — or bad — these teams are.
Washington State at No. 18 Arizona State: Mike Leach's fat, dumb, happy and entitled players are still fun to watch and easily could upset the Sun Devils.
MESSAGE FROM OUR SPONSOR
Call or text Chad at Covert Ford in Hutto at 512-633-4819 For new Fords, Chevys and over 900 pre-owned vehicles. Thanks and Gig 'em.
Never miss the latest news from TexAgs!
Join our free email list