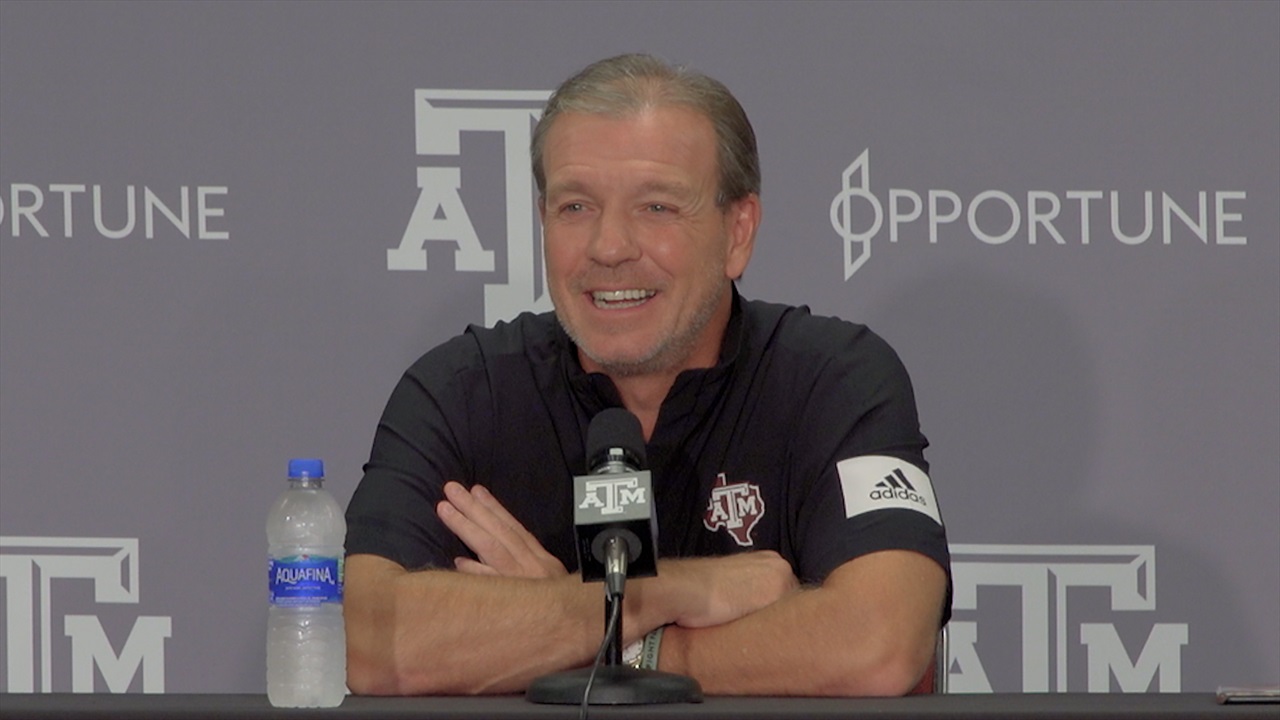 Jimbo Fisher
Jacob Kibodi
Cagan Baldree
Carson Green
Jhamon Ausbon
Buddy Johnson
Kellen Mond
Bobby Brown
Texas A&M Football
Aggies preparing for another group of Tigers as No. 8 Auburn comes to town
September 16, 2019
15,841
---
Texas A&M took care of business on Saturday, downing Lamar 62-3 and must get ready for SEC play. The Aggies will hit the ground running as No. 8 Auburn travels to Kyle Field this week, A&M's second Top Ten opponent of the young season.
---
The following are live, paraphrased notes from head coach Jimbo Fisher's press conference prior to Saturday's game against Auburn.
I am very proud of our team with how we did against Lamar. Special teams were outstanding. We had one punt, but it was inside the 20. Roshauud had some great returns. That is so important because that's extra yards. Offensively, I thought we were very efficient. I thought Kellen did well and managed the game. Zach and James did some really good things. Ainias did some great stuff. Kibodi and Spiller did well carrying the ball. Some good decision-making. Tight ends, we are still working on that; they got some good reps. We also had a blocked field goal, and that was a big deal. Being able to do that is critical. We had one last year too.

We have an excellent Auburn team coming to town. Gus Malzahn is doing a great job, and he always does. Defensively, outstanding. They are about as good of a defensive front as there is in all of college football. Getting separation against their secondary is hard. We are going to have our hands full. This is a very important conference game and an inter-conference game at that. This is going to be one heck of a test for us.

Getting Renfro back was huge; he did some really good things. He almost had a pick. He did some really good things. Elijah Blades should be fully healthy, and he will practice today.

Bo Nix is a fantastic quarterback. His dad played for me. I know he and his dad are winners. We have to prepare for him. He has all the intangibles. Hopefully, we can play well against him.

Whether you win the game, you still have to line up and play the next one. No one game is bigger than any of the others. The biggest game is the one that's ahead of you that week.

Their whole defense is outstanding, but we have a very good front too. Auburn is big, physical and it is going to be one heck of a battle. Everyone who plays them is going to have a tough test.

I know from conversations with my own son, I think it does make a difference to have a parent that played or coach the game. My son is smarter in a football sense than I ever was. Having that parent doesn't help you athletically but mentally, I think you have an advantage just knowing the game.

Our identity is never going to change. The only thing that changes is the personnel and letting players try it and see if they can do it or not. We have so many young guys getting time.

I think Kellen Mond played very well against Lamar. I don't think his confidence ever changed after the Clemson game. He didn't play as well, but he certainly had confidence. I'm the same way with my play calls, but I don't lack confidence.

Cagan Baldree was a 275-pound offensive lineman. That isn't big enough in our league. So we thought the change to fullback was a good fit. He is a great human being, and I mean that. Fullback is a thankless position. A lot of times, you are just blocking. He is so smart and so physical.

Jayden Peevy should be practicing and ready to go this week. He could have played against Lamar, but we held him on stand-by precautionarily. Max Wright is day-to-day right now. I'm not sure if he will practice today.

Stopping the run and then their fly sweeps and everything is going to be a huge challenge. We are going to have to be physical upfront. It's going to be a physical game.

Kevin Steele does a tremendous job of getting his defense ready with all the different packages and looks he brings at you. I don't know if Auburn was the toughest loss last year. They are all tough.

There isn't much knocking down anymore, just watch on Sundays. Bobby Brown can bend. He's athletic, and he's a guy that can help us move piles. He is just so athletic and has so much power. The other day, we ran one, and it was a good fight. Then, Bobby came in, and bam, he moved the whole pile. He creates seams.

Turnovers and big plays determine the games. We chart big plays. We had five drops of over 15 yards or more against Clemson. The tougher the competition is, the harder it is to do that. We do it in practice.

I've been very impressed with Jalen Wydermyer and how he is coming along. He has been a threat in the passing game, and he is going to be an incredible player. Glenn Beal as well.

Ainias Smith would have played earlier, but he got hurt in practice. He has done some good things, and he will be in the mix going forward.

Ainias has a brother who was in the NFL. We always wanted him and loved him. His family did all the research, and that's not a bad thing. He was a late add, but we wanted him the whole time. He has a very good skill set, and he is a good receiver. He would be an excellent defensive player too. He's a football player.
Never miss the latest news from TexAgs!
Join our free email list