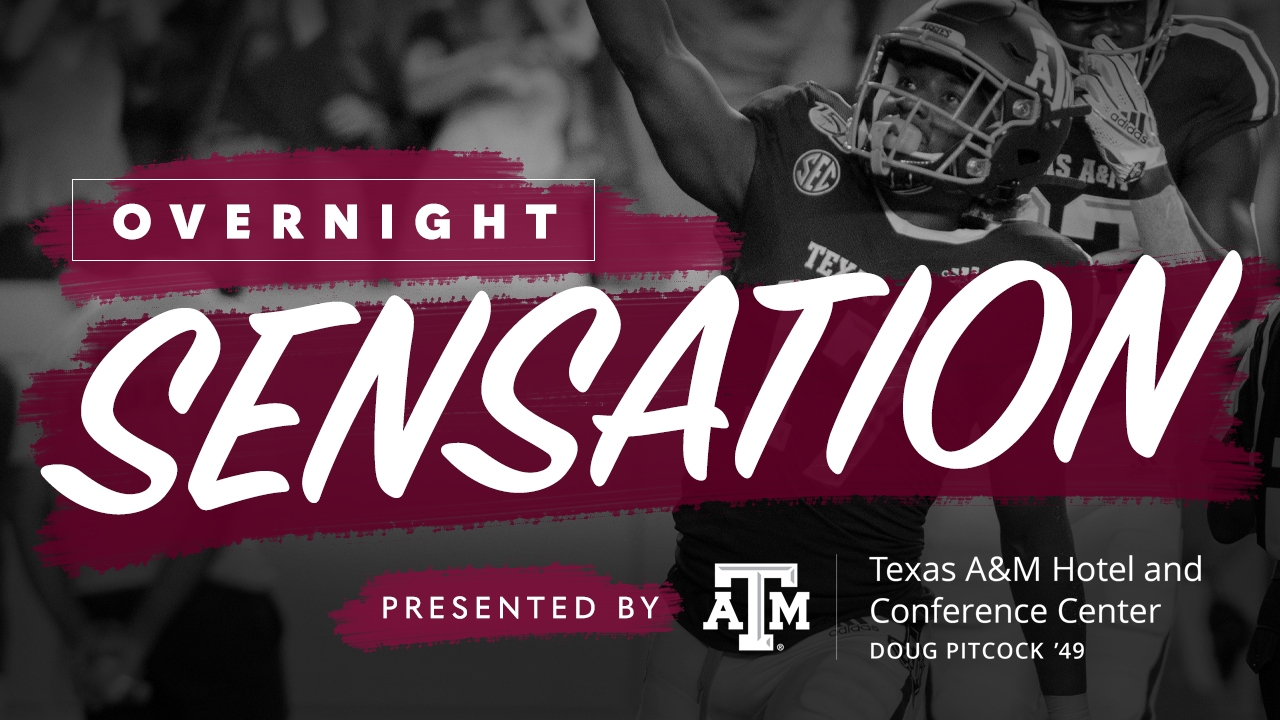 Texas A&M Football
Week Three's Overnight Sensation: Ainias Smith, Wide Receiver
---
Each Monday during the 2019 Texas A&M football season, we'll identify a first or second-year Aggie player who delivered an exceptional performance and earned the distinction of being the week's 'Overnight Sensation.'
---
The Aggies' victory was never in doubt on Saturday night as they handled the Lamar Cardinals convincingly on their way to a 59-point victory at Kyle Field. But coming out in the second half, the Maroon & White were looking for a spark on the offensive side of the ball.
Enter true freshman wideout Ainias Smith.
Smith was famously one of the final arrivals to the 2019 Texas A&M class, choosing the Aggies on signing day over David Cutcliffe in Duke. Following the game on Saturday, Jimbo Fisher reiterated that the Aggies wanted the speedster out of Houston all along.
"We wanted him the whole time. It was his decision to be a late addition to the class." He would continue on about what the dynamic pass-catching weapon brings to the A&M offense.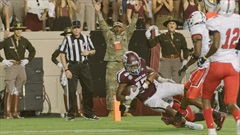 Rey Romo, TexAgs
"He's a very talented guy. (Smith) can help in the return game, he can catch in the slot... and runs routes well."
It was that dynamic-ability to line up anywhere on the field that stood out to TexAgs senior recruiting analyst Jason Howell on Signing Day back in February.
"He can line up so many places. He's a guy who can jump in at the slot, serve as an all-purpose back, jump over to DB, and he's a playmaker as a return man on special teams."
Throughout much of the second half, Ainias seemed to become A&M's only target through the air. He tallied six catches for 66 yards and a touchdown in his two-quarters of game action, and Smith and freshman quarterback Zach Calzada just missed connecting a few other times.
On his touchdown grab, Smith showed the athleticism that had recruiting analysts raving when he signed out of Fort Bend Dulles. He caught the ball inside the 10-yard line, stopped on a dime, shook off a would-be tackler and accelerated towards the goalline.
It will be interesting to see how Darrell Dickey and Jimbo Fisher use the young weapon in the passing game moving forward. Quartney Davis is expected back in the lineup next Saturday after sitting against the Cardinals with a minor injury. But after a sensational performance like Smith had Saturday, you'd expect the Aggies to try to get the ball in Ainias' hands against the Auburn Tigers.
Smith's stats against Lamar:
Catches: 6
Receiving Yards: 66 yards
Yards/Catch: 11.0
Long Reception: 20 yards
Touchdowns: 1
MESSAGE FROM OUR SPONSOR
With a privileged location directly across from Kyle Field, the Doug Pitcock '49 Texas A&M Hotel and Conference Center offers 250 guest rooms, rooftop pool, dining outlets, a two-story bar and lounge, and conference center with 35,000 square feet of meeting and event space.
Never miss the latest news from TexAgs!
Join our free email list