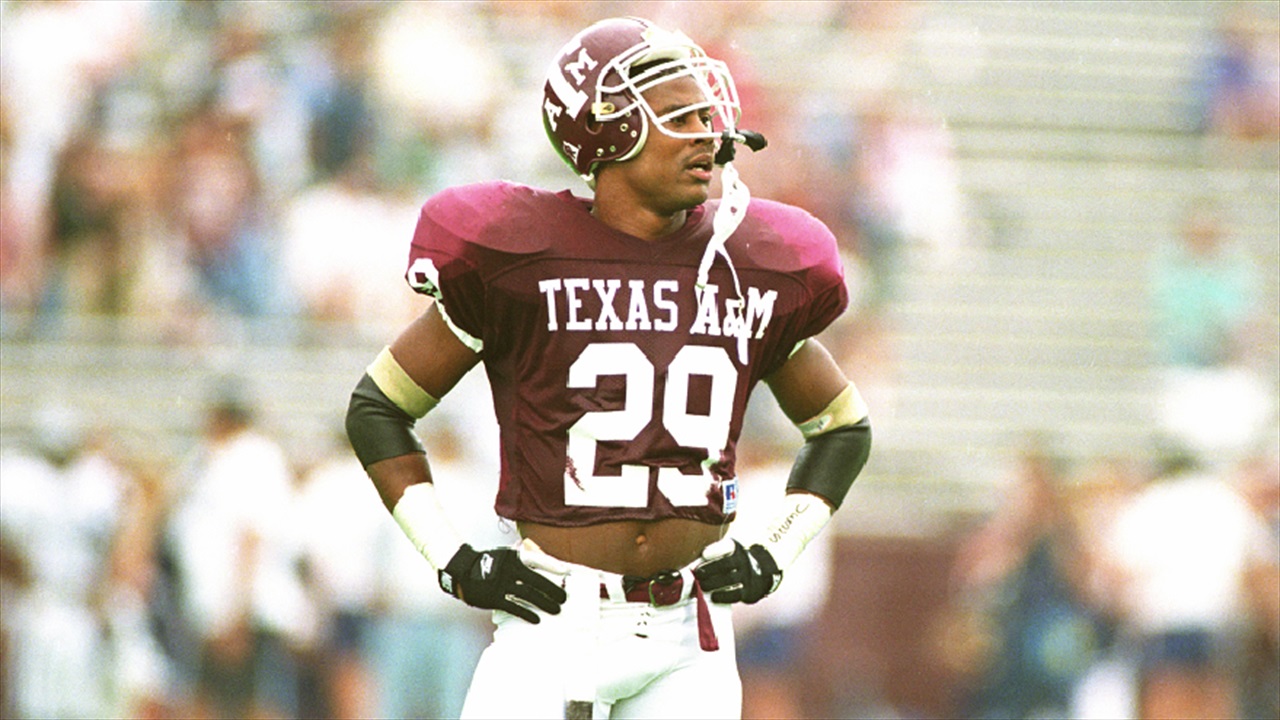 Photo by Cathy Capps, Texas A&M
Texas A&M Football
All-American Safety Patrick Bates on his induction into A&M's Hall of Fame
September 13, 2019
10,634
---
Key notes from Patrick Bates interview
I'm thrilled and very humbled to be inducted into the Hall of Fame. This is very exciting to be back here at Texas A&M University. I'm thrilled and humbled. It's been great to have my family here. It's also nice to get to meet the guys and have a chance at a reunion, so to speak. Quintin Coryatt and Kevin Smith will be here, but Aaron Glen and some of those guys have to work. I'm just really excited to be here.

The Spring Legends Game was fantastic. It was great to have a chance to play and have fun. I had a chance to catch a touchdown, which was something I hadn't ever done before. That was great. I had a chance to play and have Coach Slocum coach us again. We had a good time connecting with some fans and players and just had a really good time.

I'm in the Dallas-Fort Worth Area. I have a company called Legends. We are working with players and coming together as one group. We're focused on branding ourselves. We're working to bring our likeness together. We're working with the University of Texas, University of Houston and will probably kick off soon as the College Football Legends. We're engaging players at their school. Bringing some of the legends back to Texas, Baylor, and the University of Houston and letting fans engage with players and legends again.

It was amazing- being in the back of Quintin Coryatt, Sam Adams, Ray Mickens, and Derrick Frazier- those guys made my job easy. Those guys are fantastic. I believe at that time we were ranked number one or two most of the time. At that time, we're playing some of the best defenses in the Southwest Conference. It was great to compete. We were blessed to win every game at Kyle. It was amazing and truly was an honor to play with them at Kyle Field and then to see them go on and have great careers.

I remember the first game- I think we played LSU. I think I had two interceptions. We knew it was a unique defense and a special place. I'm excited to come back home. I knew it was a special place, and I'm excited to be home. I get chills thinking about tonight.

Actually, at the time I went to UCLA, Texas A&M and the Southwest conference had a lot going on. There were lots of good players who left Texas at the time and went and played other places. But lots of players came back. I think six players from UCLA came back. I decided to go back. It was time for me to come home. UCLA was too far for me, and I'm a country boy. Texas A&M was a great fit. Tim Cassidy was my recruiting coordinator. They hosted me, and I came here immediately. I had a great feeling and loved the place, loved the school, and loved the players. I just fell in love with it

Losing my mom and grandmother and being so far from home was a big part of it. I needed to be closer to home to get that family support. It was hard for my other family to be able to get to games at UCLA, and coming here, my family was able to watch me play. It's a family reunion at the banquet, and I'm very excited. Texas A&M was the perfect fit for me. I'm so happy that Texas A&M University and everybody embraced me and allowed me to have a home. TAMU family, thank you for taking me in and accepting me. The changes around Aggieland are incredible. It shows the growth and the good things that are going on here.

I remember Aaron Glenn running an interception or something back against Texas. I remember the rivalry of that game. We were so much better, I felt. So much better than UT and any other team in the conference at the time. Our defense and our team were just better. I can't explain it. The score indicated that. Baylor played a close game with us, but no team played with us back then. We had Coryatt and Kevin Smith- a lot of guys that went on to play pro ball. We had a great team, and we were a powerhouse. We were able to dominate teams and have bragging rights. Going and bragging to those guys, it was a lot of fun letting them know we were the best then.

I really like Jimbo. I think he's a phenomenal coach. We need to give him time. I think he can take the University and the program to a national championship over the next 3-5 years. He's an excellent coach and has great mental toughness. I like what he's done to the team. I think Mond is a very good quarterback. He has the abilities and attributes. It's the mental toughness. They really just need the mental toughness as they're moving forward and getting ready to play LSU, Alabama, and those other schools. If they give Jimbo time, I really believe he'll put us in a position to win the national champions.
Never miss the latest news from TexAgs!
Join our free email list