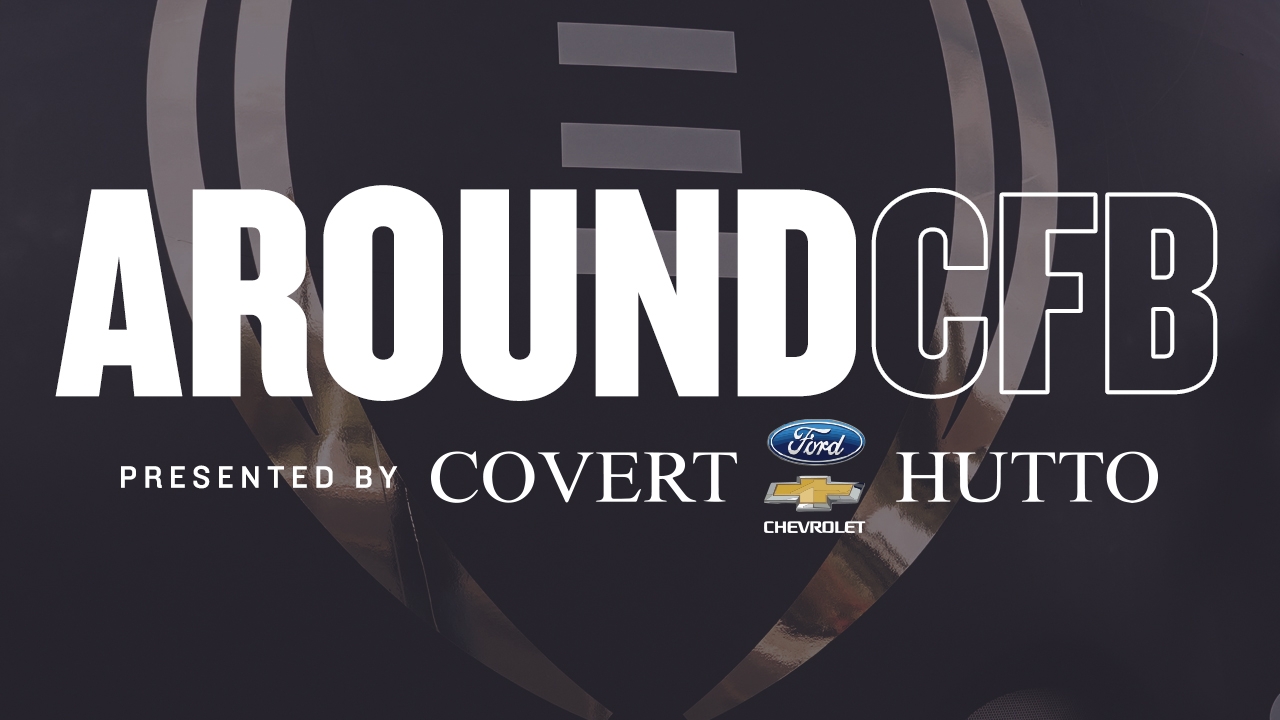 Photo by Kyle Terada-USA TODAY Sports
Texas A&M Football
Around CFB: Several second-year coaches flooded with criticism, losses
---
Water seems to be a central theme for second-year college football coaches drowning in criticism. Florida State's Willie Taggart explained improper hydration might have been a factor in blowing an 18-point lead in a 36-31 opening loss to Boise State.
"They (players) need to start hydrating early in the week and take care of their bodies," Taggart said.
That's fine. Except the presumably well-hydrated Seminoles needed overtime to escape Louisiana-Monroe 45-44 last week.
Tennessee's Jeremy Pruitt cited the doomed Titanic in his weekly press conference. That was probably not the best analogy after a shocking opening loss to Georgia State was chased by an overtime loss to BYU.
"When the boat starts going down, remember all the mice running to the top, right? We have had a few that left our program, but you will figure out who wants to be a Tennessee Vol and who don't," Pruitt said.
UCLA's Chip Kelly also referenced water — perhaps the formula is H(0-2) in L.A. — after opening with two losses to Cincinnati and San Diego State.
"You don't tear up the root of the tree to see if it's growing," Kelly said on Monday "You just keep watering it, you keep growing it and doing what you're supposed to do and that's what happens over the course of time."
Time might be running out for these coaches and a few others who were hired two seasons ago.
They were among 13 football coaches hired by Power 5 programs after the 2017 season. Coaches often thrive in their second seasons, but most of the coaches hired two years ago are struggling.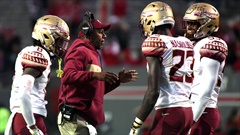 Rob Kinnan/USA Today Sports
Taggart was 5-7 in his first season, is 1-1 now and will be an underdog against Virginia.
Tennessee's 0-2 start — their first winless start since 1988 — follows a 5-7 finish in Pruitt's debut season.
Kelly is now 3-11 at UCLA and faces Oklahoma on Saturday. A road trip to Washington State follows. An 0-4 start is a distinct possibility.
A look at Kelly's predecessors at UCLA after 14 games: Jim Mora was 9-5, Rick Neuheisel was 6-8, Karl Dorrell was 6-8 and Bob Toledo was 6-8. All were eventually fired.
As far as other struggling coaches hired that year, Nebraska's Scott Frost was 4-8 last season and is now 1-1 after blowing a 17-0 lead in a 34-31 loss to Colorado. Arizona's Kevin Sumlin is 1-1 with a loss to Hawaii after going 5-7 last season. Oregon State's Jonathan Smith is 2-14 overall. Ole Miss' Matt Luck is 6-8 and Arkansas' Chad Morris is 3-11 with victories coming over Eastern Illinois, Tulsa and Portland State.
Frost still appears to be popular at his alma mater in Lincoln, but already there are calls for the firing of many of those other coaches.
Those on the hottest of the hot seats may be Pruitt and Morris.
Pruitt must be looking over his shoulder at Athletic Director Phillip Fulmer, who coached the Volunteers to the 1998 national championship but was fired following a 5-7 finish in 2008. Many observers believe Fulmer has always wanted to return to as the Vols coach. That could happen as early as Sunday if Tennessee does the once unthinkable and falls to Chattanooga this weekend.
Morris' threat is a little farther away — like Little Rock.
On Monday former Arkansas coach Bobby Petrino spoke to the Little Rock Touchdown Club and apologized that his tenure ended. He was involved an adulterous relationship with a woman he'd hired as student-athlete development coordinator. Petrino received a standing ovation. Forgiveness is easy for a coach that was 34-17 in four seasons, especially when the Razorbacks have managed just 36 victories in seven-plus seasons since his ouster.
"There's no question the Hogs can come back," Petrino told the Little Rock Touchdown Club.
Petrino was moved to tears during his apology. There's more water. But presumably, none of the water was shed for Morris or the other second-year coaches who seem like they're in over their heads.
Heisman watch (if my ballot was due today)
1. Jalen Hurts, Oklahoma, QB: True, the Sooners were feasting on overmatched South Dakota State. Still, Hurts followed up his brilliant opening performance against Houston with another gem. He completed 14 of 18 passes for 259 yards and three touchdowns and rushed for 47 yards in just over a half in OU's 70-14 victory. He already has 814 yards of total offense and nine touchdowns. Next, he faces reeling UCLA.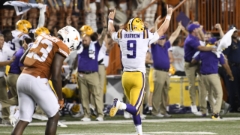 Scott Wachter-USA TODAY Sports
2. Joe Burrow, LSU, QB: Burrow threw four touchdown passes in a 45-38 victory over then-No. 9 Texas. This after throwing five touchdown passes in an opening win over Georgia Southern. He's also completed 81.8 percent of his passing attempts (54 of 66). Look for those crazy numbers to continue against the next three opponents — Northwestern State, Vanderbilt and Utah State.
3. Sam Ehlinger, Texas, QB: Give credit where credit is due. Ehlinger was nails in the loss to LSU. He passed for 401 yards and four touchdowns. He would have had another TD if not for a drop in the end zone. Ehlinger also rushed for 60 yards and a touchdown against the Tigers. He's thrown four touchdown passes in consecutive games. Next he faces Rice, which last week allowed three touchdown passes to Wake Forest's Jamie Newman.
4. Tua Tagovailoa, Alabama, QB: Though Tagovailoa hasn't yet been challenged by Duke or New Mexico State, he's still been exceptional. He's completing 76 percent of his passing attempts and has thrown for 563 yards and seven touchdown passes.
5. Jonathan Taylor, Wisconsin, RB: He had a rather pedestrian showing but didn't need to be excellent in a 61-0 thrashing of Central Michigan. Taylor still rushed for 102 yards and 3 touchdowns, but that's pedestrian by his standards. He also caught a touchdown pass. In two blow out victories, he's rushed for 237 yards and has scored eight touchdowns.
Predicted playoff participants
1. Clemson: The Tigers have won 17 straight. They likely will add 11 more consecutive victories before getting challenged in the playoffs.
2. Alabama: Offense is explosive. Defense is stingy. Other than early kickoffs, the Tide has no complaints.
3. Ohio State: Michigan no longer looks like a major threat to the Buckeyes. Maybe Penn State? Maybe Wisconsin? Doubtful.
4. Oklahoma: Probably no Big 12 opponent — or UCLA — is capable of containing the Sooners' high-scoring offense.
Idle thoughts and observations
• Not that I'm partial to Oklahoma, but if I was an Oklahoma fan at ESPN GameDay my sign would simply read: "We never left."
• A week ago some were doubting the strength of the Southeastern Conference. Yet, after two weeks SEC teams are 5-3 in non-conference games against Power 5 opponents. That includes LSU's victory over No. 12 Texas and Auburn's victory over No. 15 Oregon.
• As for other conferences against Power 5 opponents: The ACC is 2-4, Big Ten is 2-2, the Big 12 is 1-2 and the Pac-12 is 1-2.
• In two games under Mack Brown, North Carolina has already equaled its 2018 win total.
• USC coach Clay Helton may save his job after all. The Trojans' win over Stanford changes their outlook somewhat. A win over BYU this weekend would put them 3-0 going into the Pac-12, which doesn't appear to have a dominant team. Helton may manage nine or 10 victories, which would seem sufficient to keep his job. Of course, the resignation of Lynn Swann as athletic director might be a bad omen for Helton. A new athletic director may want to bring in a new coach.
• Wisconsin still hasn't allowed a point. Whether that means the Badgers have a powerful defense is up for debate. Wisconsin has shut out South Florida and Central Michigan. South Florida also has a 14-10 loss to Georgia Tech. Central Michigan scored 38 points in its opener, but it was against FCS member Albany. The Badgers next face Michigan on Sept. 21.
• How bad is Arkansas' offense struggling? Well, only scoring 20 points against Portland State in the opener bad enough. But then the Razorbacks managed only one offensive touchdown in a 31-17 loss to Ole Miss. That touchdown was scored with 1:21 remaining in the game.
MESSAGE FROM OUR SPONSOR
Call or text Chad at Covert Ford in Hutto at 512-633-4819 For new Fords, Chevys and over 900 pre-owned vehicles. Thanks and Gig 'em.
Never miss the latest news from TexAgs!
Join our free email list