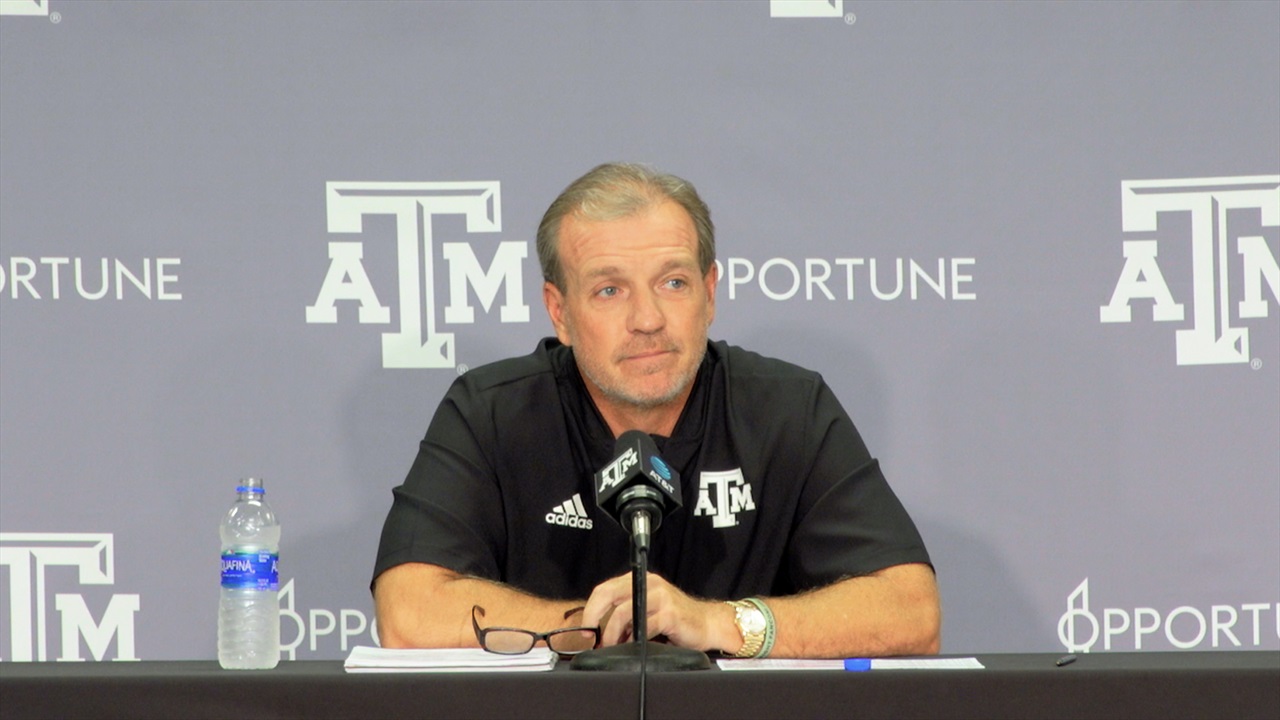 Jimbo Fisher
Jhamon Ausbon
Roney Elam
Buddy Johnson
Kellen Mond
Anthony Hines
Texas A&M Football
Aggies reflect on loss to Clemson, but will turn sights towards Lamar
---
Following Texas A&M's first misstep of the season against No. 1 Clemson, Jimbo Fisher and a few players met with the media to set the stage for the Aggies' contest with the Lamar Cardinals on Saturday evening.
---
The following are live, paraphrased notes from head coach Jimbo Fisher's press conference prior to Saturday's game against Lamar.
I thought it was a very physical game. Obviously, we didn't get the outcome that we wanted. I think we are still growing and learning how to play at that level consistently. Clemson was a very good team that did certain things very well. We have to learn how to capitalize on our opportunities. I thought we played hard. The kicking game was very solid. It was little mistakes - missed blocks, etc. Everyone takes a turn or two, and it adds up and become game-changing things. Defensively, we broke down at times, and Clemson stepped up and made good plays and did some good things. We have to get ready for this week, and we have several opportunities left. Lamar is a good team.

Roney is a perfect example of why you stick it out. He has worked to get to this level of play. I'm so happy for him. He is playing some very good football. That was one heck of a catch.

Corbin will be out for the season with a hamstring injury. I think Peevy will be back soon. He has an ankle injury, but he will be back soon. He's making progress.

We had seven dropped balls. You miss some of those catches, miss some throws and some bad penalties at bad times. It's the first time that we played away against the No. 1 team in the country, and some people expected us to win. I think that's a step in the right direction. Last year, nobody expected us to win. I think that's growth.

With Corbin out, we have Spiller, Richardson, Kibodi and Prince. They are some good backs.

When you have habits, when pressure comes, those habits come to the surface. We have plenty of opportunities down the road. The players knew they had opportunities and they just missed them. They will have a chance to fix things going forward.

Obviously, Jashaun did things a little bit better because he was our starter, but we are confident Isaiah and Kibodi as well. They can both catch the ball out of the backfield. Spiller will be the starter for now.

I didn't see opportunities where Kellen should have run or scrambled more. It's a more feel-it-out kind of thing. You don't encourage it or discourage it.

I think that the receivers will go back to the basics and fundamentals this week. They made a couple of good plays, but we had too many drops. We'll get back after it in practice this week.

Kibodi had a really good camp, he was out last week with a minor injury, which is why he didn't play, but he has done some really good things for us. Last year, he had a hundred yards and had a great Spring game.

Renfro can help us out in a lot of different ways. I'm not sure if he will start right out of the gate, but he will be in there, and he's a good player.

Kellen Mond didn't play his best game, but the people around him certainly didn't either. He played hard, and he has shown that he can lift a team. There is nobody in our organization that takes accountability like he does. He is a high-quality and high character young man. He will have success because he will work until he does.

From the reaction and the comments from the guys, this is a team that wants to be coached hard. They want to win very badly. We're dealing with some growth things. We walked in against the No. 1 team in the country, and people expected us to win. Some of these guys haven't felt that type of emotion yet.

All of your decisions magnify themselves when you are playing good teams like Clemson. Sometimes penalties happen, but there are a lot that were self-inflicted wounds. We have to get better at that as we play tougher teams down the road.
Never miss the latest news from TexAgs!
Join our free email list