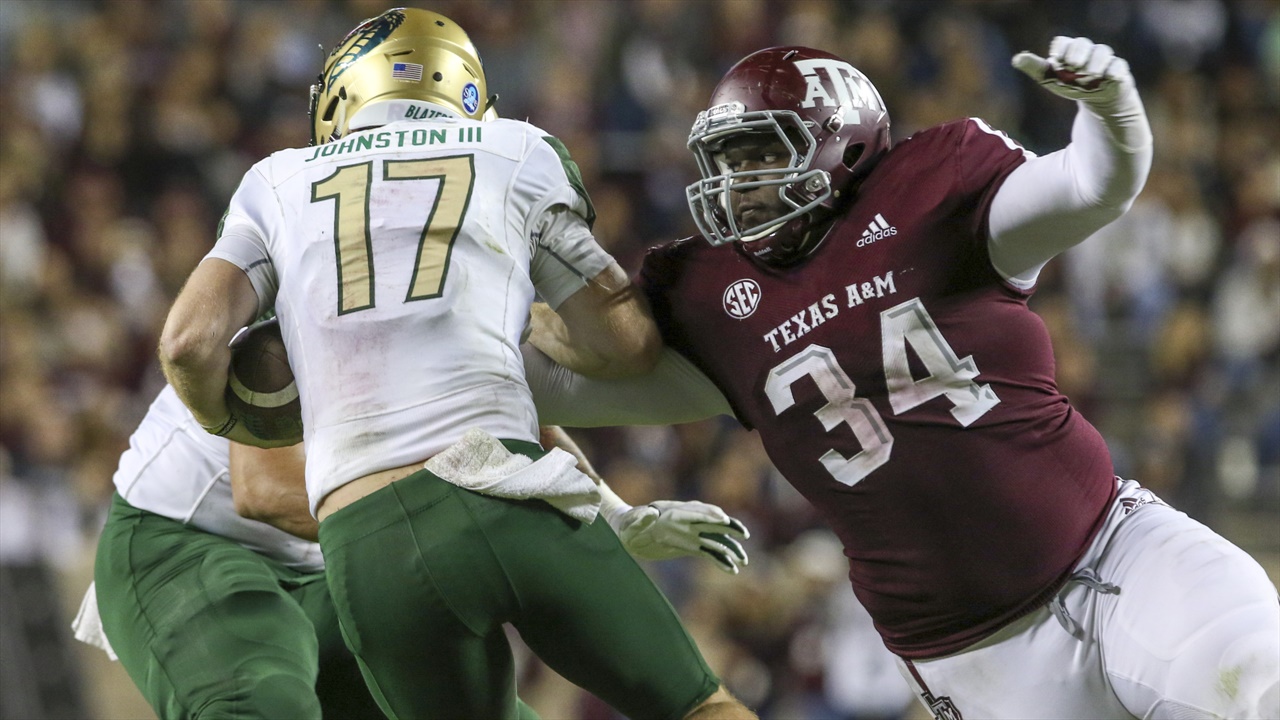 Photo by John Glaser/USA Today Sports
Texas A&M Football
Daylon Mack on his one season with Fisher and Co., A&M-Clemson rematch
---
Key notes from Daylon Mack interview
I'm honestly not sure what to expect going into Sunday in my NFL debut. It's going to be loud and fun and exciting. We're going to be rolling. I'm looking forward to it.

It's been tough since the draft. Two weeks after the bowl game, I was already training for the draft. That was hard at that point. The process is enjoyable. It was long, but it was really fun. I met great people and had a great time at the All-Star game. Going to the Ravens, I got some great people. They've done a great job of showing me the ropes.

I've talked to a lot of people. I've spoken to Myles Garrett about the differences between the NFL and the SEC. It's not that big of a difference. There are a couple of technical issues. You've got differences in the run, and the tempo is different. But it's the same amount of physicality. Some people are above and beyond, but overall it's about the same. I say it's about the same as the SEC East and West.

The prep is entirely different. The amount of film you have to watch is way more, and the playbook is more complicated. That's a huge difference. How you take care of your body is different too. On day 15 of fall camp when your body should be feeling terrible; they know how to make you feel good like you're ready to go. I wish I had known that a long time ago, especially with the way we practiced under Jimbo that first year

I'm just completely honest with everything. The new coaching staff changed my life. The first meeting I had with the new coaches, they showed me clips of me in high school. They said they wanted me to get back to being this player, and that changed my mentality. It got me in the best shape I could possibly be in. I can't thank Coach Fisher enough. He put the right people around me and coached me well. Coach Robinson gave me the tools and really let me be me. I really benefitted from it. I don't know what else to say. It was a perfect match.

Matching up with Clemson, Trevor Lawrence is very composed. He'll be composed whether they're winning or losing. It's going to be very hard to get under his skin. As far as the upfront battle, stopping Travis Etienne and having a big night is the key. We're capable although we lost some guys on the d line. But Bobby and Tyree- they were capable last year. They just had some big guys in front of them. Honestly, we probably got better. Bobby is insane, Madubuike is back, and Clemens is there. I think we're going to be set upfront. It doesn't matter who you're playing. I'm excited to see what the secondary does in this game.

Our pass rush is better than people give it credit. I guarantee you. Some of those other games, you'll think you're ending with 50 sacks and don't. For them to come out with four interceptions is excellent. I'm excepting Coach Elko to have them fired up. I think they'll be ready.

I think the inside pass rush is underrated. Even if we don't get a sack, you get to him, and he throws a bad pass or an incomplete. It's about getting sacks obviously, but it's also about disrupting the quarterback. Then he's not going to be playing a solid game. He's not going to throw solid passes or be accurate. It's more about disrupting than getting actual sacks.

That hurt a little, seeing Bobby Brown line up at fullback, but I was still apart of the team where the 12th Man scored. If we win, we win, and that's all that matters. That's fine with me.

The best thing about playing with Otara Alaka is he's a good player. He's a guy you want on your team. He's reliable and a great communicator. The worst thing is his jokes. I have to hear those for another 4-5 years. On the field, he's not a bad guy to be stuck with, but I don't want to sit in a car and listen to his jokes.
Never miss the latest news from TexAgs!
Join our free email list