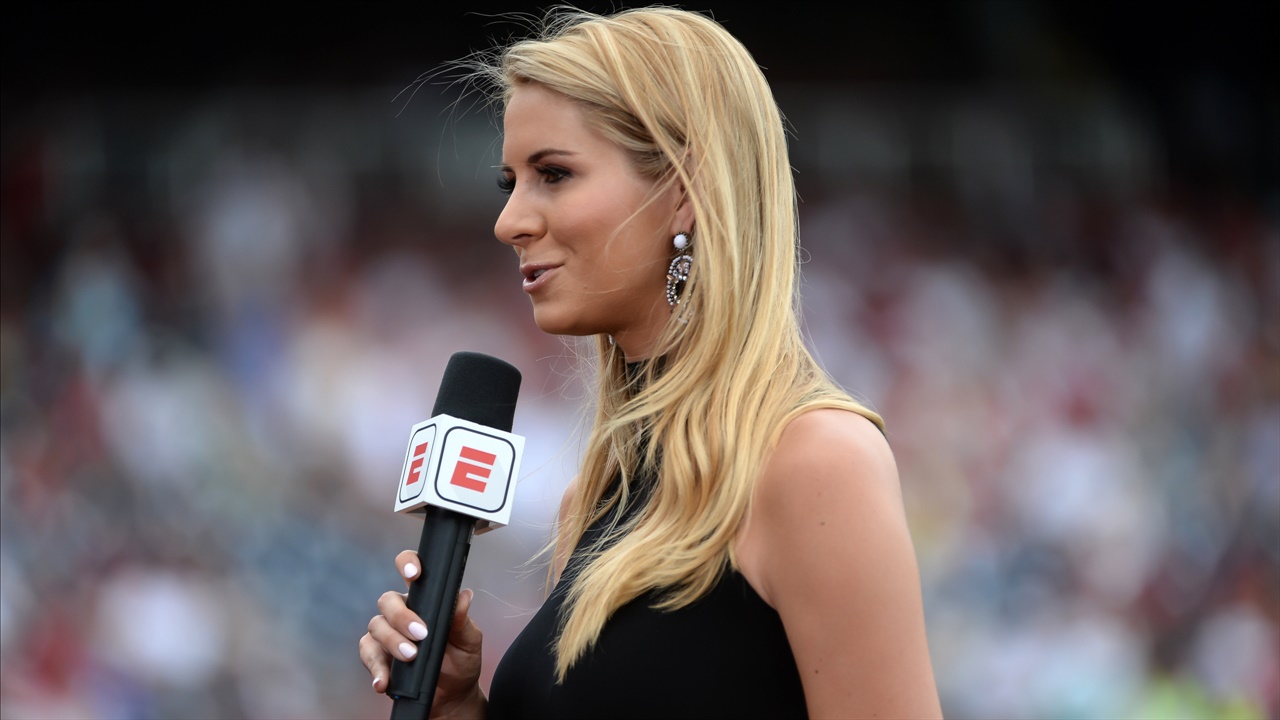 Photo by Steven Branscombe/USA TODAY Sports
Texas A&M Football
Laura Rutledge discusses biggest week two storylines, new SEC Network series
---
Key notes from Laura Rutledge interview
Marty Smith is going to fill on in SEC nation while I'm gone. I'm out starting this week, doctor's orders. Marty will be making his debut as the host. I'm excited for him. It's going to be a lot of fun to watch. We had a lot of fun comparing notes and teaching him stuff. He's a pro, and he doesn't need me to teach him much. But I'm excited. The show will definitely have a Marty twist to it.

We need to find an A&M fan to spotlight on 'The Moment.' You can send an email to tellmysecstory@sec.com. The idea was there are so many incredible fans that I've talked to who had these great stories. I believe that everybody has a story, but when you talk to these fans, you want to tell them and do something special for them. So we started wondering--How could we find fans whose story had not been told yet? At Tennessee and Alabama, we were able to do that. We want to do this for as many fans where we can to say thank you to the fans. We wanted to kind of profile what goes on outside of a program and how the teams care about their fans.

The Top six teams in the SEC performed well. We didn't expect Tennessee to lose to Georgia State. There are some of those teams that are struggling a bit. There is a big gap between top teams and the other teams, and it wasn't as talked about. Iowa State is a team I was high on. I liked their quarterback, but they struggled mightily and had to go to overtime to win their game. This is happening around college football, and nobody wants to talk about it. They want to rip on the SEC.

Auburn versus Oregon was impressive. Oregon is talented and was impressive, and I still think they have a chance to be in the College Football Playoffs. Auburn had a massive win with a little bit of luck involved. I mean they had a freshman quarterback in Bo Nix- Gus let Bo Nix call some of those plays and drive down the field instead of preparing for a kick. Auburn got that big win against a team that factors into the College Football Playoffs. That puts Auburn in a better spot. Maybe they're better than we thought.

I think LSU's offense is for real. I think they will run into many defenses that know what to do with that. I don't know that they'll put up those numbers. What I took away from LSU is they are going to be an up-tempo offense. They're playing with tempo. For years it has felt like if they could just do this and keep up with the Jones' offensively because they've already got the defense, it will allow them to be more competitive. For them, that is to beat Alabama. They're not likely to put up numbers up like they did last week, but I think they'll play a tempo game like that throughout the year.

I'm so excited about A&M/Clemson. It's such a great opportunity for the Aggies. I think A&M's schedule is why people are counting them out. But when you look at the team when they get off the bus, look at Kellen Mond and how good he's looked--He's playing at such a high level. This is his chance to be on the biggest stage and to show what he's about and show how he's developed with Jimbo. The only thing to give them pause is that it's on the road. Clemson is an incredibly talented team. On defense, they had an all-world lineup last year. It's obviously different to be going on the road. But A&M is not scared. The way they've talked about the game, and when they get off the bus, you can see that. They can compete with the tops in college football. If this thing is a one-score game in the 4th quarter, no one should be counting A&M out. That's realistic.

If they can win this one and can stay healthy, that's the other big thing. You can't get a bunch of guys injured in a game like this to be competitive in those games to come. This is another chance for Jimbo to stake a claim on what his tenure and culture is going to be about in Aggieland. In the past, A&M wins big games early and then falls off a cliff there towards the end of the season. That feels like a distant memory at this point, though.

If they beat Clemson, there is no reason not to think 'Why not us? Why can't A&M win these other games too?' I don't know that that is likely with this schedule. I don't know that you can go undefeated, I don't know if that's possible with that schedule. But maybe the committee looks back and has to pause and consider them. Or perhaps they create havoc and play the spoiler.
Never miss the latest news from TexAgs!
Join our free email list