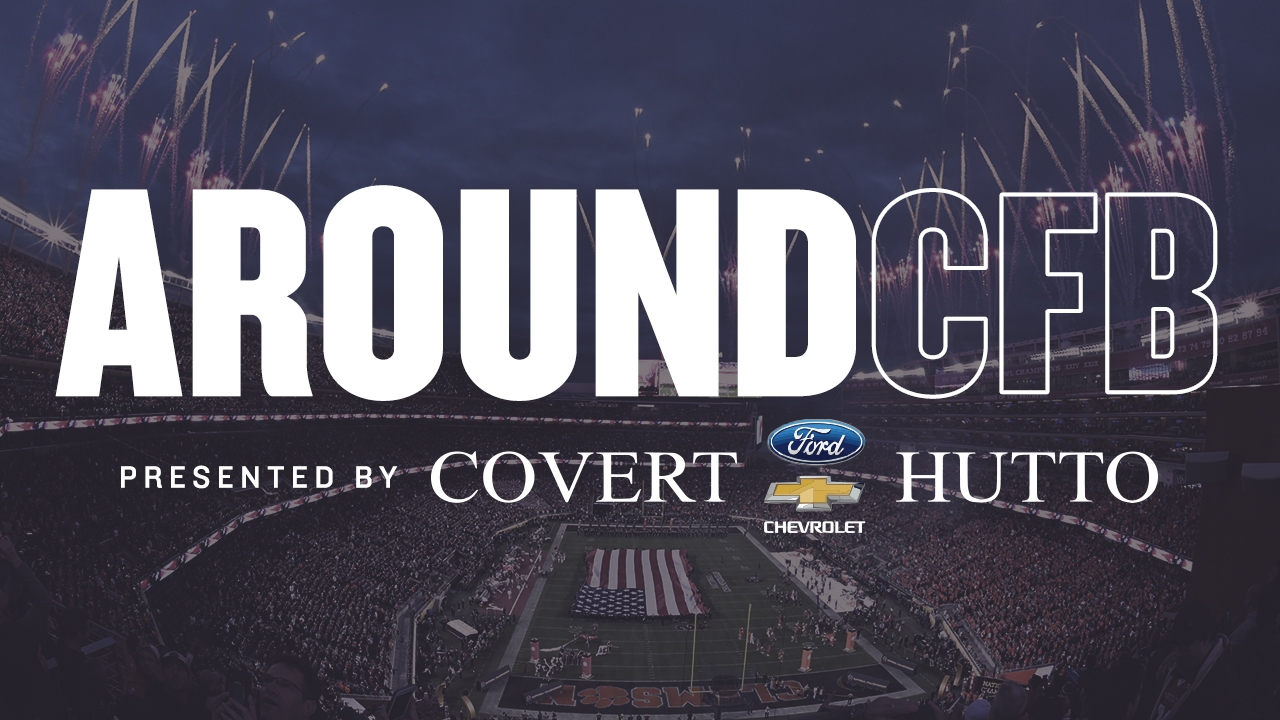 Photo by Kirby Lee-USA TODAY Sports
Texas A&M Football
Around CFB: Week one reactions will be tested by week two realites
---
The reminder comes at this time every year.
Do not overreact to anything from the first week of college football season. Very little is as good or bad as it appears.
The Texas Longhorns should've learned that in 2016 when they opened the season with a double-overtime victory over Notre Dame, which inspired ESPN announcer Joe Tessitore to proclaimed: "Texas is Back Folks."
Two weeks later, the Longhorns lost to Cal. And then Oklahoma State. And then Oklahoma. They closed that season with consecutive losses to West Virginia, Kansas (yes, Kansas) and TCU to finish 5-7.
Yet, lessons aren't always easily learned.
After the first full week of college football, Big 12 proponents trumpeted how theirs was the only conference to go unbeaten in the first week.
Of course, they failed to mention that seven of the ten Big 12 teams faced FCS opponents. Three of those struggled to win by a touchdown or less. Iowa State, generally picked to finish third in the Big 12, needed three overtimes to edge Northern Iowa 29-26. In fact, the only Power 5 win for the Big 12 was Oklahoma State's 52-36 triumph over the Pac-12's Oregon State, which last season was 2-10.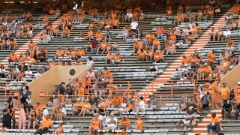 Randy Sartin-USA TODAY Sports
Meanwhile, some delighted in the Southeastern Conference's poor start, which included Missouri losing at Wyoming and Tennessee's shocking 38-30 loss to Georgia State.
Afterward, Georgia State coach Shawn Elliott mocked the SEC's "It just means more" slogan.
"Today's game just meant more to us," Elliott shouted to his team.
That loss meant Tennessee will likely fail to qualify for a bowl game. It also meant second-year Volunteers coach Jeremy Pruitt is already in jeopardy of losing his job.
It did not, however, mean the SEC has slipped from its perch as college football's premier conference. SEC teams were a combined 8-4 in opening non-conference games. Three of those victories were over Power 5 conference opponents. That included No. 16 Auburn defeating No. 11 Oregon.
No other Power 5 conference managed more than one such victory. Overall, the SEC was 3-1 against Power 5 opponents.

By comparison, the ACC was 1-3, the Pac-12 was 1-1, the Big 12 was 1-0 and Big Ten was 0-1.
Not all were convinced, though. Texas coach Tom Herman certainly wasn't.
"I don't know that anybody is qualified to say which one is better or worse than another. I mean, play the games," Herman said earlier this week.
Later, Herman added: "It's not my job to judge whether one conference is better than the others, but I know this: I haven't had one NFL scout or general manager telling me they're drafting kids based on a patch on their jersey or anything like that."
Of course, he ignored the fact that the SEC has dominated the first round of the NFL draft for about a decade.
But this week Herman and the Big 12 have opportunity to support the league's case while adding to the narrative that the SEC may be slipping.
If Texas beats LSU and West Virginia defeats Missouri, the Big 12 no doubt will improve its national profile. But if LSU and Missouri win, Big 12 advocates will have to face the fact that once again they overreacted to the first-week results.
Heisman watch (if my ballot was due today)
1. Jalen Hurts, Oklahoma, QB: As expected, he was a major threat as a passer and a runner in a 49-31 victory over Houston. Hurts passed for 332 yards and three touchdowns and rushed for 176 yards and three touchdowns.
2. Travis Etienne, Clemson, RB: The explosive Etienne averaged 17.1 yards per carry in a 52-14 opening victory over Georgia Tech. Etienne rushed for 205 yards on 12 attempts and scored three touchdowns on runs of 90, 14 and 48 yards.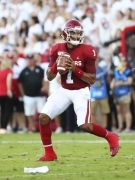 Kevin Jairaj-USA TODAY Sports
3. Tua Tagovailoa, Alabama, QB: Completed 26 of 31 passes for 336 yards and four touchdowns in a 42-3 victory over Duke.
4. Jonathan Taylor, Wisconsin, RB: Last year's leading rusher opened with 135 rushing yards and two touchdowns in a 49-0 blasting of South Florida. Taylor scored touchdowns on runs of 37 and 38 yards. He also caught touchdown passes of 12 and 36 yards.
5. Trevor Lawrence, Clemson, QB: Though still the overall favorite, Lawrence wasn't nearly at his best in the opening victory over Georgia Tech. He passed for just 168 yards and two touchdowns but also threw two interceptions.
Predicted playoff participants
1. Clemson: The Tigers showed they don't need a big performance from Trevor Lawrence to blow out opponents.
2. Alabama: Got off to a slow start against Duke, but still won by 39.
3. Oklahoma: Which Big 12 defense will slow down Jalen Hurts?
4. Michigan: The Wolverines got off to a strong start, but their problem has been the finish.
Idle thoughts
• Stanford keeps catching breaks. The Cardinal opened with a 17-7 victory over Northwestern, which had quarterback Hunter Johnson making his first career start and predictably struggling. Next, Stanford faces USC, which lost quarterback J.T. Daniels for the season to a knee injury. Daniels is replaced by true freshman Kedon Slovis, an 18-year-old three-star recruit who will be making his first start.
• How odd both USCs lost their starting quarterbacks in week one. South Carolina's Jake Bentley is out indefinitely with a foot injury. He'll be replaced by true freshman Ryan Hilinski, who ironically is from Southern California.
• I wonder if Tennessee fans are thinking Greg Schiano might have been a pretty good hire after all. Recall, two years ago an agreement was reached to hire Schiano as Tennessee's head football coach. However, fan backlash against Schiano resulted in the offer being rescinded. Instead, Jeremy Pruitt was hired. Now, Tennessee is 5-8 under Pruitt. Last week's 38-30 loss to Georgia State might very well be the worst defeat in school history.
• A cool story that Nevada freshman kicker Brandon Talton was awarded a scholarship after hitting a game-winning 56-yard field goal in a come-from-behind victory over Purdue. But wouldn't it seem any kid with the potential to hit from 56 yards would've already had a scholarship?
• Top five list of coaches whose jobs are already in serious jeopardy: Tennessee's Pruitt, USC's Clay Helton, South Florida's Charlie Strong, Ole Miss' Matt Luke and BYU's Kalani Sitake. Sitake is 20-20 in three-plus seasons and opened this year on the wrong end of a beatdown by arch-rival Utah. BYU travels to face Tennessee this weekend.
This week's best matchups
Texas A&M at Clemson: The Aggies came close to beating the national champions last season. If they can score in the 30s they might be able to pull off the upset.
LSU at Texas: Unlike the Sugar Bowl, the SEC opponent actually cares about this game. If the Longhorns prevail, then the "Texas is Back" claims actually have merit.
Cincinnati at Ohio State: The Bearcats hate Ohio State. I mean really, really, really hate Ohio State. They're actually good enough to challenge the Buckeyes, too.
Stanford at USC: Maybe I'm just being nostalgic for the old Pete Carroll-Jim Harbaugh postgame arguments. But it's still an important conference game.
Nebraska at Colorado: Another nostalgic game. I know we're supposed to love Scott Frost, but it's hard to be sold on Nebraska after a sluggish opening win over South Alabama. Of course, Colorado wasn't that impressive in allowing 31 points in an opening win over Colorado State, either.
MESSAGE FROM OUR SPONSOR
Call or text Chad at Covert Ford in Hutto at 512-633-4819 For new Fords, Chevys and over 900 pre-owned vehicles. Thanks and Gig 'em.
Never miss the latest news from TexAgs!
Join our free email list
PRESENTED BY