Photo by Lia Musgrave, TexAgs
Texas A&M Football
Post Game Review: No. 12 Texas A&M 41, Texas State 7
---
Kellen Mond led a very efficient offense as the No. 12 Aggies coasted to a 41-7 win over Texas State on Thursday night at Kyle Field. Mond finished the evening with 219 total yards and four touchdowns on a clinical evening for the A&M offense.
The Aggies (1-0) took a 7-0 lead midway through the first quarter as Mond found an open Quartney Davis for a 21-yard touchdown. Leon O'Neal Jr. created the first A&M turnover of the game with an impressive grab to give the Aggies the ball back with 5:10 remaining in the first period.
Mond then orchestrated a five-play, 42-yard drive that was capped off by a one-yard rushing touchdown by Jashaun Corbin to put A&M up 14-0. The two teams traded punts before the Aggies added to their lead as Mond evaded pressure, stiff-armed a Bobcat cornerback, and dove into the end zone for a touchdown. That pushed the score to 21-0 with 10:06 left in the first half.
A Myles Jones interception quickly gave the Aggies the ball back. Texas A&M then marched 42 yards before Mond linked with Corbin for a three-yard touchdown pass. The Aggies held a 28-0 lead at the half.
After coughing the ball up on consecutive drives via a Kendrick Rogers goal-line fumble and a Kellen Mond interception in the end zone, the Aggies added to their lead with 3:37 remaining in the third quarter as Seth Small chipped in a 22-yard field goal made it 31-0.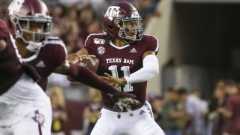 John Glaser-USA TODAY Sports
A&M forced a Bobcat punt, and Isaiah Spiller busted up the seam for 85 yards before he was caught at the Texas St. two yard-line. Mond then connected with Jhamon Ausbon on a fade route for a one-yard touchdown reception to increase the A&M lead to 38-0.
Zach Calzada took over at quarterback in the fourth quarter, and after his first drive resulted in a three-and-out, the true freshman strung together his first career scoring drive. Calzada threw for 38 yards before Seth Small capped the drive with a 26-yard field goal to move the score to 41-0.
The Bobcats put together an 84-yard drive at the end of the game, which was finished off by a 27-yard reception from Gresch Jensen to a falling Trevis Graham Jr. in the corner of the end zone with 36 seconds remaining. The Aggies defeated Texas State 41-7.
RUMBLED: Crisp, calm, cool and collected. Quarterback Kellen Mond looked like the new and improved version we had been hearing about from players and coaches coming out of fall camp. The signal-caller finished the night completing 19 of his 27 passes for 194 yards, three touchdowns and an interception in three quarters of action. Three of his incompletions were drops by the receiving corps. The junior displayed excellent accuracy throughout the night, fitting his throws into tight windows. Mond also showed improved pocket awareness, as he was able to evade pressure on several occasions when Bobcat defenders had free shots at him. The junior QB was also elusive with his feet, running for 25 yards and a touchdown on five attempts.
STUMBLED: The A&M offensive line looked like it had taken a step back from last season. The big men up front weren't able to open up enough holes for running back Jashaun Corbin, especially in the red zone. The Texas State defensive line clogged the running lanes for Corbin, who had a solid night despite the lack of openings. Texas State linebacker Frankie Griffin, who finished the night with six total tackles, was a run-stuffer and was the leader of the Texas State front seven pressure. The inferior Texas State front's success against the A&M offensive line may be a cause for concern with much more potent fronts on the Aggies' schedule.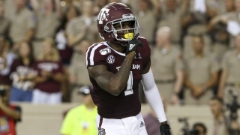 John Glaser-USA TODAY Sports
UNSUNG HERO: With four interceptions, understandably most of the defensive attention will be on the A&M secondary. However, A&M middle linebacker Buddy Johnson quietly had a very impressive outing, finishing the night with seven total tackles (five of which were solo tackles and 1.5 tackles for loss). Johnson was instrumental in the A&M run defense, as they allowed the Bobcats to gain just eight total rushing yards. The junior had a nose for the football on Thursday night and gave the Bobcat running backs fits. Johnson – who notched 27 total tackles last season – is well on his way to surpassing those numbers in 2019 in an enhanced role.
KEY STAT: Creating turnovers was an area of emphasis from the A&M coaching staff throughout fall camp coming off of a 2018 season in which the Aggie defense created just seven, good for 13th-best in the SEC. The Aggies nearly matched last season's five-interception total on Thursday night, nabbing four interceptions in the season-opener. Roney Elam, Leon O'Neal Jr. and Myles Jones (two) contributed the four picks, the most by an A&M defense since 2006.
---
Scoring summary
First quarter:
A&M: 7:44 — Quartney Davis 21-yard pass from Kellen Mond (Seth Small Kick Good). Drive: 9 plays, 72 yards. TOP: 4:11. A&M 7, TXST 0.
A&M: 2:16 — Jashaun Corbin 1-yard rushing TD (Seth Small Kick Good). Drive: 6 plays, 42 yards. TOP: 2:54. A&M 14, TXST 0.
Second quarter:
A&M: 7:25 — Kellen Mond five-yard rushing TD (Seth Small Kick Good). Drive: 5 plays, 40 yards. TOP: 2:41. A&M 21, TXST 0.
A&M: 3:05 — Jashaun Corbin 3-yard pass from Kellen Mond (Seth Small Kick Good) Drive: 5 plays, 42 yards. TOP: 2:12. A&M 28, TXST 0.
HALF: A&M 28, TXST 0.
Third quarter:
A&M: 3:37 –- Seth Small converted a 22-yard field goal. Drive: 9 plays, 25 yards. TOP: 4:21. A&M 31, TXST 0.
Fourth quarter
A&M: 14:55 — Jhamon Ausbon 1-yard pass from Kellen Mond on a fade route (Seth Small Kick Good). Drive: 4 plays, 94 yards. TOP: 1:23. A&M 38, TXST 0.
A&M: 4:57 — Seth Small converted a 26-yard field goal. Drive: 10 plays, 48 yards. TOP: 4:51. A&M 41, TXST 0.
TXST: 0:36 — Gresch Jensen linked with Trevis Graham Jr. for a 27-yard touchdown reception. Drive: 11 plays, 84 yards. TOP: 4:21. A&M 41, TXST 7.
Never miss the latest news from TexAgs!
Join our free email list