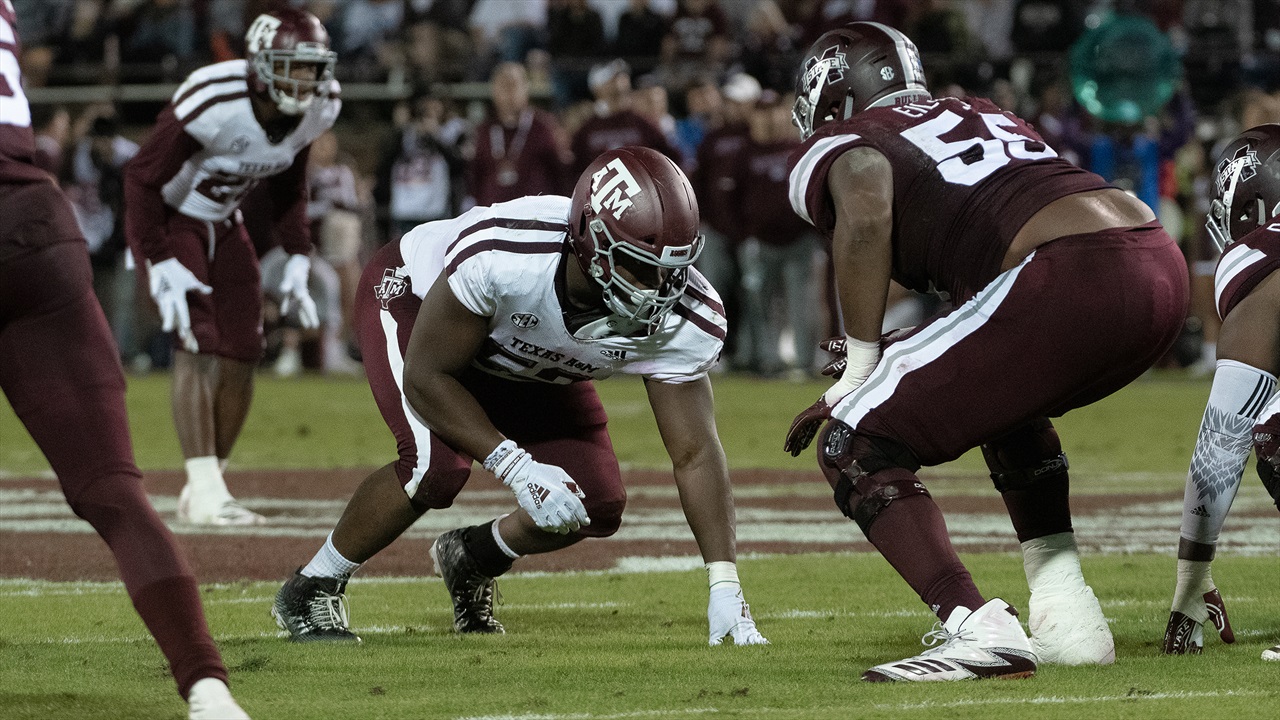 Photo by Clay Taylor, TexAgs
Texas A&M Football
Key Matchups: No. 12 Texas A&M vs. Texas State
---
A&M QB Kellen Mond vs Texas State DC Zach Spavital
The first-year Texas State coordinator is a well-respected young coach whose recent background includes stops at Houston and Texas Tech, where he regularly coached against spread offenses. At each stop, Spavital did a tremendous job of developing players, producing a couple of high-round draft picks in the secondary at UH and turning Dakota Allen and Jordyn Brooks into All-Big 12 caliber linebackers in Lubbock. One of the staples of the defenses (the other) Spav has been a part of is an aggressive, turnover-producing brand of ball. The Bobcats DC will typically have a nickel defender on the field, and the Big 12 style of defense is different than what A&M quarterback Kellen Mond and the Aggies are used to seeing in the SEC. Not better, but Kellen and the Aggie blockers and skill guys are going to probably have a lot more thrown at them in the way of odd fronts and pressure packages. Different schemes, but we're probably talking about the same type of high-risk, high-reward type stuff Texas Tech ran last year that led to the Red Raiders finishing sixth in the country in turnovers forced. The key for Kellen is simply going to be to understand what he's seeing and get rid of the ball quickly and in rhythm in the early going and take advantage of big-play opportunities down the field (and especially over the top) when they're available. Mond as a running threat could also cause significant problems for the Bobcat DC and his troops, but I'm not sure we'll see too much designed QB run game in the opener. Kellen has seen a lot during his freshman and sophomore campaigns, but Thursday night will probably be at least a little less familiar than what he typically sees in SEC play.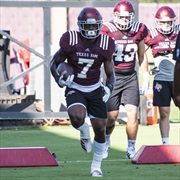 Lia Musgrave, TexAgs
A&M RB Jashaun Corbin vs Texas State Linebackers
The Bobcats return a lot of experience on defense, but linebacker might just be the strength of the unit with All-Sun Belt candidates Bryan London and Nikolas Daniels leading the way. The pair combined for just under 220 tackles last fall, ranking first and second on the league's total tackle chart. One of Jimbo Fisher's primary objectives on Thursday night is obviously going to be establishing a potent power running game early. Replacing Trayveon Williams' SEC-leading 1,750 yards is going to be tough, but Jashaun Corbin has star potential in Jay Graham's backfield. He and a promising young stable of backs will get plenty of chances to do damage between the tackles. He will occasionally run right at Texas State's strength, but something to keep a very close eye on is the Ags' ability to get Corbin and Co. the ball in space. Corbin and several other Aggie ball-handlers will be a matchup nightmare for Bobcat tacklers in the open field, as even London and Daniels give up quite a bit athletically. If you're looking for an area Fisher and Darrell Dickey might look to exploit, this could very well be it.
A&M Defensive Line vs Texas State Offensive Line
Even though the Bobcats return three starters, a lot of experience (I count as many as seven or eight linemen who have started multiple games) and feature an All-Sun Belt candidate up front, this looks like the biggest Maroon & White mismatch to me. Justin Madubuike, Bobby Brown, Jayden Peevy, Micheal Clemons and Tyree Johnson plus a host of others are going to be challenged by some pretty high-end offensive lines early this season, particularly at Clemson next weekend and two weeks later versus Auburn, but Thursday night's opponent simply should not be able to hold up for very long in the trenches. While I do believe Aaron Brewer is a good one, even he's giving up a lot at 6-2, 270 pounds.
The Ags, who will be playing hard in the season-opener at Kyle Field, should be far too fast, too physical and too powerful for Texas State to hold off for very long. Most of you remember the A&M o-line getting eaten alive by the Ole Miss defensive front in College Station in 2014, don't you? That was the game in which then-Aggie OC Jake Spavital simply couldn't put Kenny Hill at risk to take many deep shots and did everything he could to get the ball out his quarterback's hands quickly. Expect a similar approach on Thursday night, as it's unlikely that Tyler Vitt or Gresch Jensen will have time to sit back in the pocket and let plays develop. As far as running the football goes, unless Texas State gets things working with Bob Stitt's famous 'fly sweep' (technically, it's considered a pass but the play is a run and something that multiple SEC opponents hurt the Aggies with last fall), it's hard to imagine them enjoying much success on the ground. The bottom line here is that the Ags should control (and oftentimes reset) the line of scrimmage when the Bobcats have the ball.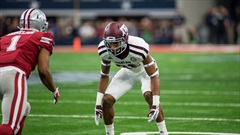 Alex Parker, TexAgs
A&M CBs Charles Oliver and Myles Jones vs Texas State WRs
It would be very easy to mention the entire Aggie secondary here. Last year's unit struggled mightily when it came to giving up the big play, and there are a lot of new faces on the back end of Mike Elko's defense. The Ags are also going to be somewhat short-handed at cornerback – 2018 starter Debione Renfro will miss the game while serving a suspension, JUCO transfer Elijah Blades spent much of fall camp practicing while wearing a yellow 'non-contact' jersey and promising true freshman Erick Young will miss a couple of weeks due to an injured shoulder. As a result, junior Myles Jones and senior Charles Oliver must step up and play like veterans against a Texas State attack that will find a way to get the ball into the hands of a receiving corps that returns every key contributor from a season ago.
Two guys to keep a particularly close eye on for the visitors are Jeremiah Haydel and Dylan Jantz. Haydel caught 16 passes for 362 yards and four touchdowns last fall and is a pretty talented and twitchy, explosive athlete who does a nice job of getting off the ball and creating space. The extent of Jantz's role is still unknown, but the true freshman was a Wes Welker clone at tiny Gunter High School the past two seasons, producing more than 3,300 all-purpose yards and 68 touchdowns as a junior and senior. All told, the Bobcat receivers are a small group, but one that could cause some problems if Jones, Oliver and the Aggie DBs don't play a very physical brand of ball in the short passing and bubble screen game. Spavital and Stitt are also likely to test the Aggie corners with the occasional shot down the field, which probably isn't the worst-case scenario for Mike Elko and position coach Mo Linguist, who would love to begin to find out that perhaps the team's weakest position from a season ago has the potential to eventually develop into a 2019 strength.
A&M Defensive Coordinator Mike Elko vs Texas State OC Bob Stitt
'Stitt Happens' was a popular phrase a few years ago when spread guru Bob Stitt first served on Mike Gundy's staff and then at Montana following a legendary stretch at the Colorado School of Mines, where his wide-open, innovative and fast-paced offenses inspired the likes of Gundy, Dana Holgerson and Kliff Kingsbury, among others. After being fired at Montana, Stitt landed with Holgerson's prize pupil, where the two are likely to bring an exciting, high-scoring style of play to San Marcos. That said, Stitt isn't going to be working with nearly as much on offense as Zach Spavital is on defense, so the Bobcats should have a difficult time consistently moving the ball against the Aggie defense. And while Mike Elko doesn't have his own saying or t-shirts with his name on them, the second-year A&M defensive coordinator is considered one of the best in college football. Elko worked wonders when it came to the Aggies' defensive turnaround last year, and he hopes to see his unit take another big step towards becoming elite this fall. One of the things he'll be looking for on Thursday is for his defenders to set the tone for the 2019 season by producing some turnovers, something that proved exceedingly difficult last fall. Expect the Ags to be aggressive from wire to wire and to witness a chess match between two of the best coordinators in the country. It should be fun to watch.
Never miss the latest news from TexAgs!
Join our free email list
PRESENTED BY