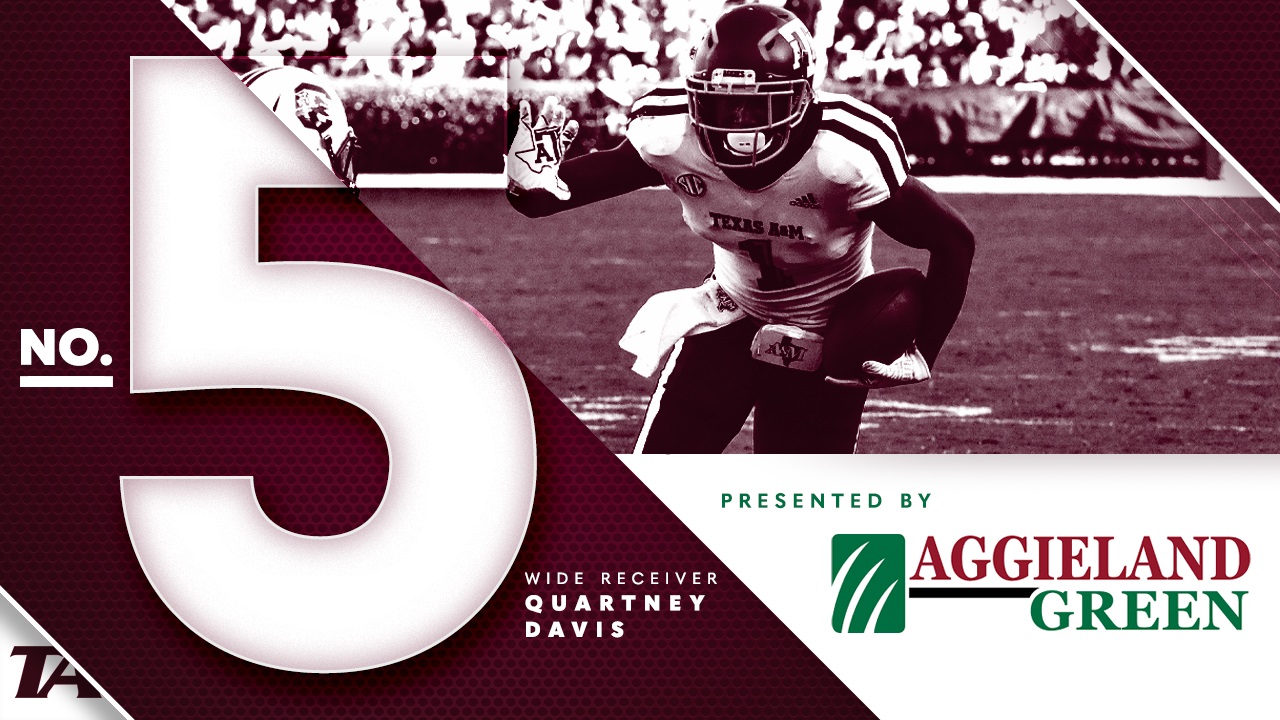 Texas A&M Football
30 Players in 30 Days: #5 — Quartney Davis
---
Position: Wide Receiver
Classification: Junior
Hometown: Houston, Texas
Listed Height: 6-2
Listed Weight: 200
Notes from Liucci's breakdown of Davis
I think he already broke out. Sometimes you'll get an out of nowhere surprise, like a Johnny Manziel. Those things will happen. But there is usually a natural development and progression to these things. To do enough to become a rising star and to be considered one of the better SEC receivers, he's now on the verge of becoming elite. What Quartney Davis did last year was absolutely a breakout season.

His first career catch was a fourth-quarter touchdown against Clemson. He had two touchdowns on his first two catches. A huge touchdown against Kentucky. He had a huge game against South Carolina where A&M needed everything they got from him. A touchdown against Mississippi State and a couple in an SEC West matchup against Ole Miss.

We talk about Kendrick Rogers' incredible game against LSU but what Quartney did against LSU is one of the more clutch performances from a receiver that I've seen at Texas A&M. His touchdown at the end of regulation does not get enough credit. He was airborne, in traffic, with no time on the clock. To go up and make that play, knowing you're going to get hit, against an elite LSU secondary, it was an incredible catch and one of the best plays I've seen in the air. He told me, "That was an easy catch." Then he follows it up with the touchdown that set up the game-winning two-point conversion.

I think he's a legitimate contender for first-time all-conference. He might not get it because A&M's receiving numbers might be so even. He's tough. He's quick. Quartney can play anywhere in the formation. These A&M receivers play off each other so much. There's not your Mike Evans type in this group.

I think he will be a high round draft pick when he goes out. It's just a matter of getting there. He's very confident. He's got a dog mentality on the field. When the lights come on, and you challenge him, he runs good routes, uses his quickness. He's a great player. Remember, A&M had to fight like hell to hang on to him. He is an exceptional talent.

He had never caught a pass. He had gone through an ACL injury. A new coach came in. A lot of kids would've left. But Quartney looked at it as a fresh start, and he has made the most of it.
EXCLUSIVE: FREE OFFER...
Each day this week Aggieland Green is doing a daily giveaway for a free Mosquito Barrier Program or a free Custom Lawn Treatment Program for the remainder of 2019. A drawing will be held once EVERY DAY this week. All you have to do is click HERE to enter to win. Service limited up to 10,000 sqft and in the Bryan, College Station, Magnolia areas.
Follow the entire 30 Players in 30 Days series here.
Never miss the latest news from TexAgs!
Join our free email list