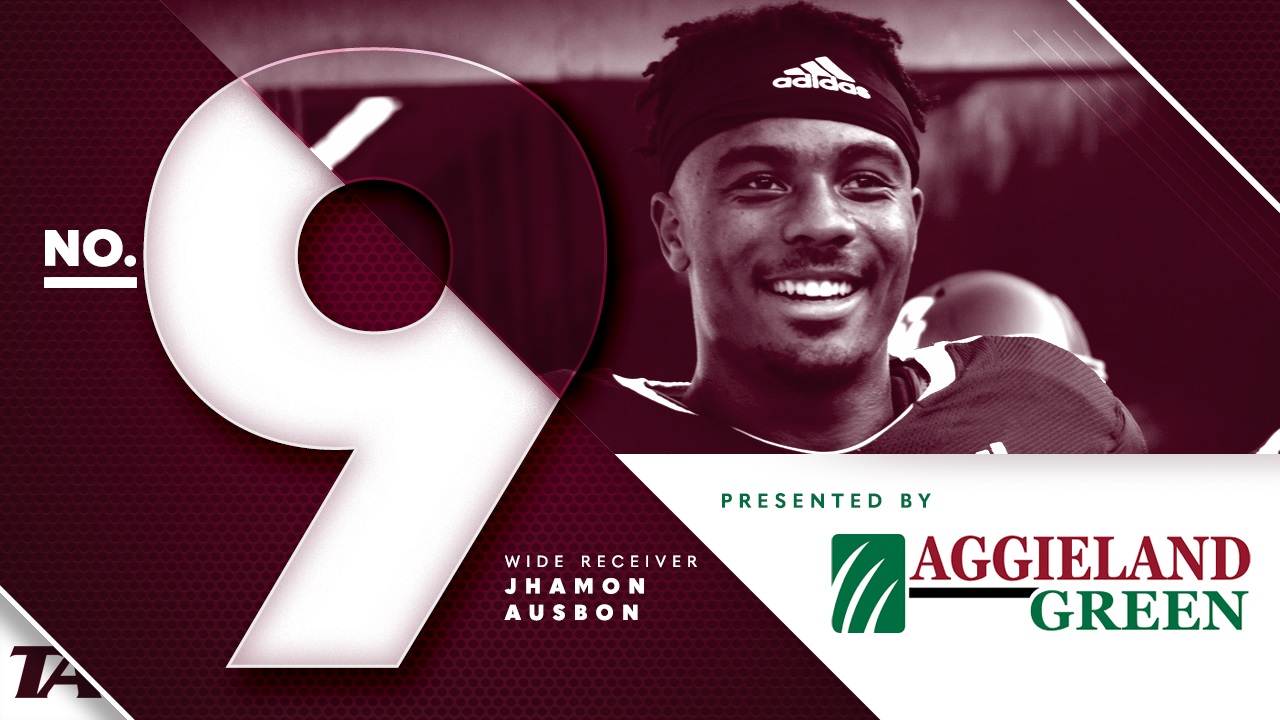 #9, Jhamon Ausbon
Hugh McElroy Q&A
Texas A&M Football
30 Players in 30 Days: #9 — Jhamon Ausbon
---
Position: Wide Receiver
Classification: Junior
Hometown: Houston, Texas
Listed Height: 6-2
Listed Weight: 218
Notes from Olin's thoughts on Ausbon
He's definitely proven himself to be a mainstay in the offense. He missed four games and still had 31 catches last season. When he came back, he had five catches against LSU in regulation. He was excellent against Ole Miss, and he was the guy who kept the chains moving.

Going back to his freshman year, he had two big catches on the game-tying drive against Arkansas. I think he is only scratching the surface at this point. I think he has a little Mike Evans in him in that he doesn't ever settle for good; he's always chasing greatness. I think when you do the re-rank, he could be even higher.

He came back in the second half of the season and really not only helped the passing game but the running game as well. Maybe he had something to do with that with the blocking on the outside. I think what you'll see more of from him moving forward is the big play.

I don't think he has a drop issue. I think the one we all think about is from his freshman year against Alabama; he had one over the middle that everyone thought could be a big play. That's why it is fresh in everyone's minds. Everyone knows he's good but is he going to take that next step into being really good, or maybe even great. I would settle for really good at this point for him.

As a junior, I wouldn't focus necessarily on his number of catches, but on his yards. He's been a productive guy, but I think the next step for him is to show some explosiveness and I think he will. I believe the receptions will be spread around. I think a solid year for him in 2019 would be around 700 yards with all of the weapons on this team. Right now, I would take 55 catches for 750 yards and five touchdowns, no doubt.
Key notes from Hugh McElroy interview
At quarterback, my reason for hope is that Mond is in his second year under Jimbo. Historically, a lot of things happen in the second year. You get a lot better. I think he will make better decisions, and if you do that, that will help you get rid of the ball quicker. He should be better statistically.

My reason for concern is the backup to Kellen Mond. The problem isn't the person; it's that I don't know who the person is.

At running back, Corbin is the guy. What makes him so unique to me is that Jimbo didn't move here and stumble upon this is a guy; he wanted him before he got here. He had him committed, and Corbin likes him so much, he was willing to work with Jimbo. I think he has some adequate back up too.

Always, the concern is health. As long as people stay healthy, I'm not concerned out. Even if Corbin went out for an extended period, I'm less concerned about running back than if that happened at quarterback.

I think the running back group will take an incremental leap. I believe that because of all the other pieces that will be in place.

At wide receiver, my reason or hope is that we have so many of them. Back in my day, 6'6" guys were huge. They can move, and they can block. That's what amazing about Jhamon Ausbon. They also all don't mind blocking, and it always helps with your leader does stuff like that.

As far as concern, I'd say for receivers it's the overall health. Ausbon has had trouble staying healthy. Looking at all of that, I think the big person who could move up statistically is Kendrick Rodgers. His stats tell me that in the right situation, Kendrick can be more productive than he's been in the past.

I think the top receiver battle will be between Davis and Ausbon. If I had to guess, I'd pick Davis. But either way, leave me with whichever one of those two that you want.

I like the tight ends because they're young, I love their size, and they all have soft hands. They are in the range that they can block but could also create some mismatches downfield. Did you know we have nine of them?

My biggest concern for the tight ends would be the lack of experience. My concern isn't the talent for them, but they're unproven. Let's say that their potential is high. My confidence for them would probably be a seven.

At the offensive line, my hope is that we're returning our two guards that both played 13 games last year. With those two guys, Kellen should be safe. The experience is there.

My concern for the line is the starting right guard because it's going to be a true freshman. We also need to know how we're going to replace Erik McCoy. I don't think we'll replace him 100%, but I think Ryan McCollum will do a good job.

The thing I like most about Ausbon is his leadership. He's not a raw guy, but he's not a wallflower either. He sets an example with the way he works, practices, and the way he blocks. That's huge. I'm impressed with him.
A SPECIAL THANKS TO...
Aggieland Green is proud to be Aggie owned and operated. We take away the stress and guesswork out of having a thick, green, and weed-free lawn and provide effective backyard mosquito protection. Visit AggielandGreen.com for more information.
Follow the entire 30 Players in 30 Days series here.
Never miss the latest news from TexAgs!
Join our free email list