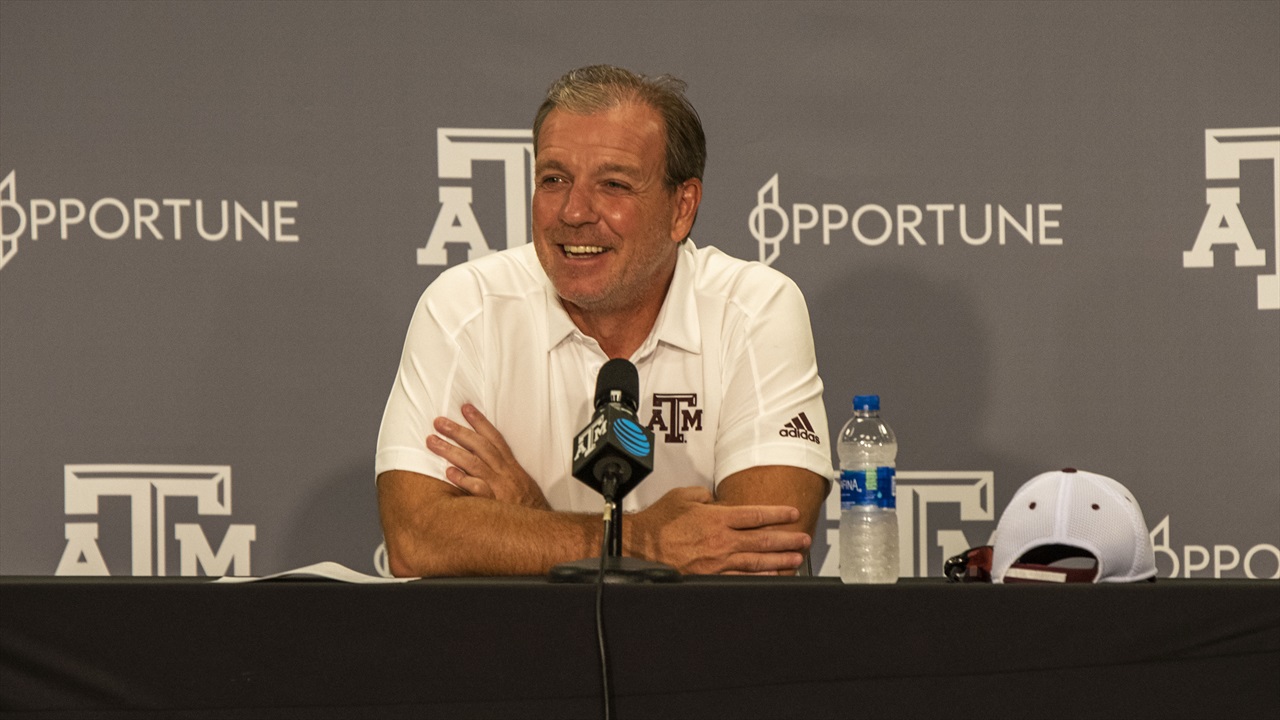 Jimbo Fisher
Darrell Dickey
Mike Elko
Kellen Mond
Tyree Johnson
Buddy Johnson
Anthony Hines
Carson Green
Ryan McCollum
Bobby Brown
Aaron Hansford
Glenn Beal
Jashaun Corbin
Jalen Preston
Texas A&M Football
Texas A&M coaches, players discuss the upcoming season at Media Day
---
On Sunday at Texas A&M Football Media Day, Jimbo Fisher, Mike Elko and Darrell Dickey addressed the media, then TexAgs spoke with a number of Aggie players about fall camp, the upcoming season and more.
NOTE: Videos from players will be added to this story as they become available on the site.
The following are live, paraphrased notes from the three coaches at Texas A&M's Media Day press conference.
Head Coach Jimbo Fisher
Another year, they go fast. These are fun days hopefully our players appreciate getting to meet with the fans. They need a little bit of love after nine practices.

Good camp so far. We're learning how to compete and how to practice. A lot of new faces are making plays. They're learning the scheme offensively and defensively, and that's allowing them to use their skills. A lot of work left to do in camp. I think now is when we really get going after getting through the first few practices with bumps and bruises. Our first scrimmage is tomorrow night — hopefully, another good practice today.

Carson Green and Dan Moore are both doing a really good job, especially with communicating with the young tight ends. They are doing a really good job communicating and identifying fronts.

I think Mike Elko is a relentless worker. He's a grinder. He's in there trying to figure out different things every single day and find the best matchups for his guys. He really loves ball. He's very detail-oriented.

I think the biggest difference between last year and now is the psychological disposition of the team this year and their knowledge of how to win. We're still learning, but we're getting better every single day. Once we know what we have to do, and how we have to do it, you'll get to that highest level.

It's very interesting to watch Kellen. He is so much farther along in talking about the offense and how we do things, why we do things and how the defense will react. He is now a lot better at communicating with the other guys what he wants. There are multiple levels of playing quarterback, and I think he is starting to approach that championship level. He knows the throws he has to make. He knows the reads to make and how to be aggressively intelligent. I'm just as critical of him as I am myself. Those championship-level people appreciate that.

The backup quarterback levels are rising the level of each other. We're starting to get off the field more as coaches and are letting the guys play. They've all been good at times. They've all been bad at times. I'm not unhappy with any of them, but I'm interested to see how they react with coaches off the field.

I think Jashaun Corbin is certainly our starting running back, but he needs to go out and prove it. He might be out in front, but I've liked what all the guys behind him are doing. We have great size, and they can all catch the ball out of the backfield. I really like that.

I think it just depends on the team if you have a feature back, or running back by committee. When you have a guy like Dalvin Cook, it's hard to hand the ball to someone else when you could've just handed it to him. I think you could also have a big red-zone style back. It really just depends on the team that you have.

Kenyon Green has done really well so far. Right now he's running with the ones at guard consistently. A lot of young guys have the ability to learn the game, and that allows them to play early. He's doing that right now. He's mature beyond his age and keeps his emotion in check. I don't want to put any expectations on a young guy... I'm just smiling, and that's all I'll say. He will make an impact for us this year.
Offensive Coordinator Darrell Dickey
Connor Blumrick, James Foster, and Zach Calzada have each had really good days and days where they'd probably like some throws back. Right now if we went into a game, I don't think we could run the same packages as we do with Kellen, but they're getting better every day. They are being challenged every single day.

Going into last season, we had to replace Christian Kirk, and Jhamon was the only one with any real experience. Now we have a good solid core of guys who have played. We need to keep them healthy and be consistent playmakers. Last year, we had a few games where we were off target, and we had some drops. We just want to continue to build that group. I really like this group if we can keep everyone healthy.

As far as backup wide receivers, Roshauud Paul is starting to make plays. Caleb Chapman was on the verge of starting before his injury last year. He's playing well again now. Jalen Preston is also trying to find his way into the lineup. Preston and Chapman are two that didn't play last year which we are expecting an impact from.

There's a whole lot of ways to go about implementing a program and a culture. It's very demanding. It focuses on the details and how you conduct yourself on and off the field. It's a total buy-in under coach Fisher. I think every kid in this program knows what the expectations are for practice. They have a better understanding now, but you still have to go in and implement it. I think the team better understands what to expect every single day and how to give themselves the best chance to win.

Jashaun Corbin played last year and rotated with Trayveon Williams. Trayveon got the bulk of the carries and was very reliable. We're hoping Jashaun can do the same thing. You saw the explosive plays last year, but we hope he can do it every down if needed. The SEC is a big boy league, so you have to be able to take hits and be durable. I know he wants the ball in his hands. But if you have a capable guy behind him, I think it's good to give those other guys chances and keep Jashaun fresh.

Kendrick Rogers last year showed the ability to make the big play in big games. Obviously, we'd like him to be more consistent. That centers around his health. I think he put in the work this offseason to get his body right.

Last year, Trayveon wasn't necessarily a big guy, but he still made it work because of his quickness. We're looking for both. In this league, we're looking for a guy who can run the ball between the tackles. Especially when the play may only be blocked for a two-yard gain, but he goes out there and gets four or five. We're hoping we have some larger backs that can provide that for us. But running backs come in all shapes, styles, and sizes, we just want production.
Defensive Coordinator Mike Elko
I think we have some young guys ready to take the next step up to replace what we lost upfront. I think Madubuike is ready to go for this year, along with Peevy, Tre Brown and Max Wright. I'm ready to get these guys in and get to work.

I don't think we had a buy-in issue last year; I just think everything was different. I think as the year went on, the guys started to learn that if we did everything together, we could be a really good defense. As the year went on, we started to learn that and play better.

I love Texas A&M. I love coach Fisher and the program that he is building. I love the town, the fan base, and the facilities. Coming down here was a big decision for me, and I've loved every minute of it.

Buddy Johnson has been one of the kids in our defense to make the biggest jump in every aspect of his life. It's almost night and day from when he got here. He's taken a vocal role in the middle of the defense.

Anthony Hines is coming off of not playing football for a while, but after the last few practices, he is starting to make those plays that he is used to making on the field.

Micheal Clemons is healthy and hungry. He's been a very physical presence on the edge. I can't wait to get him out there and let him rush the passer from the edge and make an impact on our defense.

With DeMarvin Leal, we are really excited about his future. He is an extremely talented football player who will make a big impact for us this season.

Our defense against the passing game was a huge offseason study for us. We wanted to know what we could do to make us better. I think the breakdowns last year came in so many different ways but were all fixable. I think we will be much better next season.

I think we've had a tremendous amount of development on the backend. Renfro, Oliver and Jones at corner have all gotten better. Tucker has gotten better. Then we had the influx of new guys that have raised the level of the play.

We never really have a plan to blitz, we kind of look at the opposing offense and devise the best way to slow them down. On causing more turnovers, we have to disrupt the quarterback more. If we can get to the pocket, we can create some havoc and force some turnovers. We also need to attack the football more when we're tackling. We're starting to see some more turnovers this spring, and during camp hopefully, that carries over to the fall.

It's an everyday process trying to build the depth at linebacker. It's an ongoing process for us. I think we will put a good linebacker group out there this fall.
Never miss the latest news from TexAgs!
Join our free email list