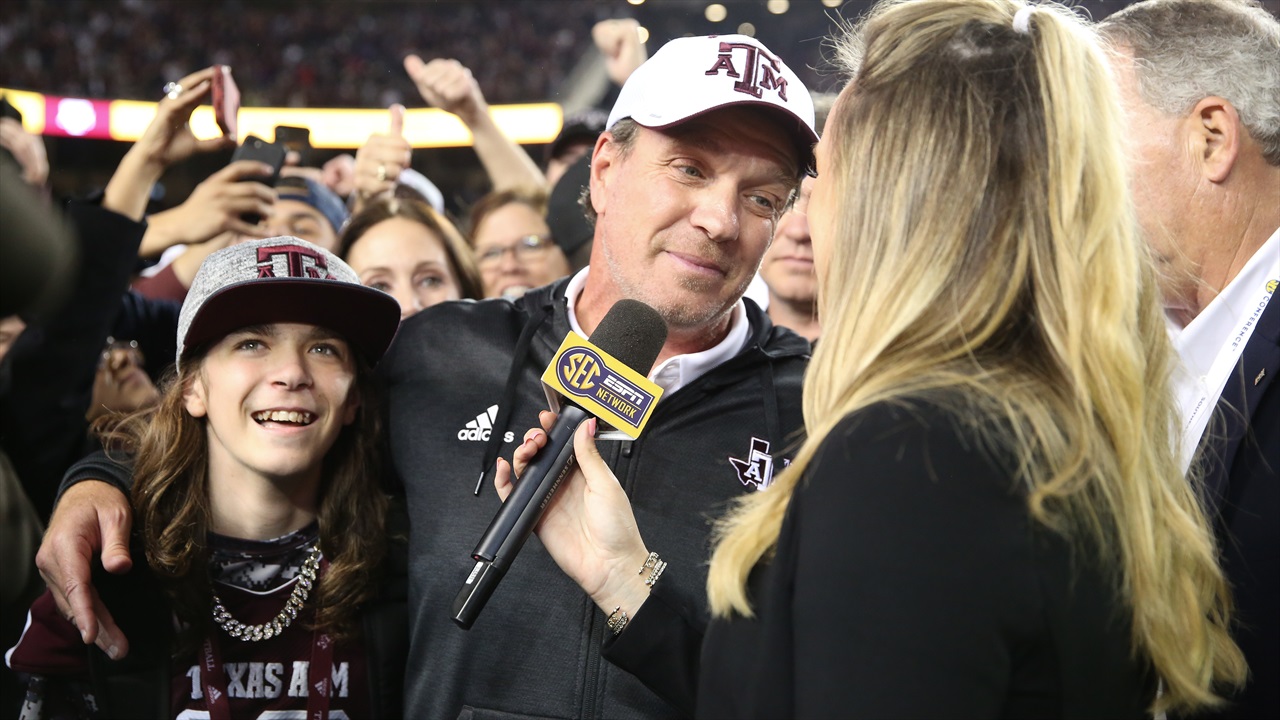 Photo by Matt Sachs, TexAgs
Texas A&M Football
Hope fuels Fisher family as push to cure Fanconi anemia yields new promise
---
Editor's note: Press play above to watch an update from Kidz1stFund, produced by Texas FilmWorks earlier this summer.
Nearly 10 years ago, Jimbo Fisher hit the "lowest moment" of his life in a doctor's office when his son Ethan was diagnosed with Fanconi anemia. Now, almost a decade later, it's increasingly possible that the danger of Fanconi anemia could become a thing of the past.
Coach Jimbo Fisher gave an update about the work of the family's charitable foundation, Kidz1stFund, and discussed his son's progress in his fight with the disease at the recent TexAgs Preseason Kick-Off. He also revealed an exciting new development about a potential new cure for the bone marrow failure common to patients with Fanconi anemia.
"A year ago, the doctors came in and sat us down and said, 'We think there's a chance we can cure this thing.'" said Jimbo Fisher. "I love winning games in Kyle Field, and I've won national championships, but there's never been a feeling go through me that's even close to hearing that news."
Fanconi anemia, according to the National Heart, Lung and Blood Institute, is a rare blood disorder that prevents bone marrow from making enough new blood cells for the body to function normally. Because of that, according to the Kidz1stFund website, "almost every person with FA's blood counts will decline over time and require a bone marrow transplant in order for them to survive."
The disease can also leave patients susceptible to illnesses, developing various forms of cancer and having an overall shorter life expectancy. Although bone marrow transplants can present complications that make them potentially fatal, recent research with the funding from Kidz1stFund has shown groundbreaking results.
"We just got a report that because of Kidz1st funding, they just had the best results they've ever had in the thirty-something years they've been transplanting kids."
"Through the research that is being funded bone marrow transplants are becoming safer," Fisher said. "The days leading up to and after the transplant are so hard on these patients and anything we can do to make that safer and easier on the patients is critical. New trials and protocols are having positive results. We are seeing life expectancy jump significantly for FA patients which is so promising, but we still have a long way to go. However, research is being done with mouse models that we hope will lead to a safer and more long term answer to Fanconi anemia, and that is the goal."
Gene editing is something researchers around the world are focusing on in the hopes of finding an answer. The team of researchers and doctors that Kidz1st helps to fund is currently working on FANCI, one of the 23 known FA genes.
"They actually have some of Ethan's bone marrow, as well as others, to use in the mouse model trials," Fisher added. "The work they are doing gives us so much hope. Nine years ago, we felt like there was not a lot of hope. Now it's not if we're going to cure Fanconi anemia, but how quickly we're going to do it."
Fisher and his family started Kidz1stFund in 2011 not long after Ethan's diagnosis. Since then, the organization has donated nearly $10 million to help finance the fight against the disease. That money has gone directly toward research to find a cure for Fanconi anemia at the University of Minnesota Masonic Children's Hospital, the nation's leading research hospital for the disease. The goal of Kidz1stFund, according to Fisher, is to expand life expectancy and eventually find a cure for every child that suffers from the bone marrow complications of this disease.
"This foundation is for every other young man and young lady that has this disease and doesn't have the platform that we have to get this message out and make a difference," said Fisher. "I don't want a family to hear that their child has Fanconi anemia and that there is no hope."
Fisher shared that every dollar donated to Kidz1stFund goes directly to funding research for finding a cure. He also noted that although the foundation was doing well at raising money before his move to Texas A&M, their work has more than tripled since he became the head football coach for the Aggies in December of 2017.
"I want to thank you to all because you give me hope through your generous gifts," said Fisher. "Like I said, God sends you to places for a lot of different reasons."
To learn more about the goal of Kidz1stFund and Ethan's story, visit Kidz1stFund.
Never miss the latest news from TexAgs!
Join our free email list
PRESENTED BY