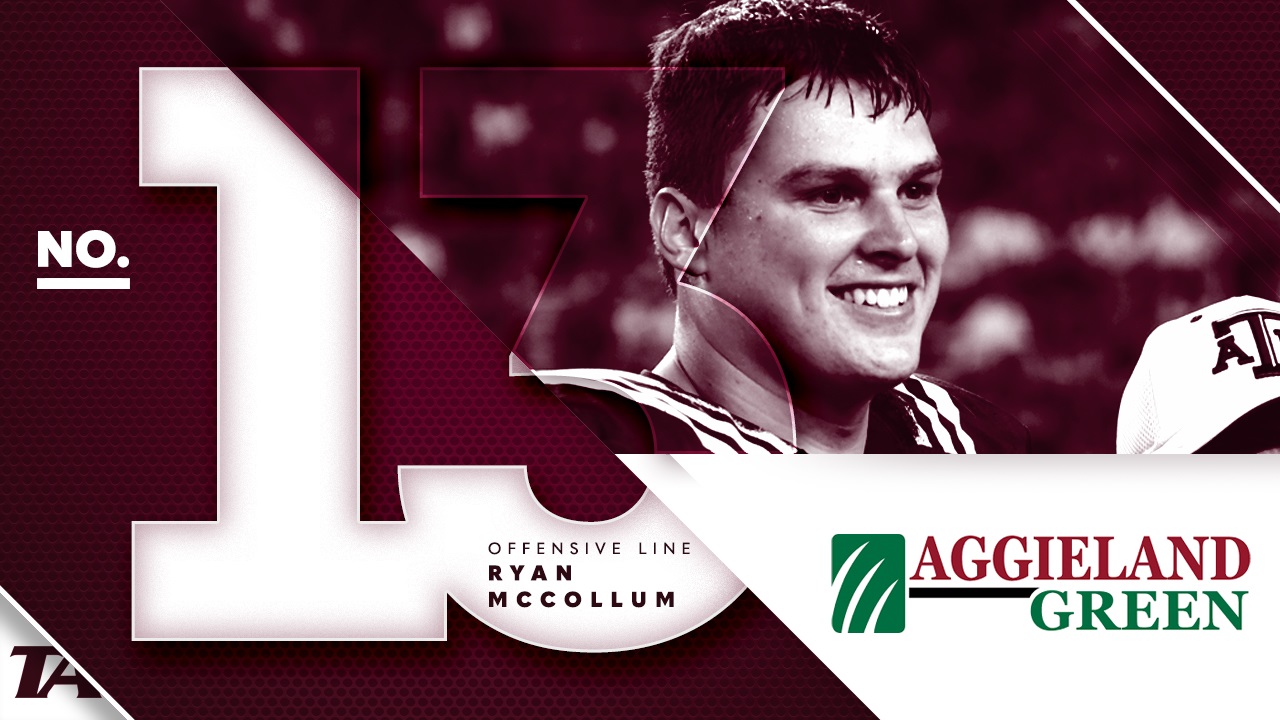 Texas A&M Football
30 Players in 30 Days: #13 — Ryan McCollum
---
Position: Offensive Line
Classification: Junior
Hometown: Spring, Texas
Listed Height: 6-5
Listed Weight: 305
Notes from Olin's thoughts on McCollum
I hope he's the 13th best player on the team because if he is then my thought that Jashaun Corbin could lead the SEC in rushing could come true.

He has to replace the best player at his position (center) at A&M ever. If you look at the draft, that's the case. Seth McKinney is the only other guy that comes to mind, and he was a 3rd rounder.

If you go back and watch the games last year and watch the games he played in, I think he started seven games at guard, he was good.

He has to make the change to center, but Jimbo has given the opinion McCollum is more athletic than he's been given credit for. He can get to the 2nd level. He won offensive MVP in the spring given out by Jimbo. And he's a large man at 6-5, 300 lbs.

Another thing about McCollum, he knows who he's replacing, and he said he plans to be better. But if he's in the same neighborhood, that'll be better than what everyone is expecting. I like a guy that's not overwhelmed about replacing a great player.

He continues to improve in pass protection. He's known as a good run blocker, but he's working on becoming a better pass protector.

He has to be that x-factor on the offensive front. It's a trickle-down effect to the rest of the offense if McCollum comes to the party.

Here's another reason they think they have a big slick at center. It would've been so easy to keep him at guard in replacing Sutherland and call it even an upgrade. But the confidence they have in him to move him to center when they could have four quality players on the offensive line outside of center tells you something.

The standard he has to reach at this position, you can look at him and see he's strong and well-spoken. He's got some Mike Evans in him, that attitude that says, 'I'm not satisfied, and I'm going to aspire to be better than I am.'
A SPECIAL THANKS TO...
Aggieland Green is proud to be Aggie owned and operated. We take away the stress and guesswork out of having a thick, green, and weed-free lawn and provide effective backyard mosquito protection. Visit AggielandGreen.com for more information.
Follow the entire 30 Players in 30 Days series here.
Never miss the latest news from TexAgs!
Join our free email list