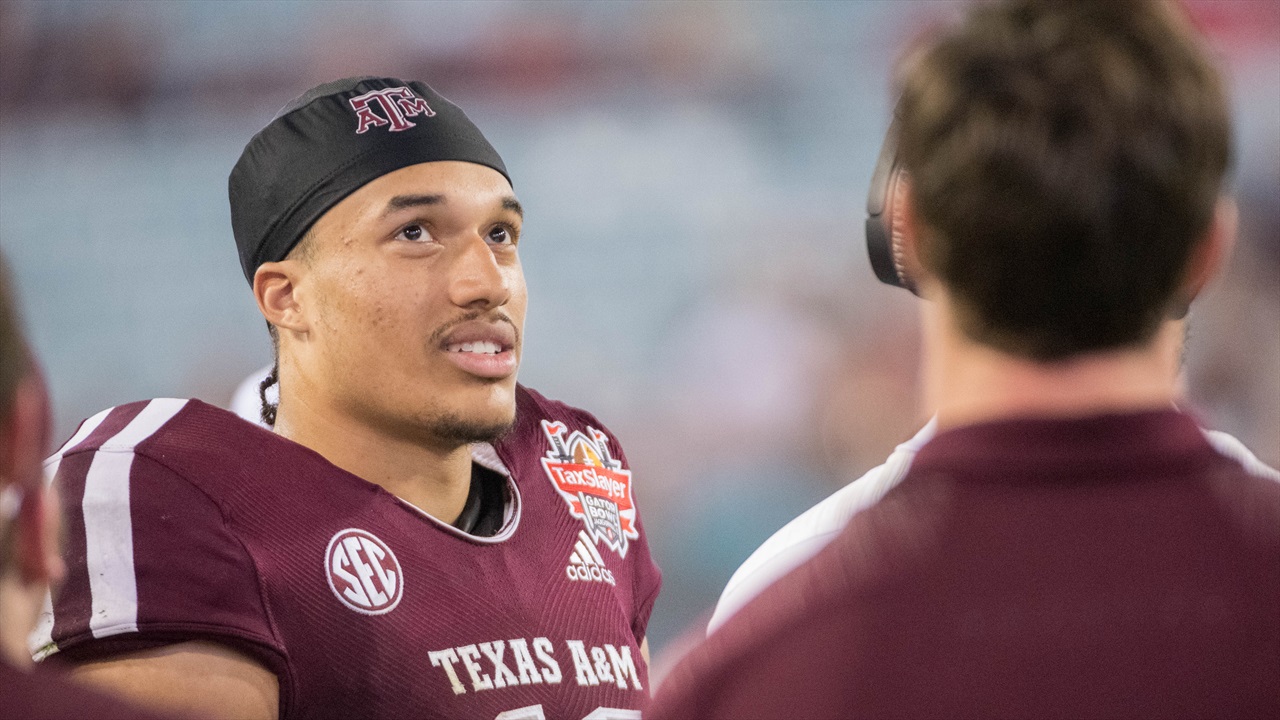 Photo by Lia Musgrave, TexAgs
Texas A&M Football
Mond's ability to deliver on his confidence could drive A&M's fortunes
---
In the face of pressure, Texas A&M's Kellen Mond stood calm and collected. He looked right. Then left. And almost at the last moment delivered a bullet that was right on target.
That is if the target was bulletin boards in Alabama and Georgia.
The usually understated Mond raised a few eyebrows — and eventually will raise some ire — on Tuesday at Southeastern Conference Media Days when he proclaimed himself the SEC's best quarterback.
"I feel, in my opinion, I am the best one," he said to a gaggle of local reporters. "That's not just because I am a confident person, but I actually believe that. I feel like my teammates believe in me, too, and coach (Jimbo) Fisher does.
"I can come out here and say that in front of the media, but I've got to go out and prove it on the field. Obviously, the SEC has a lot of great quarterbacks. They've all proven it throughout the years, but I feel like I'm the best."
That's a ballsy boast, especially with Heisman Trophy runner-up Tua Tagovailoa of Alabama and projected NFL first-round draft choice Jake Fromm of Georgia residing in the SEC. Hell, Missouri's Kelly Bryant and LSU's Joe Burrow might even take issue with it.
"I feel, in my opinion, I am the best one. That's not just because I am a confident person, but I actually believe that."
Mond's declaration was probably ill-advised. Some would say ill-conceived. After all, Tagovailoa and Fromm both threw more touchdown passes and fewer interceptions then Mond last season.
But then, nobody wants a meek quarterback. Quarterbacks should be confident. They should be bold. Mond may have taken bold to new levels.
Former A&M coach R.C. Slocum used to warn players not to write checks with their mouths they cannot cash with their … uh, performance. Critics will say Mond's account is overdrawn.
But what if his check clears? What if greatness looms this season?
The idea isn't as outlandish as some — particularly those in Tuscaloosa and Athens — might think.
Last season, Mond passed for 3,107 yards and 24 touchdowns behind an offensive line that was often labeled as suspect and to receivers that were unproven.
That was in his first season in Fisher's complicated offensive system. Mond wasn't great, but he didn't have to be. The offense was built around running back Trayveon Williams.
This year Mond is obviously more experienced. Fisher's quarterbacks have typically flourished in their second season in his system. The offensive line is more proven. The receivers corps is as good as any in the SEC outside of Tuscaloosa.
Fisher certainly thinks Mond has improved with regard to his leadership and understanding the offense.
"It's really fun to have conversations with him now," Fisher said. "He understands our language, our lingo, what to expect. When we see certain defenses, certain blitzes, certain looks (he knows) what to go to, how to go to.
"He even comes up with ideas now. We share ideas. So, it's fun to really watch him grow. He's embracing that whole concept that it's not just throwing the ball and handing it off. It's a year-round process of being a quarterback and being a leader of the football team."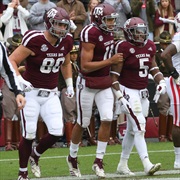 Matt Sachs, TexAgs
Mond has made great strides in the offseason. Yet, he will tell you his transformation began in the second half of a 38-24 victory over Ole Miss in the tenth game of last season.
He threw two touchdown passes in the second half to rally the Aggies from a 21-14 deficit.
"I had a fumble that was returned for a touchdown, and then an interception that I was late on throwing up the sideline to Cullen Gillaspia," Mond recalled. "I kept my composure. And then it was another third down — third-and-11 or third-and-12 — and I threw a great ball to Jace Sternberger. We were able to get a first down.
"Just being able to keep my composure, and when a lot of people probably would have given up on me, my teammates never did. They kind of gave me a little more confidence and kind of led on for the rest of the season."
You know how it went from there. Mond led the Aggies to a convincing win over UAB, starred late in a seven-overtime victory over LSU and then managed a blowout of North Carolina State in the Gator Bowl.
"I definitely felt like a little bit toward the middle of last season, I wasn't patient enough," Mond said. "A lot of things were speeding through my head. As I started working on it, I realized I needed to play more patient and relaxed. Once I started doing that I was able to finish the season really well."
Obviously, Mond feels he can continue that momentum this season. The Aggies certainly hope so.
In reality, A&M figures to be as good as Mond is. If he's very good, the Aggies should be very good. If he's great, the Aggies can be great.
But attaining greatness likely would require beating Alabama and Georgia. And that would require Mond being better than Tagovailoa and Fromm.
Never miss the latest news from TexAgs!
Join our free email list