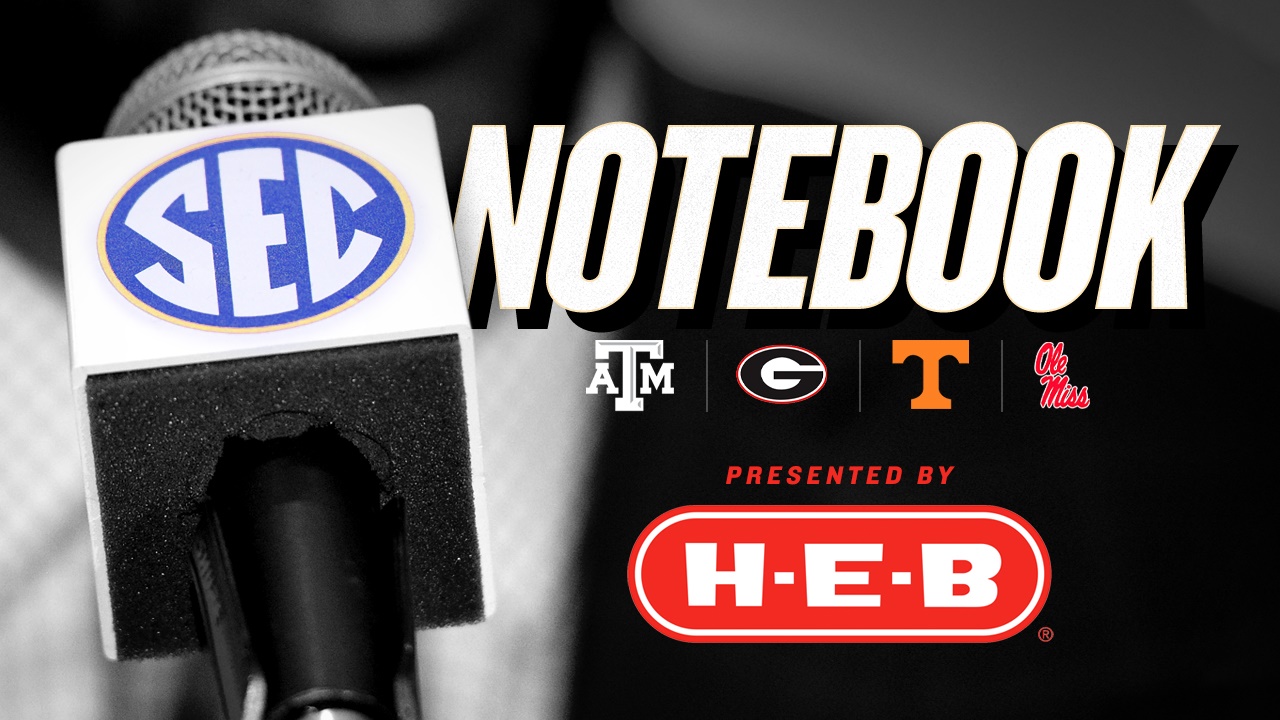 Texas A&M Football
SECMD19 Notebook: Most compelling stories from Ags, Dawgs, Vols and Rebs
---
Much has been made about the treacherous schedule Texas A&M faces this football season.
The Aggies will play four opponents — Clemson, Alabama, Georgia and LSU — that many project to open the season ranked among the nation's Top Ten. Some believe that Clemson, Alabama and Georgia could be the top three ranked teams.
If that's not difficult enough, the Aggies face Clemson, Georgia and LSU on the road.
The Aggies also must play Auburn, Mississippi State and South Carolina.
Though most view that grind as a walk through a minefield, coach Jimbo Fisher sees it was a chance to walk-the-walk as a championship contender.
"It is what it is," Fisher said on Tuesday at Southeastern Conference Media Days. "You either embrace it or you run from it.
"If a dog don't bite when he's a pup he won't bite when he's a dog. In other words, when things get going you know what you're going to face. I think (the schedule) allows you to have great opportunities. We'll have great opportunities to fail or succeed and know where we're at."
Fisher has been outspoken about building for the future. Along those lines, the general consensus is that A&M is a year away from championship contender status.
Fisher reminded the media that the "future" doesn't necessarily mean the distant future.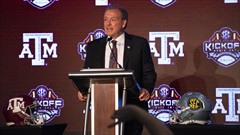 Lia Musgrave, TexAgs
"The key is laying the foundation for the future of our organization, which can be right now," he said. "I'm always looking for the future, but I'm looking for the 'now' also. (We're) living in the now and embracing tough games. In this league when is it not going to be tough? Tell me when it's not."
Quarterback Kellen Mond acknowledged the powerhouses on the Aggies schedule. He said the Aggies are a powerhouse, too.
"Everybody obviously knows that we have, they say, juggernauts on our schedule," Mond said. "At the same time, I feel like that's what type of team we are. We can always talk about it. But we've got to go out on the field and prove it."
While discussing the degree of difficulty of A&M's schedule, Fisher also took a jab at teams that have crowed about upgrading their schedules — some even by campaigning to play A&M.
"We've already prescheduled out 10 years," he said. "Everybody talks about these other teams really scheduling these non-conference games. We've already done that. They're getting rewarded for things A&M has already done.
"We know it's going to be a tough schedule every year, so that's the way you've got to prepare to play."
Going Green
Fisher indicated five-star rated freshman offensive lineman Kenyon Green will be first tried at tackle.
"I think it will at tackle (where he starts working)," Fisher said. "We'll see if he can handle the edge."
Some projected Green at guard because he would seem to have a chance to break in the starting lineup. Juniors Carson Green and Dan Moore are incumbent starters at tackle, and a replacement is needed for graduated guard Keaton Sutherland.
Fisher said Kenyon Green would also get a look at guard, and the best players will be in the starting lineup.
"We'll move him in and move him around. Whatever is best," Fisher said.
Jackson update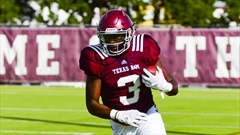 Daniella Gutierrez, TexAgs
Fisher said sophomore running back Vernon Jackson, who suffered a neck injury during spring football drills, isn't expected to play this season.
"Vernon most likely will have to sit this year," Fisher said. "We'll see about the future and what goes on."
The 6-foot-3, 240-pound Jackson was expected to play a significant role as Jashaun Corbin's backup.
If he recovers sufficiently, he could use this season as a redshirt year.
Georgia aims to 'do more'
No question Georgia has done a lot in three seasons under coach Kirby Smart.
The Bulldogs have won an SEC championship, appeared in two SEC championship games and reached the national championship game. They've gone 24-5 over the last two seasons.
They want to do more, though. In fact, 'Do More' is the Bulldogs' motto for 2019.
"One of the themes our players have adopted this year has been to do more. It's a great theme because it's simple," Smart said. "We like it because we understand how close we've been to taking the next step. And although 24-5 the last two seasons is good, it's not good enough. It's not where we expect to be at the University of Georgia."
Perhaps not surprisingly for a coach from the state of the Masters, Smart made a golf comparison to illustrate Georgia's goal to do more.
"We're always looking for the aggregate of marginal gains, and I want to explain that simply like we have to our players," Smart said. "We take a situation like the PGA Tour and look at 2017 in the PGA Tour and we say, here's Brooks Koepka and here's Justin Thomas, these guys were .5 strokes apart, meaning they were half a stroke difference in their play over 86 rounds."
"One of the themes our players have adopted this year has been to 'do more.'"
"Their earnings that year, $5 million difference, which is pretty significant. It's a lot of money, but we're looking for the aggregate of marginal gains. If we get a little bit of marginal gain through our nutrition, through our weightlifting, through our film study, through our effort on and off the field, through other dedication to our community, whatever our edge can be, we're looking for that aggregate of marginal gains and that comes in every facet every way possible for our program."
Receiving attention
Georgia isn't as worried about receivers dropping passes as it is receivers dropping off the roster.
The top five receivers (including a tight end) from last season are no longer on the team.
Receiver Terry Godwin completed his eligibility. Receivers Mecole Hardman and Riley Ridley, as well as tight end Isaac Nauta, opted for early entry into the NFL draft. Receiver Jeremiah Holloman was dismissed from the team.
That leaves receiver Tyler Simmons and tight end Charlie Woerner, who both had nine receptions last season, were the most productive pass-catchers other than running back D'Andre Swift.
Therefore, quarterback Jake Fromm's experience is even more valuable.
"He's certainly earned that right to be the leader of those receivers," Smart said of Fromm. "I think a lot of those receivers understand exactly what he wants. He's able to convey that in a positive way. Jake has an aura about him. He rubs off on people. He has a positive energy that he rubs off on the other wideouts. I think he's kind of embraced this challenge now with this young group of receivers to grow those guys."
Weight and see for Tennessee
Craig Fitzgerald won't throw any passes or make any tackles for Tennessee, but coach Jeremy Pruitt said Fitzgerald will be a key figure if the Volunteers improve on last season's 5-7 finish.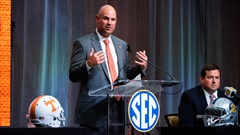 TexAgs
Fitzgerald is Tennessee's strength and conditioning coach. He and director of sports nutrition Rachel Pfister faced a big task in making the Vols bigger and stronger.
"We had a lot of big, long, skinny guys," Pruitt said of his first team in Knoxville. "We had several guys that weighed 260 pounds that went from 260 to 310 or 270 to 320 in the last eight months. Craig and his staff, along with Rachel and her staff, have done a really nice job with our strength and conditioning, tying it together with nutrition.
"We've completely changed. This time last year, we had two guys on the offensive line that weighed over 300 pounds. Now we have 15. Does that make you a football player? No, it doesn't. But I can assure you this: In this league when you start putting people upfront, it helps to have large men. So, the guys who are on our team have worked really hard to continue to grow and develop. And that's important because we have a young football team."
MacIntrye a Rebel rouser?
Defense has been a major problem for Ole Miss. Last season the Rebels were last in the SEC against the run and next to last against the pass.
Mike MacIntyre, a former head coach at San Jose State and Colorado, was brought in as defensive coordinator to try to shore up that unit.
Clearly, he faces a tall task, but linebacker MoMo Sanogo said MacIntyre quickly made a good impression.
"His knowledge for the game … the guy is a defensive genius," Sanogo said. "I've been excited to be under his wing and take advantage of that."
MacIntyre's influence is one reason the Rebels may improve. Personal pride is another.
"The defense has been looked at as a weakness for Ole Miss, and this year, we are trying to
move it into a strength and a positive," Sonogo said. "We are trying to prove everybody wrong and turn some heads."
H-E-B Curbside & Home Delivery make shopping easy! Shop online, schedule a time for pickup or delivery, and get groceries loaded into your car or delivered to your door! Now through 10/1, get free next day curbside pickup and home delivery.
Never miss the latest news from TexAgs!
Join our free email list
PRESENTED BY