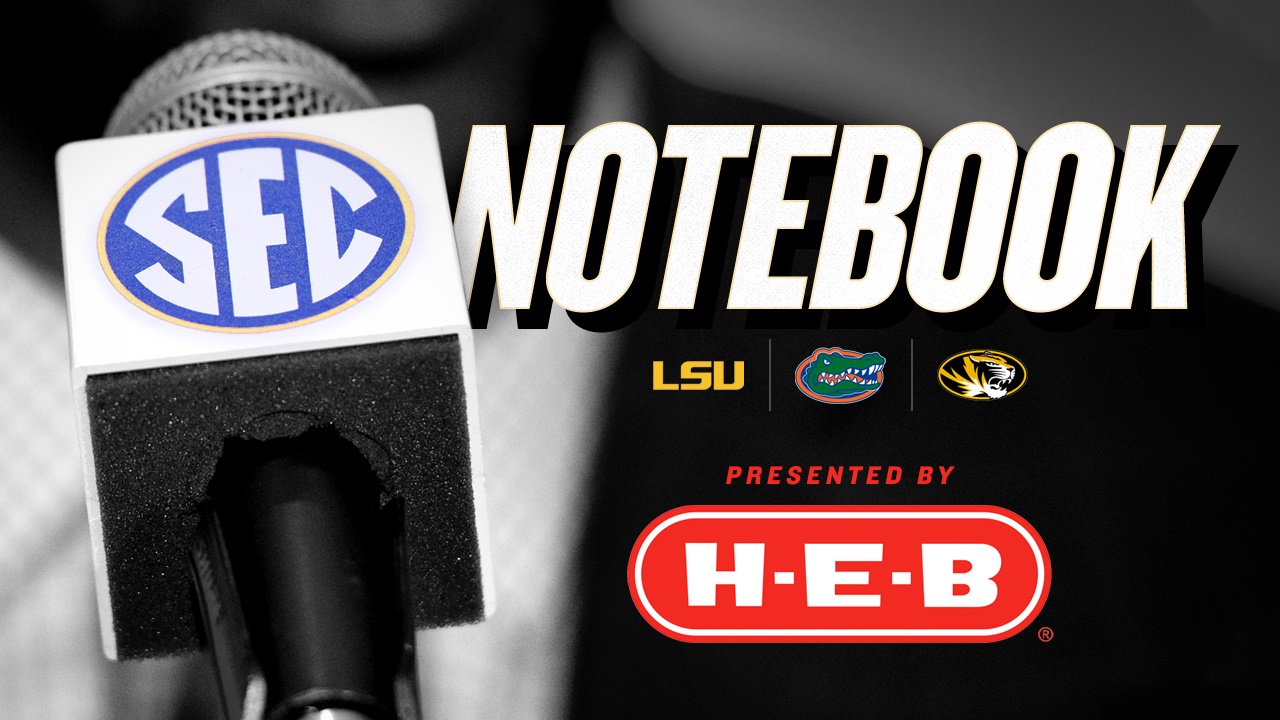 Texas A&M Football
SECMD19 Notebook: Impact QBs at Florida and Missouri
---
The single biggest difference in Florida's rebound from 4-7 in 2017 to 10-3 last season was the performance of oft-maligned quarterback Feleipe Franks.
Last season, Franks passed for 2,457 yards and 24 touchdowns, while only throwing six interceptions. He also ran for seven touchdowns. In 2017, Franks passed for 1,438 yards and nine touchdowns with eight interceptions.
"As the year went on I think he understood what his abilities were and he decided to use all of his talents," Florida coach Dan Mullen said on Monday at Southeastern Conference Media Days. "A light came on that 'I'm 6-6, 245 pounds and pretty athletic and on third down they (defense) completely empty the middle of the field I can run into the end zone from 20 yards away untouched then I can do that.'
"I think what he bought into using all of his skill set and not trying to worry about what everybody else thought."
Mullen also said that a significant factor in Franks' improvement has been ignoring criticism on social media.
"I told him If there is someone better than Brian Johnson let me know and I'll hire them to be our quarterbacks coach," Mullen said. "I think he's a pretty good quarterback coach. I have experience developing quarterbacks as well. But, Feleipe, if you think everybody on Twitter is better at that, let us know.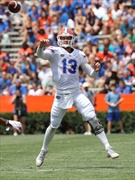 Kim Klement/USA TODAY Sports
"Once he was able to block those things out and all the outside noise and look at what he does well, he was able to improve. I think he took huge strides this spring as well."
Strong season raises expectations for Florida.
Last year's success seems to indicate the Gators are on the rise, but it could also be deceiving.
Florida was 11-2 under Will Muschamp in 2012 and dropped to 4-8 the following season.
Also, the Gators were 10-4 in 2015 and 9-4 in '16 under Jim McElwain. They fell to 4-7 in '17.
Despite that history, expectations have been raised in Gainesville. Mullen doesn't mind, though.
"I like to set the bar really high," Mullen said. "I don't know if anybody out there has higher expectations for this team than I do. We like to set the bar high. I don't let expectations bother me. I kind of like them.
"Instead of shying away from them. Embrace those expectations. Try to live up to them and try to surpass them."
Tiger changes stripes
A potential major problem at quarterback for Missouri appears to have been avoided by the addition of graduate-transfer Kelly Bryant.
Missouri needed a replacement for Drew Lock, who passed for 3,498 yards last season. Lock was a second-round draft choice of the Denver Broncos.
Lock's departure left Missouri with two quarterbacks, who almost no playing experience between the both of them. One of those, Micah Wilson, is working at receiver.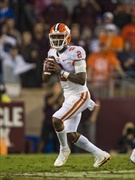 Jerome Miron/USA TODAY Sports
But then Bryant landed at Missouri via the transfer portal from Clemson. His presence gives Missouri a realistic chance to improve on last season's 8-5 finish.
"Kelly's skill set at the quarterback position allows us an opportunity to do the things that he's been able to do in the vertical passing game, the intermediate passing game, play action, moving the pocket, but also some quarterback runs that will help our team out," Missouri coach Barry Odom said.
Bryant passed for 2,802 yards and rushed for 665 in helping Clemson reach the College Football Playoff in 2017. Last season, he passed for 461 yards in only four games before losing the starting job to Trevor Lawrence.
He said Missouri was the first program to contact him when he entered the transfer portal.
"It was a crazy process," Bryant said. "When I first went out there on a visit, I just pretty much fell in love with everything they had to offer. For me, within the last year, the biggest thing is I have one last year to get it right, and I can't have any slip-ups.
"They (Missouri coaches) knew it and they were selling me on how Drew had the success he had and put himself in the position where he wanted to be at the end of the year."
H-E-B Curbside & Home Delivery make shopping easy! Shop online, schedule a time for pickup or delivery, and get groceries loaded into your car or delivered to your door! Now through 10/1, get free next day curbside pickup and home delivery.
Never miss the latest news from TexAgs!
Join our free email list