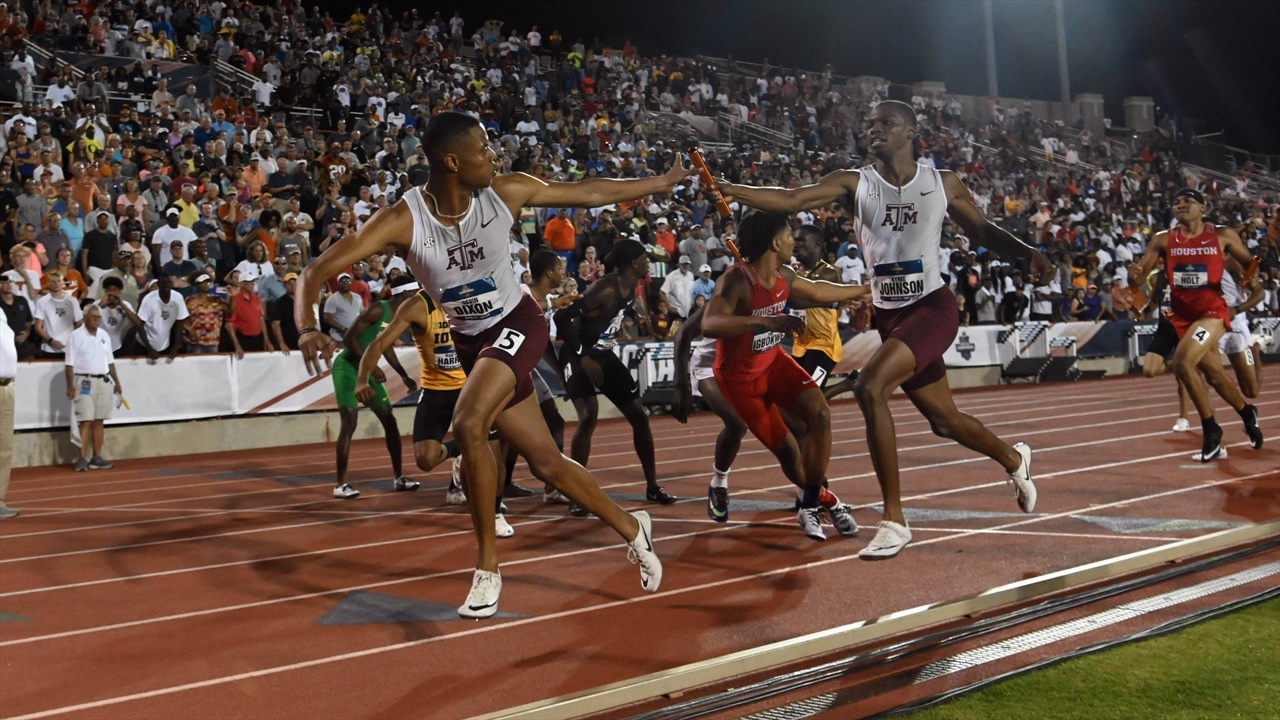 Photo by Kirby Lee/USA Today Sports
Texas A&M Track & Field
Aggies finish season strong at NCAA outdoor track & field championships
---
The Texas A&M men's and women's outdoor track teams finished their seasons this weekend at the NCAA Outdoor Track and Field National Championships in Austin, breaking a few school records and nearly a collegiate record in the process.
The women's team finished fourth overall and scored 38 points in seven events. The men's team finished sixth overall after scoring 29 points in eight events. Texas Tech won the men's national title with 60 points and Arkansas won the women's with 64.
One of the highlights of the weekend for the Aggies was Friday night's performance in the men's 4x400-meter relay. The team of Bryce Deadmon, Robert Grant, Kyree Johnson and Devin Dixon (Johnson-to-Dixon handoff pictured above) finished first in the event with a time of 2:59.05. Their time set a school record and narrowly missed out on breaking the collegiate record, coming just 0.05 seconds shy of the current record holders, the 2018 University of Southern California team.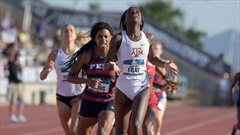 Kirby Lee/USA Today Sports
The women's team finished on a high note on Saturday, the day they scored 32 of their 38 points. The women's 4x400-meter relay team of Jarra Owens, Tierra Robinson-Jones, Jazmine Fray and Syaira Richardson also finished first and broke a school record in the event with a time of 3:25.57. Fray also placed first and broke another school record in the 800-meters where she finished with a time of 2:01.31.
The Aggies also added a few more impressive performances on the weekend. Devin Dixon finished second and Carlton Orange finished fourth in the men's 800-meters final, scoring 13 points total, with times of 1:44.84 and 1:46.40. Trya Gittens finished second in the heptathlon, scoring 6,049 points in the event and besting the heptathlon field in the high jump and the long jump. Debroah Acquah finished third in the women's long jump final with a personal-best mark of 6.63 meters.
The performance by both Aggie teams is an improvement over the 2018 championships that saw the men's team finish in seventh and the women's team finish 19th.
Never miss the latest news from TexAgs!
Join our free email list