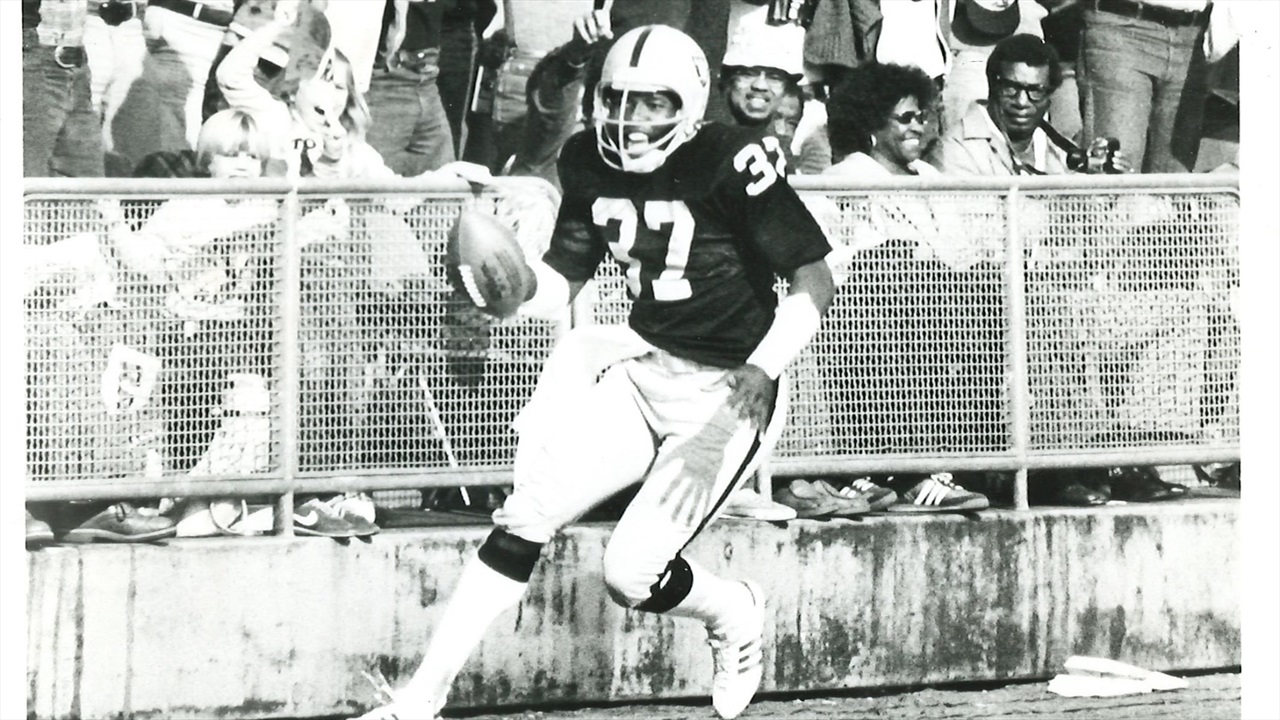 Photo by Cathy Capps, Texas A&M
Texas A&M Football
Lester Hayes shares his Aggie story, Super Bowl memories with Oakland
---
Key notes from Lester Hayes interview
I'm shocked that I'm on the all-time depth chart and I'm on the list I'm a linebacker! I couldn't play safety in college!

I'm helping out sick babies out here and helping out homeless people. I was taught to show folks love. I've done this all over the world. Australia, Tokyo, and Canada. I give back to kids who are sick and don't have food because there's a lot of them.

I'm a champion, a Super Bowl champion twice. But the most important factor is that I'm a Texas Longhorn CRUSHER! We took off our belt and whooped that ass, TWICE! We spanked those Longhorns and those Aggie fans went crazy. In 1975 it was at Kyle Field, people nearly fainted because we were crushing them so bad. We crushed them even worse in 1976 in Austin. We crushed #20, Earl Campbell. I'm the judge and I told people that he wouldn't gain 25 yards. People said, "No way, Earl Campbell's a super stud!" We stopped him on 1st and 2nd down. That's a very important factor: can you stop the run? Can you force them into 3rd and 9? That's what we did. We had a great defense. We stopped the run against #20.

We had some studs on defense at A&M. I think back and it makes me wanna cry. There were a ton of fantastic coaches on that staff. The head coach was Coach Bellard. He was a great man, a good human being. He loved God strong on Sunday. He loved us and he made us feel it. Can you make a person feel the love? That's what this man did for us. He loved us and made us feel it. That's important. We played for him because we wanted him to be happy. You don't want him sad and miserable. We wanted to bring him success and win for him.

There was a coach on our defense named Melvin Robertson. He coached us up. I'm a Mad Dog fan for life!

I played linebacker in 1973. I didn't wanna switch. I got a phone call at seven in the morning. It was Coach Bellard. He called me over and I was in his office at 7:45. He told me, "Lester, you're playing safety." I told him I had never backpedaled in my life. But he did something for me. He gave me Pat Thomas.

Pat Thomas and I stayed on campus every day for 60 days. I was in love with Sandra Lewis and I was sad because I just wanted to go home and see Sandra! I was crying because I had to stay here. Coach Thomas was coaching me up mentally and physically for 60 days in June and July. He coached me up so well. Thank you, Jesus, for Coach Thomas because he coached me up and taught me how to backpedal!

People were thinking, "He can't play safety. He's a linebacker. He's too big." Your technique coach is very important. Coach Thomas turned me into a second-team All-American safety. That's not logical!

I had Mad Dog in the film room. It was film dissection, it's more than film study. We got a pad and a pen. You gotta dissect the film, not study film. Coach Thomas dissected film for us. He made us smarter. He coached us up on football schemes. He could dissect schemes on Saturday.

I'm doing fantastic. I live in Northern California. I am a technique technician. I've got a great group of boys age 14 and 15 and I teach them on technique. It's all based on Pat Thomas. I teach them and coach them up mentally. I don't charge them anything to teach them. I've been doing this for 17 years.

I'm a linebacker. I cried on Saturday because I didn't wanna play safety. I cried on Sundays because I didn't wanna play cornerback. Willie Brown was my great coach in the NFL who coached me up.

I was a defensive lineman. I was the #1 lineman in Houston. I played lineman at E.O. Smith Junior High School. I was a pancaker! I used to pancake men. I was a legalized butt whipper!

My foundation is great technique and staying low. That's the key. I was taught something: can you go left? Can you use your left hand, arm, shoulder, foot, and hip like you use your right? You must train to use your left side just like your right side. I trained every day. It's all based on training seven days a week. You can't get tired. Train your body. Strengthen your left. That is the secret because a lot of men can't go left. You've got to go left just like you go right.

Thinking back on why I came to A&M, it was Coach Bellard. I had scouts coming because I had 27 sacks my senior year. I was a sack savage. I was a legalized butt whipper who sacked the quarterback 27 times in nine games. The fascinating thing was that Coach Bellard came three times to meet me. I felt the love. Based upon all these schools sending scouts to meet me. I met the scouts but never met a head coach from the other schools. But I met the Texas A&M head coach three times! This man was showing me love and it hooked me. I felt the love! I didn't know him. I was a senior at Wheatley High School and here is the head coach visiting me? He came three times and I was hooked! I saw Coach Bellard three times in 60 days. Thank you Jesus, Bellard hooked me because I am an Aggie!

In 1973, I'm a state champion in basketball and track also. I was playing a basketball game once when I looked over and there's Coach Bellard! He told me, "Nice dunk." He was smiling at me. I visited with him and it was just different. I could feel the warmth and love from the Aggies. The coach, the secretaries, the students. You gotta show it. And I felt it. At so many other places, people are so cold and cruel. Not A&M. I was hooked.

We had a great coaching staff at A&M. It wasn't just a single coach, it was the entire staff. The daily thing with them was teaching technique, strength, and stamina. We could never get tired. It was go, go, go! In the 4th quarter, we would legally whoop asses. We crushed men based on our stamina, on our strength, our training, and mostly on our great technique. You've gotta finish strong in the 4th quarter!

Losing to Arkansas in 1975 was a fluky game. It was the strangest game. There were so many strange things that happened on that day. We were so powerful in 1975. It was a day where Arkansas got break after break. It was weird. It was fumbling, dropped balls that I should've picked, a blocked punt I think, everything. It was just a strange day.

The most important factor in 1976 for me was teaching all my underclassmen how to study film, how to train and how to practice. The freshmen and sophomores needed a hero. We were the young guys' heroes. We had to show them how to do all this. We taught them how to study film and train their brains.

In 1977, on the first day of practice, Coach John Madden tells me, "You run a 4.3 40-yard dash. You're going to play cornerback." I turned into a newborn baby! I cried on the football field on the first day of Raiders practice! I couldn't believe it. I was a safety. I was a super stud and I knew it. I wanted to play safety. I had tears coming down my face. Coach Madden is looking down on me and he said, "You have great speed. You can play corner." I was pleading, "Coach please don't make me play corner!" I believed in Coach Madden, but first I tried Plan B: go to Mr. Al Davis. I was begging with Mr. Davis to please let me play safety! I eventually bought it. That was the first day of training camp.

The Raiders gave me another Pat Thomas: the great Willie Brown. He was the originator of bump and run. Thank you, Jesus, for him! The Raiders gave me another hero. Willie Brown taught me the technique every day. I was still hoping to play safety. But nope, that was not a destination of mine. Willie Brown was the father of cornerbacks. I learned based on training and working. I trained seven days a week. It paid off because of consistency.

You must out train everybody else. That was the foundation on Saturday's with Pat Thomas and was my foundation on Sunday's with Willie Brown. You have to stay low. Keep those hips low. You can't play tall because seeing that touchdown sign sucks!

I was shocked to win the Defensive Player of the Year. I thanked God. It paid off because I was patient. I stayed with it. I kept on working and eventually turned the page on playing strong safety. I focused on the cornerback because it was my destiny. There were a lot of 3rd and 8 as well as 3rd and 9 in our defense. That's why I broke out.

I love Mr. Davis. If Mr. Davis said to pack our gear and sell your home to move to Los Angeles, you gotta do it! The NFL is a business league. If he said something, I loved and trusted him, so it must be done because it was business.

Silver and Black fans are like Texas A&M fans. It's a sensation. They cheer and it turns into a roar. Psychological stimuli are very important on game day. Thinking back to my Texas A&M days, it sounded like 250,000 Aggie fans were there. The waves and vibrations make your spine tingle. That's what I remember of Kyle Field.

I've watched Coach Fisher. I watched him at Florida State. His playbook is strong. The most important factor in a strong playbook is having seven blocking beasts. You've got your five linemen, a tight end and a fullback. You need seven or six blocking beasts to be successful and pass Bama. That's what I want to do is pass Bama. I believe that Coach Fisher will pass Bama. Trust me on this. I have studied his game tape. I know football. This coach and his staff and his linemen will score points. They just got to crush people on defense. You have to stop Alabama on 1st and 2nd down to beat them.

I haven't been back to Aggieland since 1996. I've traveled all over this planet helping people. I've done a lot of charity activities all over the world. But I've got to get back to Kyle Field because I love Texas A&M. Soon I've got to get back because I'm excited for Coach Fisher!

I can say this: trust Coach Fisher's process. He shall be successful. He will make you drive down Highway 6 following the game and you'll be gleaming and smiling because Texas A&M will crush teams. They will crush teams. I trust Coach Fisher. I love his playbook and his staff. They will make every Texas A&M fan happy.
Never miss the latest news from TexAgs!
Join our free email list