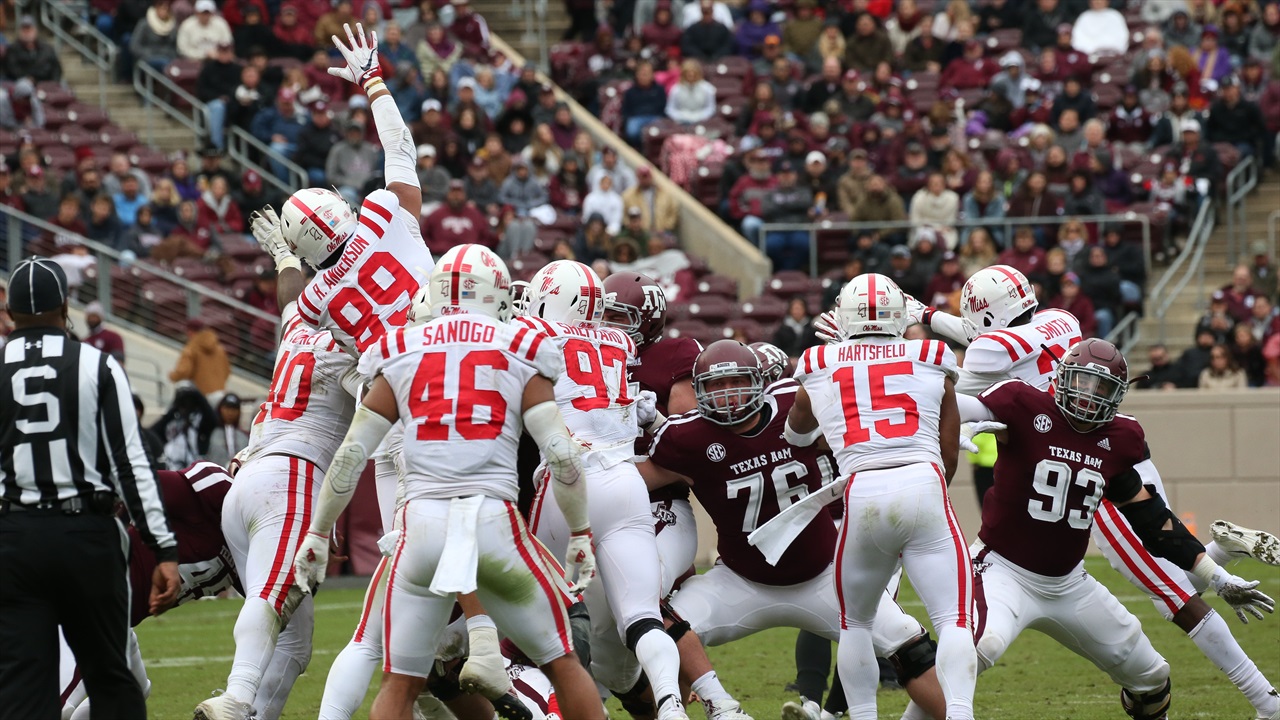 Photo by Matt Sachs, TexAgs
Texas A&M Football
Pair of new coordinators ready to reverse Rebels' recent woes
---
Hope for reclaimed football success at Ole Miss is based on a basic mathematical principle that two negatives make a positive.
To explain: Ole Miss, which has not posted a winning record in the last three seasons, is counting on coaches who failed in their previous positions to succeed in their new ones.
New offensive coordinator Rich Rodriguez was 58-57 in nine seasons as head coach at Michigan and Arizona and was fired from both jobs. New defensive coordinator Mike MacIntyre was also fired after finishing 46-65 in six seasons as head coach at Colorado. Though the two have experienced largely negative results, they're being relied on to help third-year coach Matt Luke get the Rebels back to the form they showed in 2013-15 when they posted 27 victories.
Both face difficult challenges.
Rodriguez takes over an offense that returns only three starters from the unit that led the Southeastern Conference in passing and was second in total offense in 2018.
The losses from that offense included tackle Greg Little and receivers A.J. Brown and D.K. Metcalf, who were second-round NFL draft picks. Also gone is tight end Dawson Knox, a third-round pick, and guard Javon Patterson, a seventh-round pick.
Yet, the costliest loss is quarterback Jordan Ta'amu, who led the SEC in passing.
Capable Elijah Moore and Braylon Sanders, who combined for 52 receptions in backup roles last season, will ensure the receiving corps remains productive.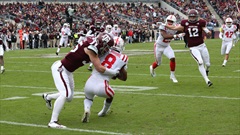 Matt Sachs, TexAgs
Also, running back Scottie Phillips is a potential 1,000-yard rusher. However, the offensive line is questionable and the quarterback situation is uncertain with redshirt freshman Matt Corral taking over.
MacIntyre has just as many issues to address.
The Ole Miss defense was among the worst in college football last season. The Rebels were last in the SEC in run defense, 13th in passing defense and last, again, in total defense, where they allowed an average of 483.4 yards per game.
MacIntyre is changing the defense from a 4-3 scheme to a 3-4, which may seem odd because linebacker play was the Rebels' primary weakness.
The hope is that converted defensive end Qaadir Sheppard will thrive as a standup outside linebacker and newcomer Sam Williams will be as dominant as he was at the junior college level. Defensive linemen Josiah Coatney and Benito Jones — arguably the most proven players on the unit — are solid, but not dominant. Further, major improvement is needed in a secondary that allowed at least 200 passing yards in eight games and surrendered an SEC-high 26 touchdown passes in 2018.
If MacIntyre cannot plug all those holes, the Rebels could struggle to a fourth consecutive non-winning season.
Coach: Matt Luke
2018 record: 5-7, 1-7
Postseason results: None
Returning starters
Offense (3): G Ben Brown, T Alex Givens, RB Scottie Phillips.
Defense (8): DT Josiah Coatney, NB Vernon Dasher, FS Myles Hartsfield, ILB Willie Hibbler, DT Benito Jones, CB Jalen Julius, ILB Mohamed Sanogo, OLB Qaadir Sheppard
Specialists: P Mac Brown, K Luke Logan
Areas Of Strength: Though it might seem strange for Ole Miss, running back may be the Rebels' strongest area. Returning starter Scottie Phillips ran for 928 yards in 2018, despite rushing for only five yards combined in the final two games of the season due to injuries. There is solid depth, too. Isaiah Woodard compiled 510 all-purpose yards in 2018.
Though two receivers were second-round selections in the NFL draft, the Rebs still have gifted pass-catchers. The issue lies with who is throwing the passes.
Areas of Concern: Linebacker play has been a headache in Oxford for the last three seasons and might be again this year. Last season, Ole Miss was last in the SEC in run defense — the third consecutive year the Rebels ranked 13th or worse. Subpar linebacker play was a huge reason for that futility. So, it seems curious Ole Miss is going to a 3-4 scheme under new Defensive Coordinator Mike MacIntyre. Qaadir Sheppard, who is shifting from end to outside linebacker, and new starters will be counted on to provide a boost.
Top players:
Scottie Phillips, RB: He was on his way to a 1,000-yard campaign, but after an injury, had just seven carries in the final three games of the season.
Qaadir Sheppard, OLB: Had a respectable showing as a defensive end in 2017. He posted 48 tackles, 1.5 sacks and was credited with eight quarterback pressures. He aims to excel as a standup outside linebacker in the new scheme.
Benito Jones, DT: A former five-star recruit, Jones has played in every game since arriving in Oxford. Last season he started at nose guard and accumulated 34 tackles — nine for lost yardage — and three sacks. He was also credited with six quarterback pressures.
Biggest loss: Though two receivers were second round selections in the NFL draft, the Rebs still have gifted players to catch passes. The issue lies with who is throwing the passes. Quarterback Jordan Ta'amu passed for nearly 4,000 yards and 19 touchdowns last season. That kind of production will be difficult to replace, especially with redshirt freshman Matt Corral taking over the offense.
Impact newcomer: Sam Williams posted 17.5 sacks last season at Northeast Mississippi Community College and is expected to significantly bolster the Ole Miss pass rush as on outside linebacker. He was the third-rated junior college outside linebacker. Williams turned down offers from LSU, Alabama and Auburn among others.
2019 schedule
Aug. 31 at Memphis
Sept. 7 vs. Arkansas
Sept. 14 vs. Southeast Louisiana
Sept. 21 vs. Cal
Sept. 28 at Alabama
Oct. 5 vs. Vanderbilt
Oct. 12 at Missouri
Oct. 19 vs. Texas A&M
Oct. 26 OPEN
Nov. 2 at Auburn
Nov. 9 vs. New Mexico State
Nov. 16 vs. LSU
Nov. 23 OPEN
Nov. 28 at Mississippi State
Never miss the latest news from TexAgs!
Join our free email list
PRESENTED BY