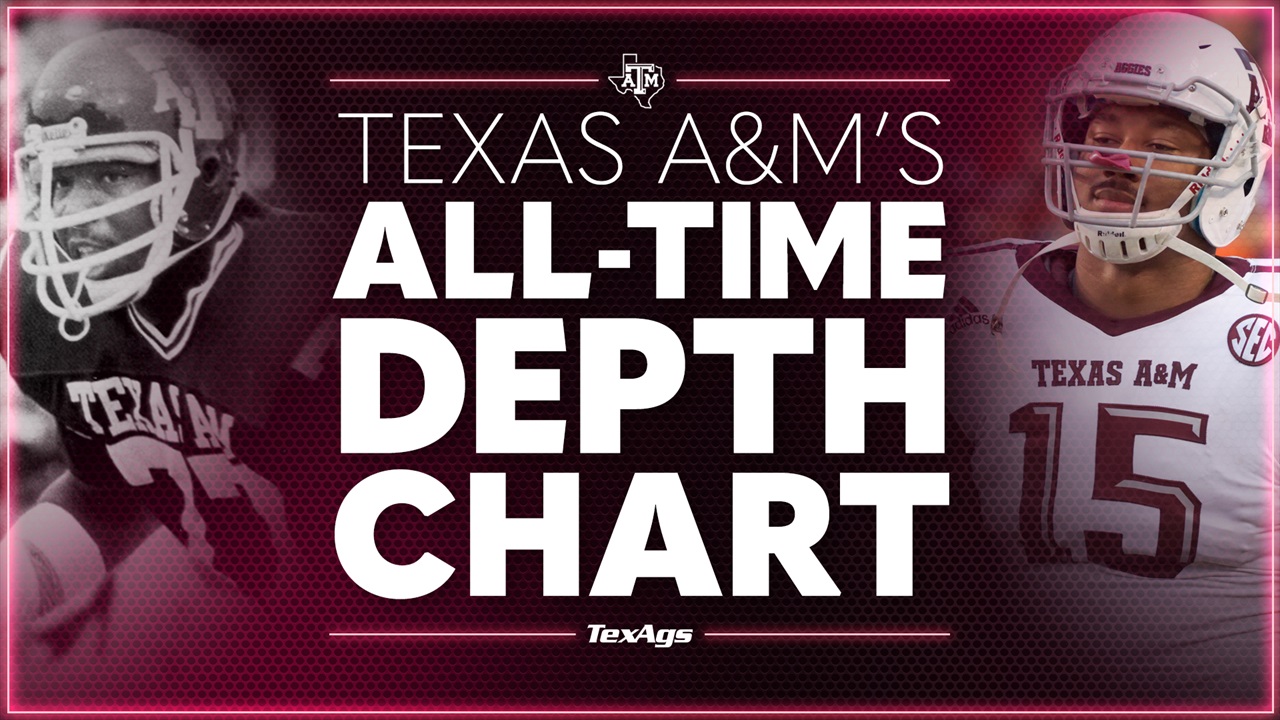 Texas A&M Football
Texas A&M's All-Time Depth Chart: Defensive Linemen
---
Throughout its football history Texas A&M has produced a veritable galaxy of celebrated stars.
Some won national awards. Dozens received All-American recognition. Literally hundreds have been named to all-conference teams, some multiple times. A handful never were adequately honored for their accomplishments.
A few of these stars made immediate impacts as freshmen. Some developed into standouts as sophomores or juniors. There were even those that did not emerge until their senior seasons.
They arrived as five-, four-, ,three- or two-star high school recruits. They transferred from other major college programs. They came from junior college.
Some played in the Southwest Conference. Others played in the Big 12 or the Southeastern Conference. They played in the '50s, '60s, '70s, '80s, '90s and into the 2000s.
A number played before platoon football. Some started at one position and moved to another. There were those that excelled on offense, some on defense, some on special teams.
Some were great in college and greater in the pros. Some had long NFL careers. Some had brief tenures as professionals. Some were All-Pros. One was even a Super Bowl MVP.
They were black, white, bi-racial and even Vietnamese. Some were from the inner city. Others were from rural areas. Most were from Texas, though many came from out of state.
Yet, at least one thing they had in common was the fact they were listed high on the depth chart — football's hierarchy that designates first team, second team and third team.
With that in mind, TexAgs is unveiling in four stages its All-Time Texas A&M football depth chart.
First, we'll look at offensive skill positions, followed by offensive linemen and tight ends, then defensive front seven and concluding with secondary and special teams.
Of course, when star gazing individuals might focus on different constellations. Check the stars on the TexAgs depth chart to determine if they'd be the stars on yours.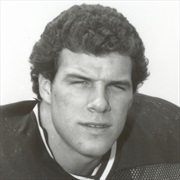 repository.tamu.edu
Defensive Tackles (6)
Ray Childress (1981-84): Two-time All-American. Two-time All-Southwest Conference. Posted 360 career tackles — the most of any A&M defensive lineman. Also posted 25 career sacks. Posted the most single-season tackles (117) ever for an A&M defensive lineman.
Sam Adams (1991-93): All-American. Two-time All-Southwest Conference. Led Aggies with 78 tackles in 1993. Totaled 169 career tackles, 20.5 sacks, seven forced fumbles, three fumble recoveries and two interceptions.
Ty Warren (1999-2002): All-Big 12. Despite being often slowed by injuries, he finished his college career with 144 tackles, 13.5 sacks and two blocked field goals.
Charlie Krueger (1955-57): Two-time All-American. Two-time All-Southwest Conference.
Jimmy Dean (1973-76): Two-time All-Southwest Conference
Ed Jasper (1994-96): Posted 141 tackles and 4.5 sacks in three-year career. Holds A&M record for single-season tackles for loss with 14 in 1995.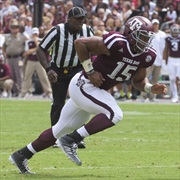 Lindsay Caudle, TexAgs
Defensive Ends (6)
Myles Garrett (2014-16): Two-time All-American. Three-time All-SEC. Posted 31 career sacks.
Jacob Green (1977-79): Two-time All-American. Two-time All-Southwest Conference. Holds A&M record single season record with 20 sacks. Also holds school records with 12 forced fumbles in a career and six forced fumbles in a season. Posted 37 career sacks — the second most in school history.
Damontre Moore (2010-12): All-American. All-SEC. Posted 26.5 career sacks.
Brandon Mitchell (1993-96): All-American. All-Big 12. All-SWC and All-Big 12 selection. Posted 169 career tackles and 21 career sacks.
Tank Marshall (1973-76): Two-time All-Southwest Conference. Career statistics unavailable, but as a senior posted 61 tackles, five sacks and three forced fumbles.
Grady Allen (1965-67): All-Southwest Conference. Career statistics unavailable, but was a '67 team captain and Aggie Heart Award recipient. Helped A&M to SWC championship and Cotton Bowl win over Alabama.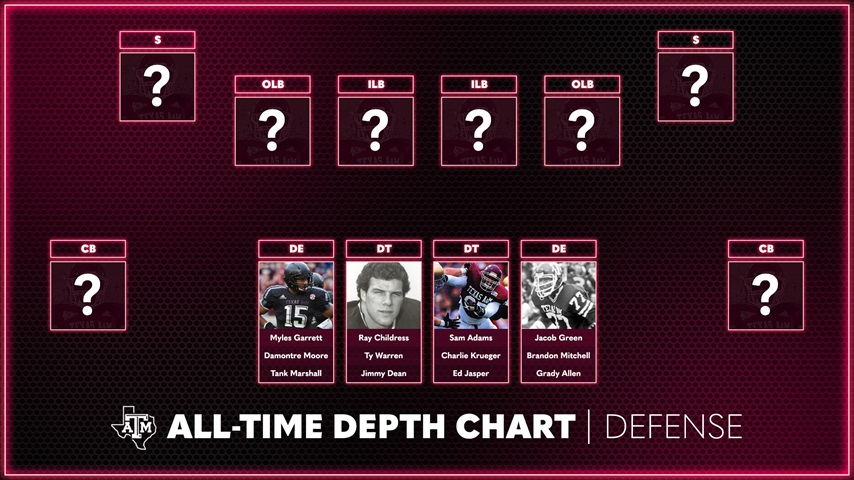 Never miss the latest news from TexAgs!
Join our free email list