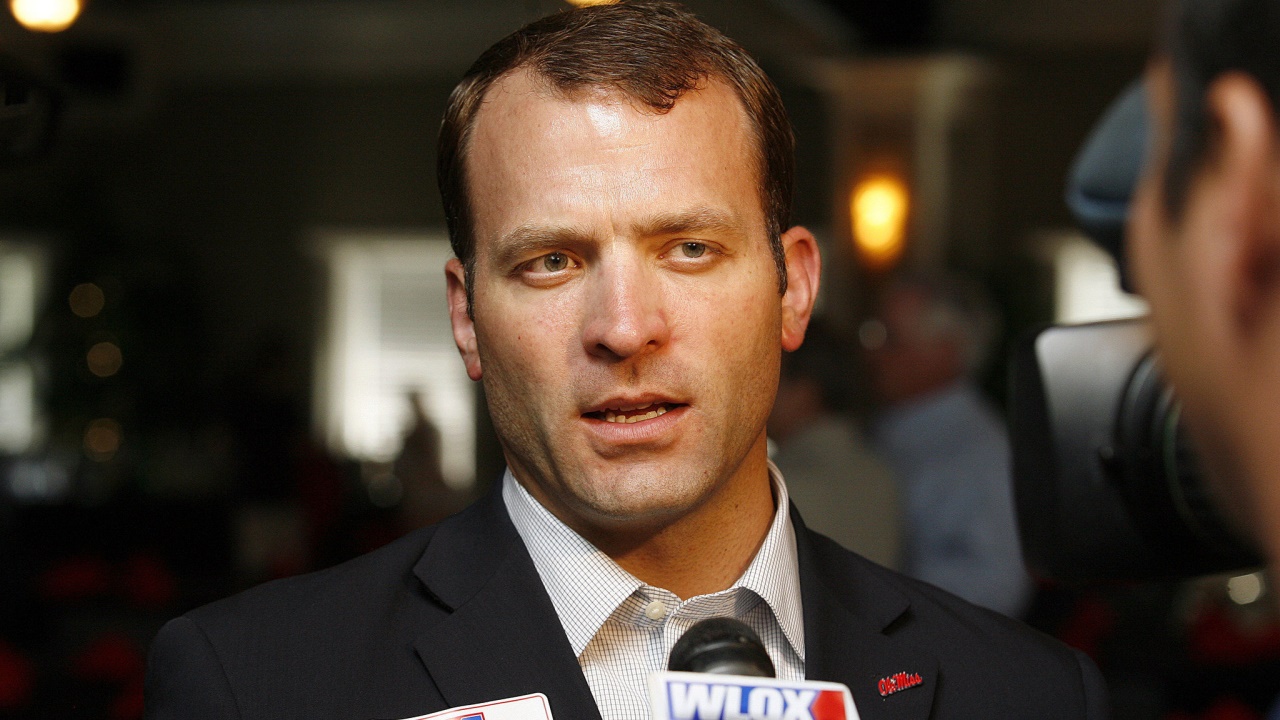 Photo by gulflive.com
Texas A&M hires AD Ross Bjork away from Ole Miss
---
Ross Bjork, who has served as Ole Miss athletic director since 2012, is leaving Oxford to accept the Texas A&M AD position. Ben Baby of the Dallas Morning News first reported the story and TexAgs' Billy Liucci confirmed that Bjork's contract has been finalized. Bjork will replace Scott Woodward, who last month resigned as A&M athletic director to take the same position at LSU.
Terms of Bjork's agreement with A&M are not available, but he earned a $700,000 annual salary at Ole Miss.
"I am so honored to accept this position and look forward to greeting coaches, staff and the entire 12th Man," Bjork said in a statement released by A&M late Thursday evening. "I remember visits to Kyle Field even before its massive renovation, being enthralled with the whole environment."
Bjork, 46, previously served as athletic director at Western Kentucky from 2010-12. Prior to that he worked as senior associate athletic director at UCLA, associate athletic director at Miami, and assistant athletic director at Missouri.
Bjork has a reputation as a proficient fund raiser and led Ole Miss through the construction or renovation of several significant athletics facilities.
Under Bjork, the $94.5 million Paviilion at Ole Miss basketball arena opened in 2016. The Rebels also made $65 million in renovations to Vaught-Hemingway Stadium. The upgrades include renovated suites, new video boards and entry plazas, new lights and improved sound systems and a 4,000 seat increase in capacity. Improvements were also made to the tennis facility and baseball stadium.
During Bjork's tenure, Ole Miss played in New Year's Six bowl games twice, made three NCAA basketball tournament appearances and reached the College World Series in baseball. In explaining his decision to make the move to A&M, Bjork highlighted the university's tradition and championship goals.
"I love leadership lessons, especially in military history; The Corps of Cadets – the 'Keepers of the Spirit' – are also a wonderful draw to the university," Bjork noted. "I will always aspire to live up to the core values that the university holds dear, and to compete for and win championships."
Two years ago Bjork was reportedly pursued for the athletic director position at Nebraska, but said he was not interested.
"I'm committed here. I'm committed to the University of Mississippi, Ole Miss athletics," Bjork told the Jackson Clarion-Ledger at that time. "We have a lot of work to do and we're going to see that work get completed. I know we have challenges, but there's more opportunities than challenges and we're going to seize on those opportunities."
During Bjork's tenure, Ole Miss played in New Year's Six bowl games twice, made three NCAA basketball tournament appearances and reached the College World Series in baseball.
Nebraska eventually hired Bill Moos from Washington State.
Though Bjork had a good measure of success at Ole Miss, his tenure was not without some controversy.
The Ole Miss football program was placed on probation in 2017 and received a two-year bowl ban for providing impermissible benefits to players and recruits under former coach Hugh Freeze, who was eventually fired in 2016 for violating a morals claus in his contract.
Bjork did not hire Freeze.
Bjork is a graduate of Emporia State University where he played fullback from 1991-94. He also earned a Master's Degree from Western Illinois in 1996.
"I am thrilled to welcome Ross Bjork to Aggieland," Texas A&M President Michael K. Young said in the statement. "His outstanding reputation as a leader will be vital to the continued trajectory of our athletics program."
Note: Updated to include official statements from Ross Bjork and Texas A&M President Michael Young.
Never miss the latest news from TexAgs!
Join our free email list