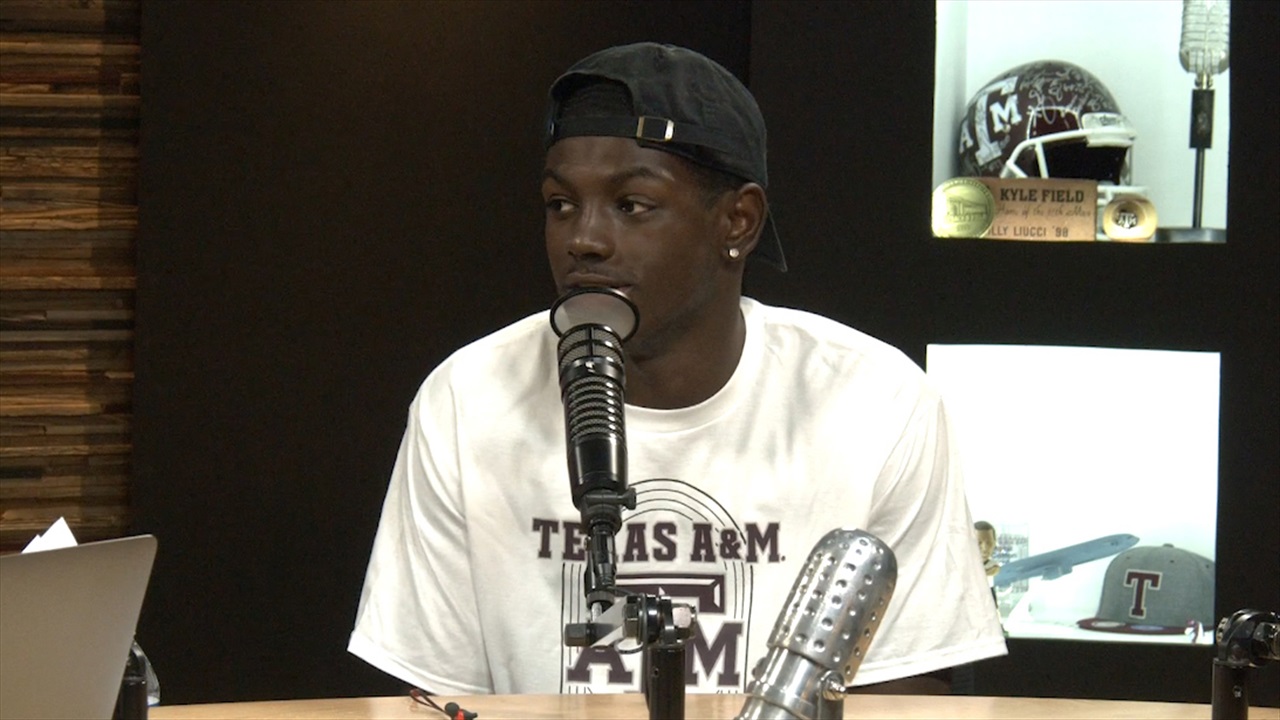 Texas A&M Track & Field
Infinite Tucker discusses his dive to win 400-meter SEC hurdles championship
---
Key notes from Infinite Tucker
The last week for me has been really crazy. A lot of social media. Notifications and news companies reaching out to my coaches and staff. It's been really crazy.

Like an hour after the race, I noticed my phone going off constantly. Every time I tried to make a text, I'd get a call from a random number or someone back home.

The video got to 15 million views. It got crazy. The most crazy thing, I got some messages from people from other countries like Germany, South Africa. Someone in Japan. It just shows how much track is that sport. It reaches to the other side of the world.

I'm definitely a win or go home person. When it comes time for big meets and stuff, I have a mind set of "I need to win." Going into the race, myself and three of my fellow hurdlers were in the finals. So anyone could take it. I kept thinking about my mom coming down the home stretch, I couldn't let her down. I called my mom right before the race and told her I was nervous but I was going to give it my all.

She named me Infinite because of the meaning: endless. My brother and sister have unique names, Destiny and Y'Majesty. My cousins have unique names as well. I'm good with the name Infinite. Sometimes it got a little attention, when you're little you don't like that too much. But now I like it. I wanted to win this race so all of her hardships and stuff she did for me wouldn't go unappreciated.

Winning the national championship will check off some goals for me. It'll put me in the right positions for the future. I'm looking forward to going pro after college.

Over hurdle eight, there were two kids ahead of Bobby and I. Bobby started to kick. In my head I was like, "wait, he's never done this before." He kicked so I started to kick. Over hurdle 10 we were neck and neck. I couldn't lose. Down the final 10 meters, we were basically breathing on each other. I didn't know what it would come up to, a lean or something. So I leaped. I dove just to show I gave that race my all.

After I dove, I kinda stayed on the ground just so I could take it all in. The whole feeling was overwhelming. I just stayed on the ground with my hands over my face. Bobby came over, he actually pushed the SEC health staff away to get to me. I didn't wanna look, I was waiting to hear my name or Bobby's name. I just heard my name and laughed.

As you can see, my face is fine. My knees were scraped up but I'm fine.

After the race, coach Henry told me I didn't need to dive. He said I had it won without the dive. He told me it took a tenth of a second off of my time. Then he congratulated me.

My first love I would say is basketball and then football and then track soon after. When I was in high school, I tried out for the basketball team. My brother was on the basketball team so the coach knew about me. My mom had breast cancer treatments the week of tryouts so the coach told me I had a spot. I spent a lot of time with my mom and when I came back, the coach decided it wasn't fair to the other players. I understood that, it wasn't hard. But then I jumped right into the track team, still had my basketball stuff on. That's how I got into track.

When I was at UMass, I just felt like something was missing. I just missed track. I told the coach about it but I don't think he understood how much I loved track. I left there and was looking for schools to go to. I had a good friend who had really good connections. Coach Henry reached out. I was between Syracuse which is really close to home and Texas A&M. I told coach Henry that I was going to Syracuse. He said he respected my decision. But he called my mom and told her that I shouldn't go to Syracuse. He convinced me to come to a visit and I enjoy being here, obviously I'm still here.

Next week in Austin at the NCAA meet, I just need to focus on my race and not dive.
Never miss the latest news from TexAgs!
Join our free email list