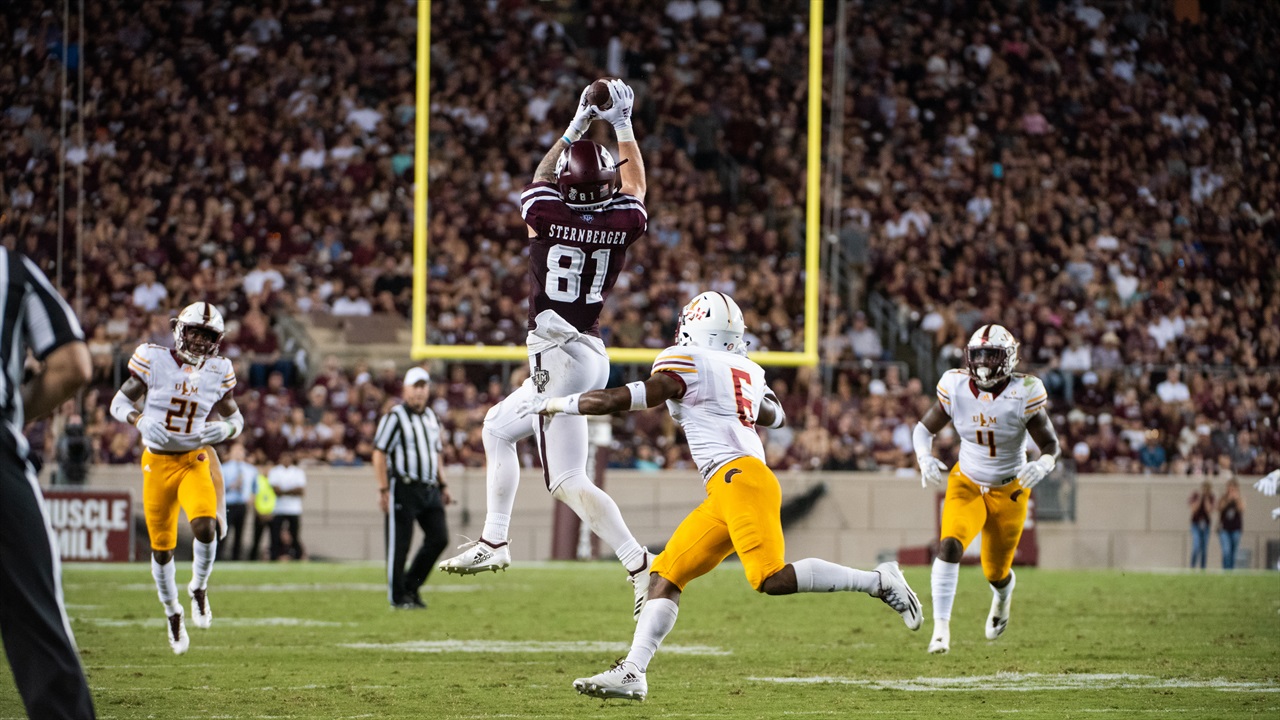 Photo by Rey Romo, TexAgs
Texas A&M Football
Fisher's ability to develop players bodes well for the future of Aggie football
---
Not that Aggies need more reasons to be encouraged about Texas A&M's football future, but he's another:
Jace Sternberger.
Of course, we're aware Sternberger is no longer on the team. We know he was selected in the third round of the NFL draft by the Green Bay Packers.
That bodes well for A&M's future.
Let me explain. Better yet, let A&M coach Jimbo Fisher explain — sort of.
"A year ago Jace Sternberger was a guy who was just trying to figure out how to play at this level," Fisher said on Tuesday before speaking to the Houston Touchdown Club. "You're talking about a guy who only started half a year of junior college and turned himself into a third round draft pick and All-American."
"You're talking about a guy who only started half a year of junior college and turned himself into a third round draft pick and All-American."
That's right. Sternberger was a part time starter in junior college. Yet, Fisher and his staff found him, evaluated him and — most importantly — developed him.
There's an old saying in football that "Jimmys and Joes" beat X's and O's. Translation: Talent is more important than coaching. Consequently, to those that follow recruiting, five-star rated prospects sometimes seem to be more coveted than actual victories.
Five-star players always have great talent. But not all are properly developed. But a good coach with a good developmental program can prevent a motivated player — even a junior college part-time starter — from being just an average Joe.
There's no question Fisher can recruit. He's proven that over and over with classes consistently ranked among the nation's Top 10 that are peppered with five-star prospects. In fact, from 2012 to 2017, Fisher recruited 19 five-star rated prospects (as rated by 247sports.com) to Florida State. Only Alabama had more, with 30.
Five-star players do not necessarily result in powerful teams, though. To prove that, one need not look any further than Texas A&M. In those same six recruiting classes from 2012 to 2017, Texas A&M signed nine prospects rated as five-stars by 247sports.com. Only five programs — Alabama, Florida State, Ohio State, Georgia and USC — signed more five-stars in that span. Of those, only defensive end Myles Garrett and receiver Christian Kirk played at the level expected of a five-star prospect while at A&M.
Quarterback Kyler Murray certainly played at a five-star level … at Oklahoma. Defensive tackle Daylon Mack had an excellent senior year, but was otherwise disappointing.
Receiver Ricky Seals-Jones, quarterback Kyle Allen, running back Trey Williams and receiver Speedy Noil showed flashes, but were never great players. Receiver Thomas Johnson … well, his story is a tragedy.
Fisher's 2019 recruiting class was ranked among the Top Five nationally and includes five-star offensive lineman Kenyon Green and five-star defensive lineman DeMarvin Leal.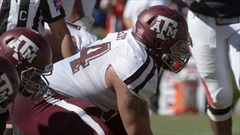 Andrew Kilzer, TexAgs
Five-star receiver Demond Demas has committed for the 2020 class. Attracting talented players is obviously important. Developing them is just as vital.
Maybe even more. That's college football's version of the chicken-or-the-egg question.
"Any coach can coach great players. Is coaching more important or talent more important? Yes," Fisher joked.
Then, he got serious and added: "It's all encompassing because you've got to go recruit players. But you've also got to get guys that want to be coached and allow themselves to be developed."
You'd expect those that opt to play for Fisher want to be developed. Some coaches are known as a "player's coach," which is some instances might mean they don't demand as much from players.
Fisher is demanding. His demands pay off for his players. Seven Aggies were selected in the NFL draft last week. Some might not have been selected without playing for Fisher last season.
"There's a good group of guys there, but they're guys that developed themselves," Fisher said. "I think our coaches did a good job in developing players and getting them opportunities."
Expect Fisher to continue recruiting at a high level. Also, expect him to develop those players. The future is indeed looking better for the Aggies.
On game day and on draft day.
Never miss the latest news from TexAgs!
Join our free email list
PRESENTED BY