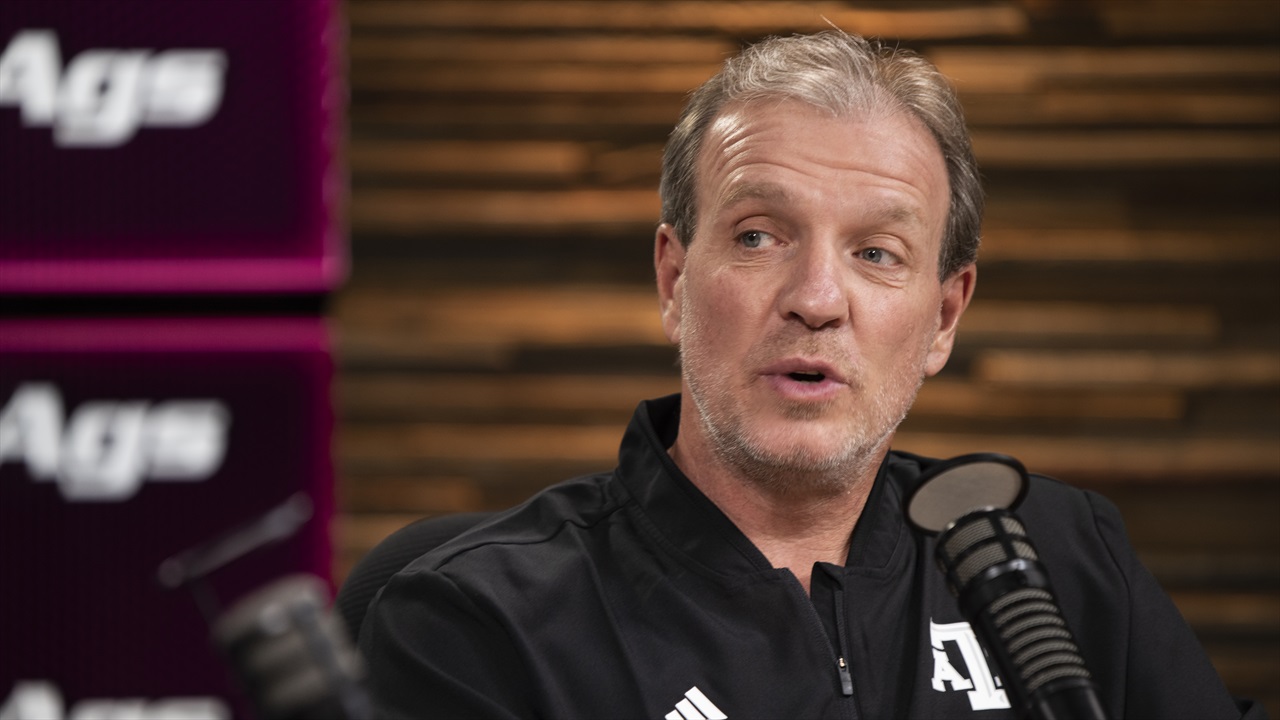 Photo by Andrew Kilzer, TexAgs
Texas A&M Football
Fisher: This place is phenomenal and I plan on being here a long time
---
Key notes from Jimbo Fisher interview:
I love our team's attitude. The mission and the way we do things, we established our culture. Last year, nobody knew our culture. This year, in all aspects, our guys know the culture.

Guys were so uneducated about how we wanted to do things last year. Justin Madubuike has taken a lot of great steps. Ryan McCollum did a great job getting MVP in the spring game. It's hard to replace a guy like Erik McCoy, but he's done great. Quartney Davis and Kellen Mond have made great strides. I love the overall competitiveness of our team. I like our physicality. It's part of how we have to play.

There were 90 players from the SEC at the 2019 NFL Combine, and a majority of the players were big guys in the trenches. The physicality of this league separates it from other leagues. Our division in the SEC had 52 players at the 2019 NFL Combine. You can have all the skill you want, but if you're not physical, you won't win in this league.

We lost a lot of great players from last year's team. We have a lot of guys in the interior that are gone. I always say this: You can draw up all the plays in the world, but if you have a guy that will put his hand in the dirt in the trenches, he can disrupt any play. There are a lot of guys on our team that can make a difference. If you're a great team, you're great in the trenches on both sides.

In the offensive line, you always have to be able to play multiple positions. You have to have physicality and athleticism. I think developing the backups is important. You need to feel comfortable that other guys can come in and play.

The thing I see about Kellen Mond is confidence. He knows he can play. He had great numbers last year. He learned to make big time plays down the stretch in big games. We're working on how precise and how advanced he and the team can get. We're working on his accuracy and his ability to get the ball out of his hands. Behind him, Connor Blumrick is athletic and is improving throwing the football. James Foster really grew this offseason. He's in great physical condition. I think he sees that he can play at this level. Zach Calzada is really talented. He's done an excellent job. The arm talent you can see, and he has deceiving athleticism. I feel very comfortable where we're at with the quarterback position.

We talk about Baylor Cupp a lot, but Glenn Beal is good. He's big and can really run. He wasn't in a passing system in high school. He also played defensive end in high school. He can really move defenders when blocking, and that's hard to do. He has a chance to be excellent. Baylor Cupp has been excellent. His athleticism and ability are great. He was a guy that never caught a lot of balls in high school, but he can really run like a wideout. He works really hard and has a great attitude. Jace Sternberger was always one of the hardest practice guys, and Cupp is of the same mold. He puts too much pressure on himself sometimes because he works so hard. I'm also excited to get Jalen Wydermyer here. He has tremendous ball skills.

Jashaun Corbin was playing outstanding in spring ball and then he tweaked his hamstring and couldn't go full speed. Deneric Prince is athletic and strong. He'll learn to be more consistent. He has good speed and size. Cordarrian Richardson had some outstanding scrimmages. He can run and catch. He's a really talented guy. Vernon Jackson was having an outstanding spring, and unfortunately had the neck injury. We'll see how he heals. He can catch and run well. Jacob Kibodi is physical and can catch the ball. All of our backs can catch the football, which is really nice if we use two running backs.

My goal in the spring is to find out how many guys can play. I want to see if they can compete. We're not trying to look good right now. Of course, we want to run the plays correctly, but we're evaluating and seeing which guys can contribute. The spring gets young guys the opportunity to develop, which is good.

You have to play September and October well, but people remember games in November. December is where your money is made. You need to practice in a certain mold and get used to grinding and getting stronger. Some teams get better throughout the season. In this league, if you're not used to pounding and grinding, you won't be able to win games later in the season.

First of all, that was one of the reasons that - you know, Scott [Woodward] contacted me about coming out here. And I love Scott. Scott's going to do a great job. I wish him well, all but one game every year. He's at LSU now. But at the same time, listen, in this business change happens. But people can introduce to a place...there's a lot of guys that I've talked that have said, "Hey, would you like to come here and work?" And I haven't. Scott was one of the reasons I came out here as far as the introduction and the comfort level I had with him. But after being here, this place is phenomenal and I plan on being here a long time. I love the people, I love the direction we're going, I love the commitment they have to excellence here in all phases for kids personally, academically, athletically, and then of course the Aggie network and the Aggie ring after ball. I think this place is a very unique place and I plan on being here a long time. I wish Scott and those guys the best, but we're here to do a job, I was hired to do a job. I'm extremely happy here. People ask me, "When did you finally feel comfortable?" And I thought about it, and my answer was, "I never felt uncomfortable." And I haven't been since I've been here. This place fits my personality. I love the people. I love what's here, and I'm planning on being here a long time. And hey, we got a job to do. And I wish them the best, but we're going to find another great athletic director because this is a phenomenal place. And we're going to go on, were going to win championships and do the things we're going to do.
Never miss the latest news from TexAgs!
Join our free email list