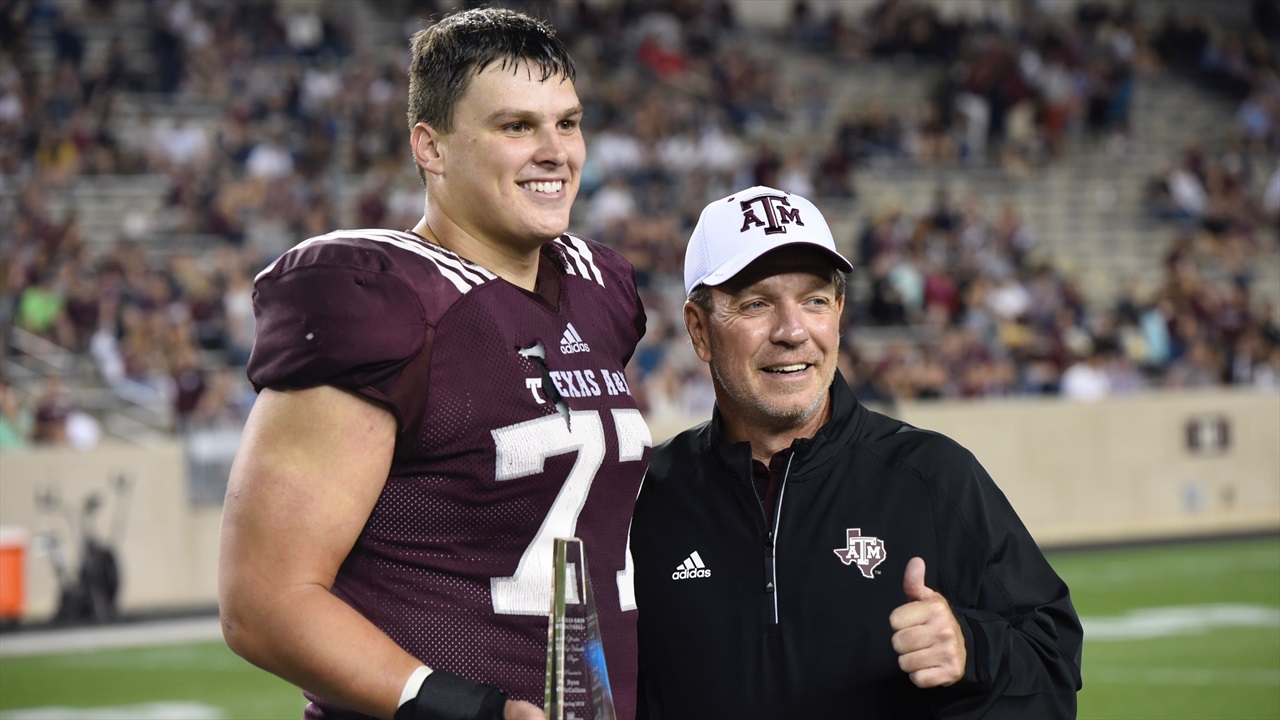 Photo by Dalton Hughes, TexAgs
Texas A&M Football
Spring offensive MVP, Ryan McCollum, is ready to step up in 2019
---
Kellen Mond demonstrated increased command of the offense. Improvement was seen in the secondary. The Justin Madubuike/Bobby Brown-led defensive line is evolving into a destructive unit.
However, the most important development for Texas A&M football may be the emergence of offensive lineman Ryan McCollum, named the offensive most valuable player on the spring.
Trumpeting an offensive linemen might be a buzzkill for some. A nicely thrown touchdown pass will bring fans to their feet. A leaping interception inspires celebration.
But a well-executed drive block or a stalemate with a pass rusher may be virtually ignored. Offensive linemen are seldom noticed. In fact, the most attention McCollum attracted last year involved a bogus arrest for reckless driving. Charges were ultimately dropped.
Offensive line play isn't sexy, though nothing is sexier than winning. And effective blocking is essential to winning The Aggies appear to be assembling an offensive line with which they can win, maybe even win big.
McCollum is a huge part of that. Coach Jimbo Fisher isn't the type to give faux praise. He doesn't give a pat on the back when a kick in the butt is warranted. Acknowledging McCollum – a spot starter in 2018 – as the spring offensive MVP represents a best-case scenario for an offensive line that returns full-time starting tackles Dan Moore and Carson Green and guard Jared Hocker.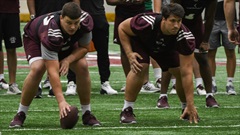 Jackie Ysaquirre, TexAgs
Last year tight end Jace Sternberger was the spring offensive MVP. Sternberger went on to have an All-American season. McCollum probably won't attain All-American acclaim – hell, star center Erik McCoy didn't – but if McCollum proves proficient, A&M's offensive line could be prolific.
Should McCollum, also a junior, established himself as a high-quality starter, A&M will have four kings (not quite ready to call them aces) and few wild cards in the form of Luke Matthews, Tank Jenkins and incoming five-star rated freshman prospect Kenyon Green.
Replacing McCoy, a possible first round draft choice, won't be easy. McCollum may get that assignment. He appears to be embracing the challenge.
"I'm filling some really big shoes," McCollum said after the spring football game. "I was trying to just step up to the plate and knock it out of the park. I don't want to be as good as (McCoy). I want to be better than him."
McCollum probably won't be as good as McCoy. McCoy may be the best to ever play the position at A&M, but one has to admire McCollum for oublically stating his aim of exceeding McCoy's performance. If one swings for the fences, but only knocks it off the wall, that's still a rousing success.
Yet, there is some question whether McCollum will even play center. True, he was McCoy's backup, but he's made 13 career starts as a guard. He started the last seven games of 2018 at guard – one on the left side and six on the right.
A&M averaged 454.3 yards in those games. That's not meant to imply McCollum was the reason the Aggies moved the football so efficiently in those games, but it does indicate the offense did not stumble with him in the lineup.
His experience there might convince Offensive Line Coach Josh Henson to keep McCollum at guard. In that case, the redshirt freshman Luke Matthews, senior Colton Prater or redshirt freshman Barton Clement could move in at center.
McCollum gives the Aggies a lot of options. He's also providing a lot of optimism.
Or Henson may opt to keep McCollum at center, especially if Jenkins makes progress at guard or five-star rated freshman Kenyon Green comes in this summer and shows he's ready to play immediately. McCollum gives the Aggies a lot of options. He's also providing a lot of optimism.
"We want to win a national championship, an SEC championship, go undefeated" McCollum said. "We want to be dominant in the SEC. And we want to be feared by our opponents."
Obviously, McCollum has lofty ambitions. Reaching them – or even coming close – will require a powerful offensive line.
Never miss the latest news from TexAgs!
Join our free email list
PRESENTED BY