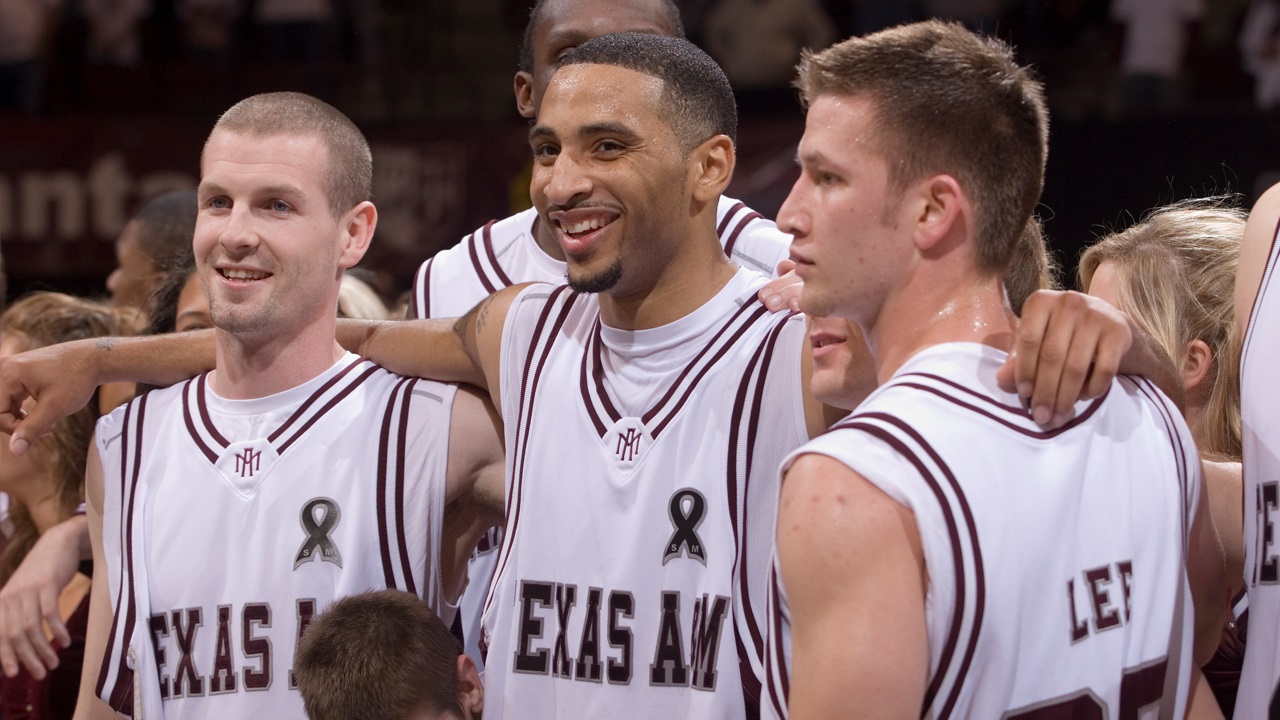 Photo by Texas A&M Athletics
Texas A&M Basketball
Acie Law IV shares his thoughts on Texas A&M's hiring of Buzz Williams
---
Key notes from Acie Law IV interview
I work in the front office with the Kings now. We had a great season, now we're turning our attention to the draft. It is a dream position for myself. I love being around the game and having an impact on a franchise. We've assembled a nice collection of young NBA players with tons of potential. Now we just need to develop their talent.

I heard we were in talks a few months ago with Buzz Williams. Coach Billy Kennedy deserves credit even though it was a down year. I thought Buzz was such a great fit. Like Coach Billy Gillispie, he won't be outworked. He'll bust his butt everyday, and this program is headed in the right direction with him in charge.

Adjusting to the hard work Buzz demands will be hard. He has a blue collar mentally with everyone on the team. He'll expect you to improve on the court and in the classroom. The level he demands, everyone will get better. We all bought into coach Gillispie and had success, and if these guys are willing to trust him and buy in to what Coach Buzz is saying they'll have success too.

Buzz's recruiting and hard work is what stands out to me. Wes Matthews and Jay Crowder all were recruited by Buzz, as well as Nickeil Alexander-Walker who will probably be a lottery pick. It wont be overnight, but he'll turn the program around and you'll see something special at A&M.

Not one particularly moment stood out with my time with Buzz, but what does stand out is how detailed oriented he is with a team. He prepares so hard for game and he always had us ready to play.

It means a lot to see A&M improve. Kennedy's body of work was great, but there was a certain electricity we had around our team that hasn't been there since we left. With the energy Buzz has, he'll be able to recreate what we had. With al' the resources A&M has, there is no reason we can't have a hostile atmosphere.

I went to a Texas Tech practice before the season started, and I was blown away. Coach Beard pushed his players hard for 2 hours. He's the same guy in practice that he is on TV. Coaches were doing pushups with the guys, and after practice they go to watch film for 2 or 3 hours. A Jarrett Culver is a top 2 or 3 player in the country, so that certainly doesn't hurt to have. If they're making shots, they're tough to beat. They remind me of our team with how tough they are defensively.

When I came to see Savion Flagg, I challenged him to be a leader of the group. You heard some things that'd make you think they lacked a leader in the locker room. I told him he had to take that role. I won't take the credit for him picking it up, but I saw a different player after our conversation. He needs to set the standard with his work ethic, and he needs to hold other guys accountable. He needs to set the standard in the offseason for the rest of the team.
Never miss the latest news from TexAgs!
Join our free email list