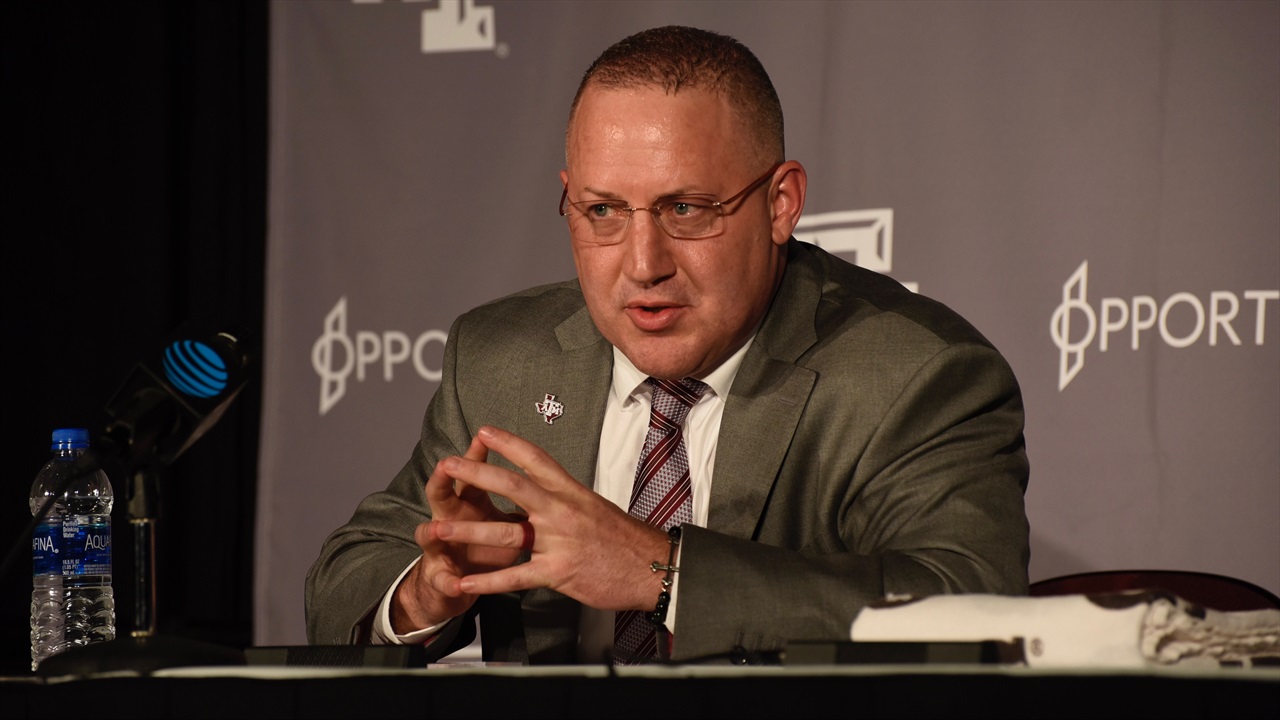 Photo by Lia Musgrave, TexAgs
Texas A&M Basketball
Buzz's opening act illustrates why he's the perfect fit for Aggies
---
In just about an hour's worth of Q&A's it became crystal clear why Buzz Williams was the right choice – the only choice, really – as Texas A&M's basketball coach.
Williams beat the odds to become among the best in his field. Texas A&M hopes for similar accomplishments in basketball. Williams is what A&M aspires to be.
Had A&M Athletic Director Scott Woodward been looking for a smooth-talking, slick coach he could've looked elsewhere. Rick Pitino is available, right?
Williams isn't smooth-talking or slick. He talks with a hint of Texas twang and he speaks straight from the heart. He might not be polished, but he's genuine and classy, which Williams demonstrated during his introduction ceremony by praising his predecessor, Billy Kennedy.
Williams wasn't a big-named collegiate basketball star destined for the sidelines like Steve Alford at Indiana, Danny Manning at Kansas or Bobby Hurley at Duke. Instead, Williams was a manager at Navarro Junior College in Corsicana.
By the way, this season Alford was fired at UCLA. Manning had a losing season at Wake Forest. Hurley's Arizona State Sun Devils got into the NCAA Tournament via a play-in game.
Meanwhile, Williams led Virginia Tech to the Sweet Sixteen.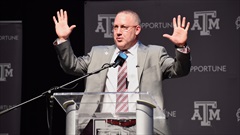 Lia Musgrave, TexAgs
Williams didn't learn under legendary coaches like Bobby Knight, Larry Brown or Mike Krzyzewski. Instead, his mentor was Lewis Orr, the retired JUCO Hall of Fame coach, who attended Williams' introductory ceremony at Texas A&M on Thursday. Williams' voice cracked with emotion when he acknowledged Orr.
"What he's meant to me. What he's meant to my family. You never know that when you're a freshman in college trying to have some level of identity and trying to find some niche in the world that it would evolve and morph into what it is now," Williams said. "I was pretty choked up with all of it. It was emotional."
This could easily be a column about the relationship between Williams and Orr. It isn't. Although it shows he has emotion and affection for those who have helped him along the way, that's another column for another day.
Rather, this is about a small-town kid who dared to dream big, worked relentlessly to realize his dreams and then accomplished more than he could've dreamed of.
"I was hoping to be maybe a really good JV coach," Williams said. "Maybe some day be a varsity coach, have a chance to be a junior college assistant or assistant Division III coach."
Instead, he's among the highest-paid coaches in college basketball. A&M's basketball program dares to dream of beating the odds and overachieving, too. A&M is the football school with modest basketball interest, but it aspires for more.
A&M hopes to one day challenge Kentucky for Southeastern Conference supremacy. A&M hopes to become an annual participant in March Madness. A&M hopes to duplicate the feats of Auburn and Texas Tech and step over fallen bluebloods on the way to the Final Four.
That's why Williams is here. He's why it seems possible.
You know the story. Once an assistant coach here under Billy Clyde Gillispie, Williams won Big East championships at Marquette. He then made the questionable – some said crazy – decision to leave Marquette for Virginia Tech, which was both dormant and a doormat in the powerful Atlantic Coast Conference.
But Williams transformed the horrid Hokies. They reached the NCAA Tournament three consecutive years. This season they reached the Sweet Sixteen before falling to Duke in a thriller, 75-73. Williams aims to transform A&M in a similar fashion.
"I was hoping to be maybe a really good JV coach, maybe someday be a varsity coach, have a chance to be a junior college assistant or assistant Division III coach."
Sure, there will be doubters. There always are. But there are believers, too.
Indeed, a national sports columnist recently published a list of the best football/basketball coaching combinations in college athletics. Texas A&M's Jimbo Fisher and Williams were listed second on the list to Michigan State's combination of Mark Dantonio and Tom Izzo.
Williams was unaware of that list. He didn't disagree with the Michigan State ranking, either. He did suggest the A&M ranking was premature.
"I don't know that we're (No. 2). I'd say that I'm pulling the numbers down," Williams said. "But the thing that would keep us in contention is that coach (Fisher) is one of five in the world who has won a national championship that's still coaching.
"We haven't won any (basketball) championships. We're just trying real hard."
Williams has always tried hard. He's always worked hard. He's typically beaten the odds and succeeded.
That's why he's the right choice – the only choice – for A&M.
Never miss the latest news from TexAgs!
Join our free email list