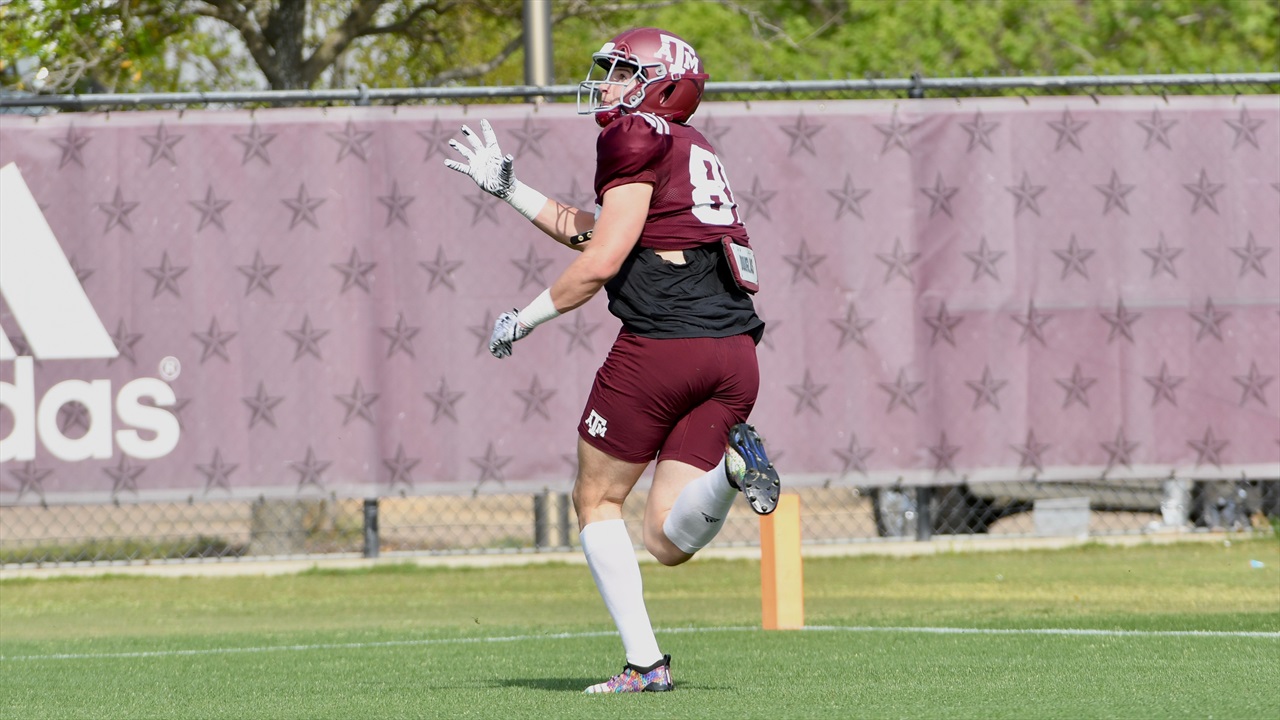 Photo by Lia Musgrave, TexAgs
Texas A&M Football
Fisher focused on development, execution as spring camp progresses
---
Tight hamstrings, emerging underclassmen, an arrest and even women's basketball were topics for discussion for Texas A&M football coach Jimbo Fisher on Thursday night.
Following spring football practice, Fisher addressed reports that sophomore defensive lineman Ondario Robinson had been arrested for failing to meet probation conditions stemming from a stolen bicycle arrest in 2017.
Robinson remains on the team and practiced on Wednesday.
"The school knows about it. We know about it," Fisher said. They're getting it cleared up until we find out all the information. Then we'll make an adjustment and see what we have to do."
Fisher didn't seem overly concerned about the incident. Nor was he concerned about a rash of hamstring injuries that have forced sophomore running back Jashaun Corbin and some receivers to sit out recent practice sessions.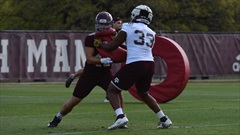 Lia Musgrave, TexAgs
Fisher said sore hamstrings are not uncommon because his spring practices are so demanding and intense. He's opted to keep players out rather than risk further injury.
"A hamstring can be three days, four days, five days, so there ain't no sense to do it (practice)," Fisher said.
"We have a lot of spring ball left. It's a really good chance for some of these young guys to get reps because all those guys were playing well this spring."
One of those young guys getting more reps with the first team is 6-foot-3, 235-pound sophomore Vernon Jackson, who has been filling in for Corbin. Jackson rushed for just 49 yards on seven attempts last season. However, he's showing the ability to make a much bigger contribution — and not just as a runner.
"With Jashaun (out) he's up there taking a lot of one reps. You get in there with those guys (first teamers) and it's a different animal," Fisher said. "But he's running well, catching the ball well, really picking up blitzes well. Doing a really nice job. I'm pleased with his progress."
"He's 230 pounds and when you hand him the ball he's natural with the ball. He's got great feet, great leverage, he catches the ball. He's a big pass blocker."
Fisher also said Jackson can pose mismatch problems against smaller defensive backs as a receiver out of the backfield.
"He's 230 pounds and when you hand him the ball he's natural with the ball. He's got great feet, great leverage, he catches the ball. He's a big pass blocker."
"When you spread the field out all the sudden (the defense has) got nickel and dime people in there and they're tackling 230-pound guys. That's a little different on those guys. That takes a wear and tear on those guys."
Fisher also praised true freshman tight end Baylor Cupp, who is trying to make a smooth transition from a small high school (Brock) to Southeastern Conference play. That may be a difficult transition to make. Fisher isn't expecting a smooth transition. Yet, he isn't expecting a difficult one, either.
In short, he has no expectations.
"I'm not going to say I'm going to expect it. But I'm not going to not expect it," Fisher said. "Don't ever put limitations on somebody. Each person is different. Everybody does their own thing. He's working very hard. He's very capable. He learns well and has all kinds of ability.
"I think he's had a really good camp so far. I've been very happy with his progress."
Fisher hopes to see more more progress in a scrimmage on Friday night at Kyle Field. More than anything, though, he wants to see the Aggies demonstrate poise and execution.
"The results of the plays you want, but (you want) to line up right and not have the stupid penalties," he said. "Put a hat on a hat or on defense cover who you're supposed to cover, be in the right gap. If the other team makes plays it's because we do it right not because we have busted assignments."
"I want to see great physicality, great competition. We have to be able to run the football and stop the run."
Fisher also wants to see the women's basketball team upset Notre Dame in the Sweet Sixteen of the NCAA Tournament on Saturday in Chicago. Coach Gary Blair asked Fisher to address the team, which Fisher said was an honor.
"I just showed my appreciation for what they're doing," Fisher said of his message. "The athletic program around here and the coaches in all of our sports are tremendous. Coach Blair has done everything in the book. He's won national championships. He's taken those teams and done a heck of a job."
Never miss the latest news from TexAgs!
Join our free email list