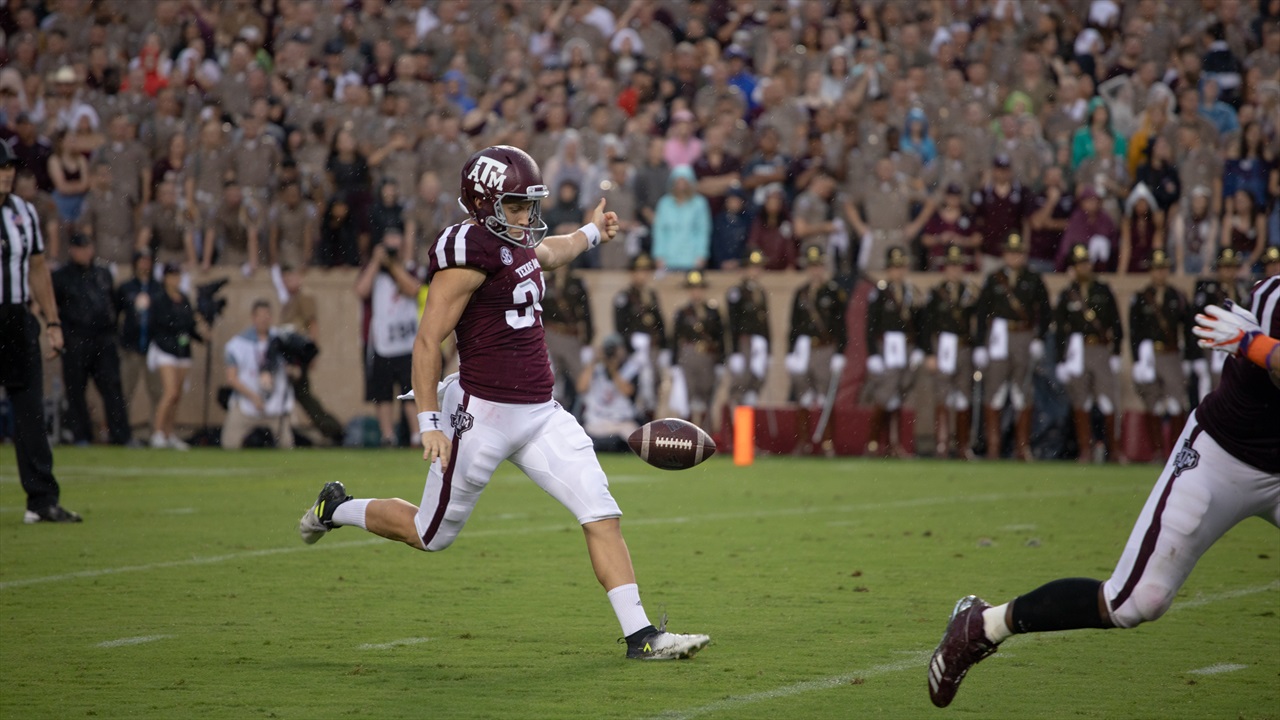 Photo by Rey Romo, TexAgs
Texas A&M Football
Tough Act to Follow: Braden Mann faces difficult task of improving upon historic season
---
Michelangelo wasn't asked to improve his painting of the Sistine Chapel ceiling.
Orson Welles did not write a sequel to Citizen Kane.
Freddy Mercury wasn't expected to add a verse to Bohemian Rhapsody.
Improving a masterpiece may be an impossible task. Yet, it's the task facing Texas A&M senior punter Braden Mann, who hopes to somehow outdo himself in 2019.
Of course, a year ago averaged 50.1 yards on 50 punts, set an NCAA record by averaging 60.8 yards on five punts against Alabama and set another NCAA record with 14 punts that covered 60 yards or more.
All that gained him the Ray Guy Award as the nation's premier punter and All-American recognition. Yet, that's about the only way he's recognized.
"It's (Ray Guy Award) is not quite the Heisman," Mann said on Wednesday night after spring football practice. "I don't get recognized too much. You'd never look at me and say, 'That guy plays football.'"
Such is life for a punter. Outside of deep snapper punters are typically the most obscure players on the roster. Nobody really wants him on the field because that meant the offense failed. A punter's entrance is usually the perfect time for a restroom visit.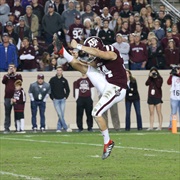 Matt Sachs, TexAgs
Mann is different, though. His booming kicks made watching punts mandatory because there was always the chance of seeing something special … like the 82-yard howitzer he launched against Kentucky.
That punt went into the end zone and therefore came out to the 20-yard line. Mann's goal in 2019 would be for that punt to travel 81 yards and pin the opponent back at the 1-yard line.
"I don't want as many touchbacks," Mann said. "I'm just trying to get a little less touchbacks, more inside the 20 and pin them deep this year."
Actually, Mann wasn't bad in the regard last season. He killed punts inside the opponent's 20-yard line 18 times. That's almost a 36-percent success rate.
But even the best always think they can do better.
"This year I'm focusing more on getting better height to distance," Mann said. "There were a few times I out-kicked the coverage a little bit. We did a good job covering. So, I'm trying to get more hang time on it."
Aggies are just relieved he's still around. Juniors Erik McCoy, Trayveon Williams, Tyrel Dodson and Jace Sternberger all opted to enter the NFL draft rather than come back for their senior seasons.
Braden Mann could have done the same. Some might even argue that he'd have the best chance for a successful professional career.
"That opportunity is waiting for me when that time comes, but I was in no rush to leave."
Mann, though, never seriously considered going pro. Instead, he opted to finish his degree in Sports Conditioning (he'll graduate in May) and prepare for a final season with the Aggies.
"I love college football," Mann said. "That opportunity is waiting for me when that time comes, but I was in no rush to leave."
Some might think he made a mistake. His 2018 performance was so spectacular improving on it — or even duplicating it — won't be easy.
Heck, he might not even as many punting opportunities with quarterback Kellen Mond in his second season in coach Jimbo Fisher's offense.
But doesn't seem to worried. Nor should he be. He's a rare talent and there are rare instances when a masterpiece is improved upon.
After all, there was a Godfather Part II.
Never miss the latest news from TexAgs!
Join our free email list
PRESENTED BY