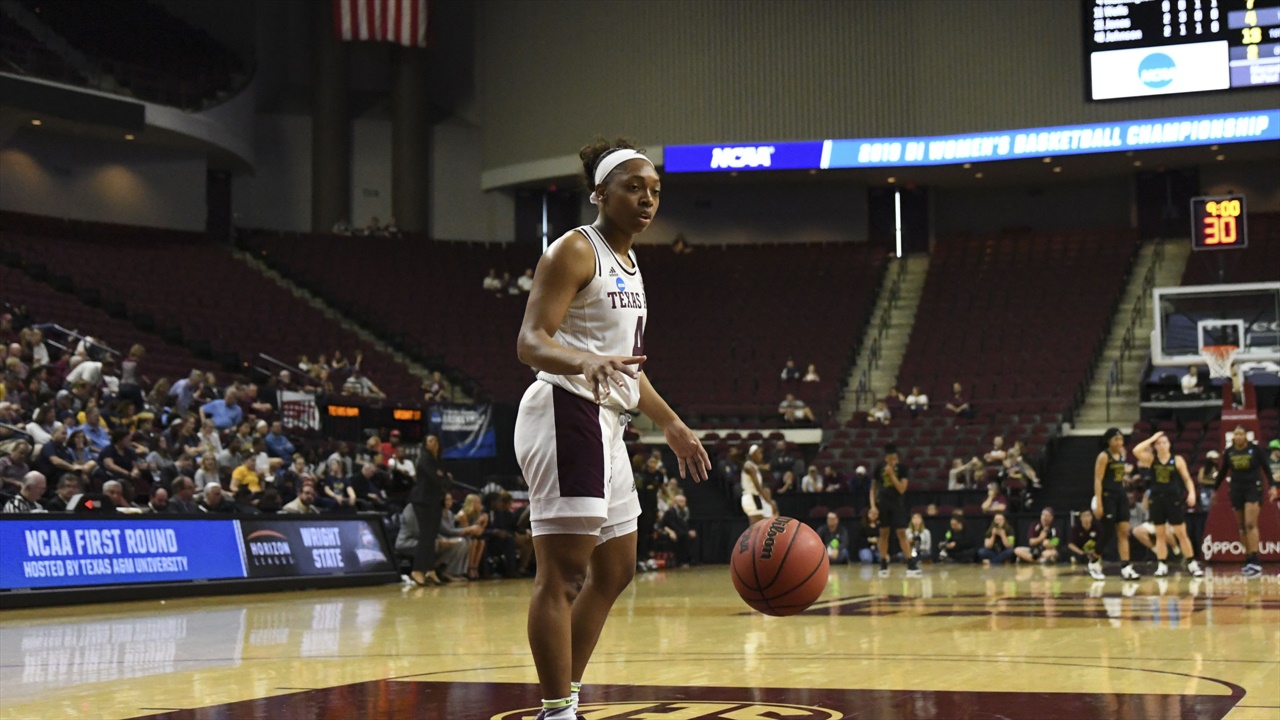 Photo by Elisa Schmitt, TexAgs
Texas A&M Women's Basketball
Postgame Chat: Shambria Washington discusses the Aggies' win over Marquette
---
Shambria Washington made a clutch three point basket with less than a minute to play the give the Aggies a lead they wouldn't lose. After the win over Marquette, Devin Craig spoke to Washington about the team's performance.
On Marquette...
"They're a great ball club. They're tremendous in transition and [in] half court offense – they have players that make big shots. They didn't quit, they didn't give up, but we knew it'd be a game of runs and at the end of the day we had to win between the ears and they gave us a good fight. I'm extremely proud of how they played, so congrats to them."
On her big day from the three point line...
"All this week I've been spending extra time in the gym and lately they've been sagging off of me a lot, so I was just ready to knock down the open 3 when open."
On playing 40 minuntes against a fast paced offense...
"I'm used to playing 40 minutes at this point. Coach Blair told me before the game [that] I'm playing 40 minutes [and] I can rest tomorrow. Either way it goes, I had to play like it was my last game of the season, so I gave it all I had for 40 minutes. They went on a couple of runs but we kept our composure and were poised."
On the importance of the crowd...
"It's extremely important, they gave us momentum and hope. They got loud and we wanted to play harder for them."
On Jada Walton's steal with 3 minutes left...
"When we picked up the intensity on defense, we focused a little more and locked in. I knew it'd be a good turnout for us."
On her 3 at the end of the game...
"When it came to me I didn't think twice about it – I just shot it. I caught it in rhythm, had my feet and hands ready, and was ready to shoot."
On Chennedy's steal to win the game...
"We needed that. Chennedy has been working so hard on her defense, people don't understand that she's a great defender. That's probably the underrated part of her game. I'm glad she was willing and able to make that play for us."
On the bigs' performance tonight...
"I know for a fact that if we miss a shot they'll try their hardest to go and get it, so they're a blessing to us, and I know they wanted to redeem themselves after Rice."
A SPECIAL THANKS TO
Mac Resource Computers for their sponsorship of all women's basketball content produced throughout the season at TexAgs.com! For the seventh consecutive year, all WBB content will be available to you for free!
Never miss the latest news from TexAgs!
Join our free email list