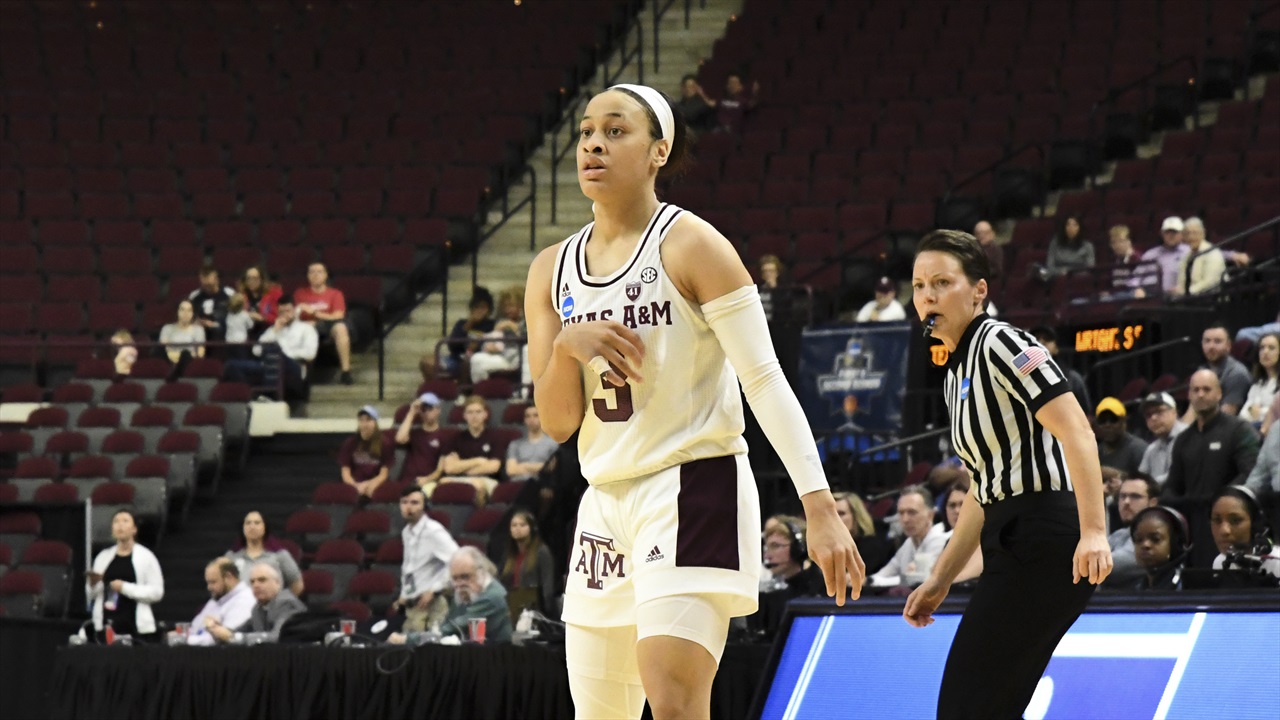 Photo by Elisa Schmitt, TexAgs
Texas A&M Women's Basketball
Postgame Chat: Chennedy Carter still hungry after first round win
---
The Aggies played without star guard Chennedy Carter in the SEC Tournament, but she proved she was ready to lead the team when it counts on Friday. Luke Heaton talked with Carter after A&M's first round win over Wright State.
On her comfort level in first game back from injury…
"First off, all glory to God for a speedy recovery. I want to thank my trainers for healing me and helping me to get back so quick, but I just went out there and played confident and stayed within the things that I knew I could do best. I just put up a lot of shots this week trying to get better and it finally paid off."
On how the pink affected her ability to take shots…
"It really didn't affect it, I just took some medicine. Radar is doing a great job of helping me recover and helping me to ice it. I can move it, I can bend it… it's getting better."
On hitting 3 of 4 from three-point range early…
"We're not a team that necessarily shoots threes, it's really not what we do. But if team's do sag off defensively, we have to show them that we can make them. My team just works so hard, and it just amazes me what we can do when we are all on the same page. You saw that tonight, and it's just amazing to watch."
On not letting off the gas late…
"Coach just told us we we're giving up too many offensive rebounds, so going out and rebounding the ball was huge for us. Then we just ran our offense. We did a good job both scoring and getting stops. We just really have to grab those rebounds. Our posts came out and took over the court and grabbed those boards for us."
On the mentality going into Sunday against Marquette…
"I'm really ready to get to practice, watch film and scout them. My mindset is to go out there and dominate. I don't take anyone lightly, and I want to get my teammates on that same level. Feel like Marquette is a great team, but if we come out ready to play, we'll be successful."
A SPECIAL THANKS TO
Mac Resource Computers for their sponsorship of all women's basketball content produced throughout the season at TexAgs.com! For the seventh consecutive year, all WBB content will be available to you for free!
Never miss the latest news from TexAgs!
Join our free email list