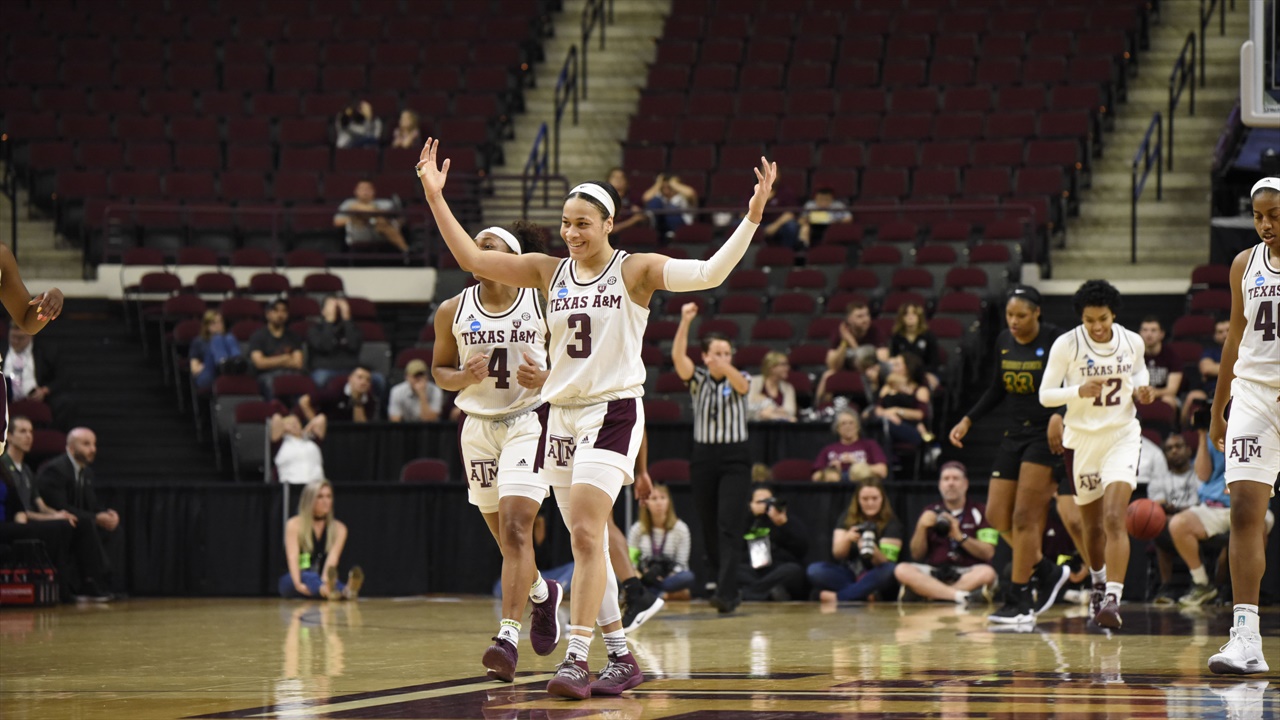 Texas A&M Women's Basketball
Carter shines in return as Aggies rout Wright State, 84-61, to advance
---
Texas A&M must've gotten the memo that perimeter shooting is a key factor in NCAA tournament success.
The 148th ranked team in three-point percentage hit six of their season-high eight triples in an explosive 31-point first quarter to propel the Aggies to an 84-61 win over 13th-seeded Wright State.
"I don't think we could've started the game any better. Kayla (Wells) and Chennedy (Carter) were lighting it up early," remarked Coach Gary Blair.
Texas A&M got hot out of the gate and was led by Wells and Carter, who both sunk three shots from distance to help the Ags pull away early from Wright State. A&M jumped out to a 31-13 lead, with the Raiders never able to pull within 13 points for the remainder of the contest.
Carter, who is coming off surgery for an injured pinky finger, scored 14 of her game-high 27 points in the first quarter.
"I guess the saga of Pinkygate is over," laughed Coach Blair.
Carter attributed her success to the work she put in while rehabbing.
"I've put in a lot of work. That's been the biggest thing. I've been staying in the gym and it paid off."
Wright State head coach Katrina Merriweather acknowledged that her team was in survival mode from the start.
"It's really tough to see that many points go up on the board so quickly. We just kept saying we needed to weather the storm. We kept referencing the Arkansas game. We just kept fighting. We knew they were a very good team."
Wright State was able to achieve some weathering, as A&M's hot start cooled in the second quarter, scoring only 11 points on 3/14 shooting.
"It was all them (Wright State)," stated Coach Blair. "We settled into forcing shots. We got our tails whipped on the boards in the first half. A lot of it was Wright State playing to its capability. After the first quarter, I thought Katrina (Merriweather) did a great job rallying her team. Give them a lot of credit, that's good coaching."
A&M exited the intermission with a 42-29 lead and floored the gas pedal. After a quiet first half, Ciera Johnson led the initial second half charge. Her two quick and-1's added to her impressive 11-point third quarter.
The rest of regulation featured more of the same domination by Texas A&M. Ultimately, Blair was able to empty his bench during an extended garbage time.
One of the last starters to make a permanent trip to the bench was point guard Shambria Washington, whose performance caught the eye of her head coach.
"Where would we be without Shambria?" Blair mused. "Look at her stat line. We hit a homerun with her on Signing Day."
Washington finished with six points, nine rebounds, and seven assists. More importantly, however, she completed the game with a mere two turnovers.
Next up for A&M is a Sunday matchup with fifth seeded Marquette, who squeaked by 12th seeded Rice in overtime 58-54.
A SPECIAL THANKS TO
Mac Resource Computers for their sponsorship of all women's basketball content produced throughout the season at TexAgs.com! For the seventh consecutive year, all WBB content will be available to you for free!
Never miss the latest news from TexAgs!
Join our free email list