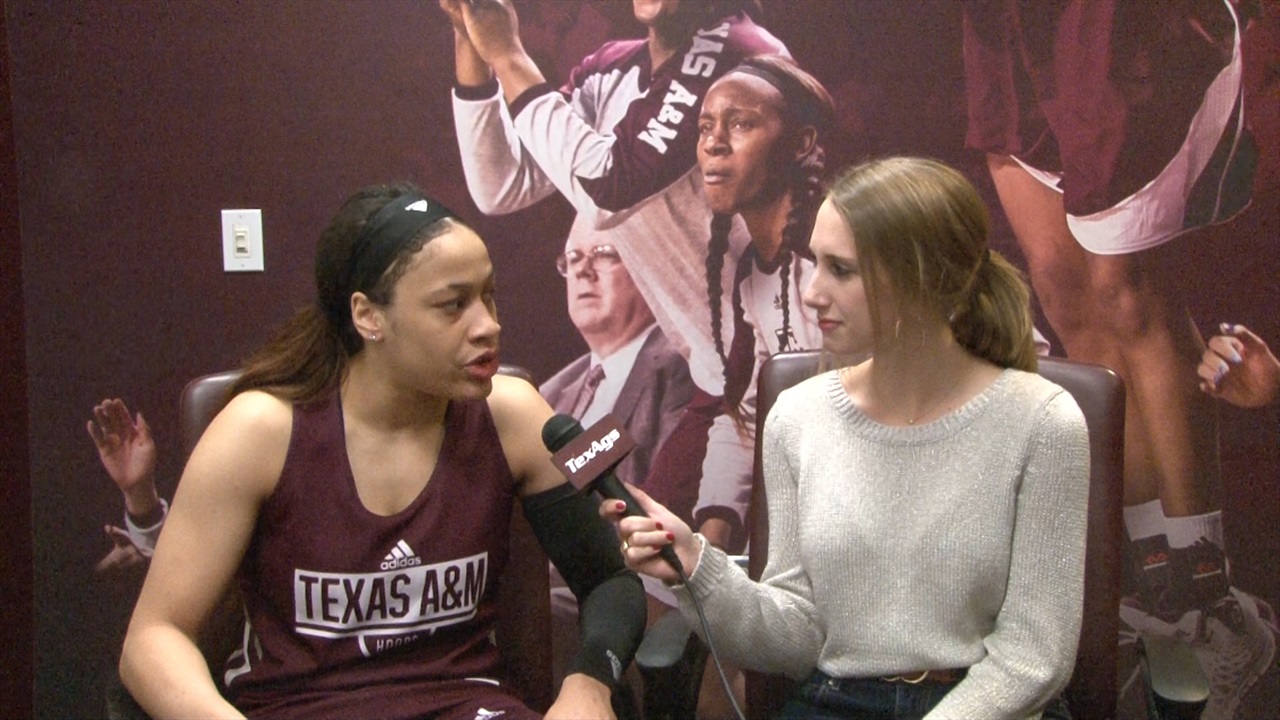 Chennedy Carter
N'Dea Jones
Texas A&M Women's Basketball
Calm before the storm: Aggies have high hopes for the NCAA tournament
---
Chennedy Carter Interview

On hosting 1st two rounds of tournament
"It just means a lot. For me personally, I have been in this situation before so I kinda know how the ropes go. In March anything can happen, the biggest thing with us is we're excited just to have the 12th Man behind us, to have the fans behind us. Hopefully everybody can come out and support us Friday afternoon at four, that will be a big deal for us."
On injury update and recover process
"It was very simple. Just going through what I went through made me an ultimately better person. I was able to gain a lot of help and support from my staff, my teammates. For me to break my finger and dislocate it and come back in two weeks, that's a blessing. I thank God everyday for the ability to even be able to play the game of basketball. So I'm feeling a little better now, can bend it, can move it, can shoot, so I am ready to go."
On what she learned from observing SEC Tournament
"I just was able to be more vocal on the sideline and talk them through the offense and tell them where they needed to be. I just learned how hard my team really pushes and how they really wanted to be better and their character growing. For some of them I am really happy and proud they were able to face adversity and still come out and win some games and compete with some great players in the country."
On the difference in preparation for the NCAA tournament vs regular season games
"I think I prepare for every game the same. My mindset is to go out there, compete, and dominate no matter who's out there on the court. I feel like I do a great job of instilling that in my teammates. I tell them each and every day, 'it's March. Anything can happen. If we don't go out there and take care of business, we won't be playing.' We know it's win or go home, so our biggest thing is to stick within the game plan and do what we've gotta do: take care of business and win."
On Coach Blair's expectations
"His expectation for me is to lead and be vocal. I've been in this position before my freshman year playing with a bunch of veterans so I kind of am understanding how things work in the SEC, how things work in the tournament, and I'm really just growing as a player. Coach Blair asked me simply to do what I do best, and I'm going to try to go out there and do it, defensively and offensively."
On the team's level of preparation and confidence
"Our confidence is definitely up, and we're definitely trying to grow it. The level of excitement is there. I've been waiting all week — been in the gym putting up shots all week just trying to get ready to play. Our biggest thing is to stick within the game plan. We're focused on each game at a time and we're focused on each other doing the right things, and it starts in practice. I'm ready to get to practice, get this game plan going, and go out there and get that win.
N'dea Jones Interview

On the takeaways from losing to Arkansas in the SEC Tournament
"Just our effort. I would say that we did give it all, but we probably could've had a lot more effort. Just making sure that the next time we get a lead like that, we keep our foot on the gas and not let up."
On that they've worked on in practice to prepare for the big dance
"We've really been working on defense and running the floor. We know that we're pretty fast and we need to capitalize on those opportunities to push the floor.
On what she's attributed her growth to this year
"I have noticed it, but I would say it's mostly just my effort and energy. I feel like I've rebounded a lot better, and that's all about effort. That's really my role on this team."
On her primary effort for improving this season
"Just making sure I put the work in on and off the court, being consistent. I feel like last year I wasn't as consistent as I needed to be, so being consistent was one of my main focuses."
On the impact of hosting the first and second rounds of the tournament
"We know that we will have fans, family and our students in the stands, but anybody can win any game. So yes, it is an advantage, but we have to come ready to play."
On what to look for from Wright State
"We will have to be ready to guard their weave. They have some guards who can really shoot the ball, so we'll have to expand our defense. this will be a game where we have to really focus on our team defense.
On the confidence of the team heading into the first round
"I would say our confidence is pretty high. We've had those slopes in practice where we weren't as good, but I'd say as the games gotten closer, our confidence has gotten higher."
A SPECIAL THANKS TO
Mac Resource Computers for their sponsorship of all women's basketball content produced throughout the season at TexAgs.com! For the seventh consecutive year, all WBB content will be available to you for free!
Never miss the latest news from TexAgs!
Join our free email list