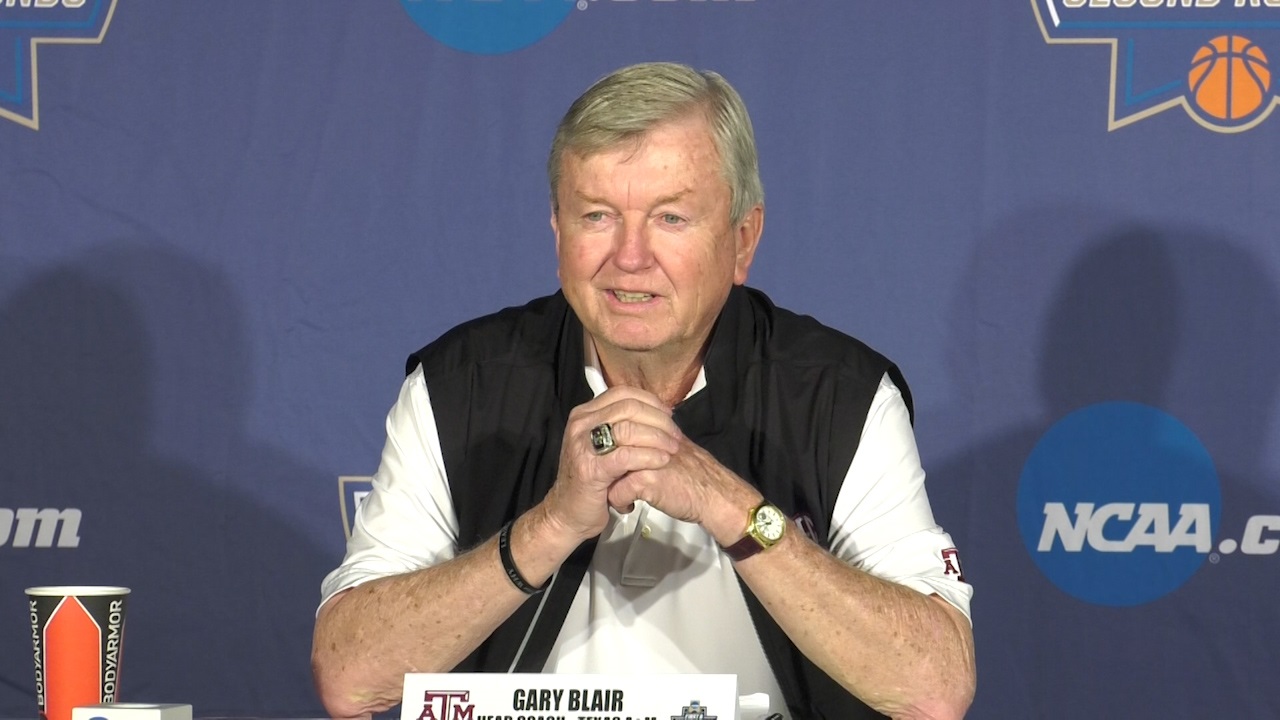 Gary Blair
Texas A&M Players
Wright St. HC: Katrina M.
Wright State Players
Texas A&M Women's Basketball
Texas A&M, Gary Blair ready for Wright State in first round of NCAA tournament
---
Click here to see full quotes from Friday's press conference and more first and second round information on 12thMan.com
Hospitality seems to be engrained in the culture of College Station, especially with regards to basketball.
This weekend marks the sixth time in the last eight years that Texas A&M has hosted the first and second rounds of the NCAA women's tournament. Coach Gary Blair is proud of A&M's ability to host.
"I'm not sure there is another university that hosts more championships than Texas A&M. We're good at it. The most important thing is being able to compete, not just host."
The fourth seeded Aggies are set to take on 13th seeded Wright State Friday at 3:30 p.m. A win would have A&M hosting the winner of No. 5 Marquette and No. 12 Rice, with the victor then advancing to the Sweet Sixteen in Chicago to likely face No. 1 Notre Dame.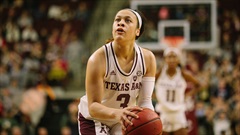 Rey Romo, TexAgs
"We've got a loaded field. We're the only one that has three teams in the top 25 of the national rankings. We're No. 14 in the country, No. 8 is Marquette, and No. 23 is Rice. Also receiving votes is Wright State," said Coach Blair.
Important to the success of the Aggies is the return of star guard and SEC leading scorer Chennedy Carter (22.5 ppg). After missing the conference tournament with an injured pinky finger, she is healthy and ready to follow up her impressive 2018 tournament campaign with another Sweet Sixteen run. Her 31 points per game in last year's tournament has created a large amount of hype for another tournament explosion this year.
"Having a year under my belt makes me a little bit more prepared. Playing against some of the best players in the country at a young age gives me a little bit more knowledge going into this year. I feel like I've grown as a leader and as a person. I've been more vocal. I've had to battle through a lot of things this season."
In Carter's absence, sophomore Kayla Wells erupted for a 28-point performance against Auburn in the conference quarter-finals. She has made significant strides scoring the ball this season, increasing her points per game average from 2.8 to 15.1.
The Wells and Carter combination is important for A&M for advancing in the tournament. The Aggies are difficult to stop offensively when both guards are seeing shots fall. Their biggest game of the season featured them combining for 57 points against Tennessee, with Wells scoring a career high 29 points.
Another important factor for Texas A&M is the performance of sophomore post Ciera Johnson. In a tournament format where solid point guard play and an inside presence is vital to success, Johnson's effectiveness melds well with the guard play of Carter and Wells to create an offense that's tough to match-up against. After a redshirt season following her transfer from Louisville, the former McDonald's All-American is averaging 12 points and 8 rebounds per game.
"Shambria has that toughness about her that a lot of times those junior college kids have to have... She has done a great job in leadership."
Besides a fluid offense, perhaps the most important factor for Texas A&M is handling the ball and limiting turnovers. Starting guard Aaliyah Wilson went down early in the season with a knee injury, and junior college transfer Shambria Washington stepped into the starting lineup. Washington has been effective for the Aggies and has received plenty of praise from Coach Blair.
"Shambria has that toughness about her that a lot of times those junior college kids have to have," Blair said. "They spend time in vans instead of air-conditioned buses or chartered planes. Particularly these last two weeks when we didn't have Chennedy [Carter], she has taken over in practice and has taken over in games. I have loved to see her evolve, and she has done a great job in leadership."
Washington has provided much needed ball handling for an Aggie team that lacks depth in the backcourt. At 14.9 turnovers per game, giving the ball away has often been the thorn in the side of the Aggies.
Texas A&M (24-7)
Seed: 4
Conference: SEC
Coach: Gary Blair
Mascot: Aggies
Bid: SEC At-Large
Last 10 Games: 7-3
Leading scorer: Chennedy Carter (22.5)
Wright State (27-6)
Seed: 13
Conference: Horizon League
Coach: Katrina Merriweather
Mascot: Raiders
Bid: Horizon League Conference Champions
Last 10 Games: 9-1
Leading scorer: Mackenzie Taylor (11.8)
Marquette (26-7)
Seed: 5
Conference: Big East
Coach: Carolyn Kieger
Mascot: Golden Eagles
Bid: Big East At-Large
Last 10 Games: 6-4
Leading Scorer: Natisha Hiedeman (18.2)
Rice (28-3)
Seed: 12
Conference: Conference USA
Coach: Tina Langley
Mascot: Owls
Bid: Conference USA Conference Champions
Last 10 Games: 10-0
Leading scorer: Erica Ogwumike (16.3)
A SPECIAL THANKS TO
Mac Resource Computers for their sponsorship of all women's basketball content produced throughout the season at TexAgs.com! For the seventh consecutive year, all WBB content will be available to you for free!
Never miss the latest news from TexAgs!
Join our free email list