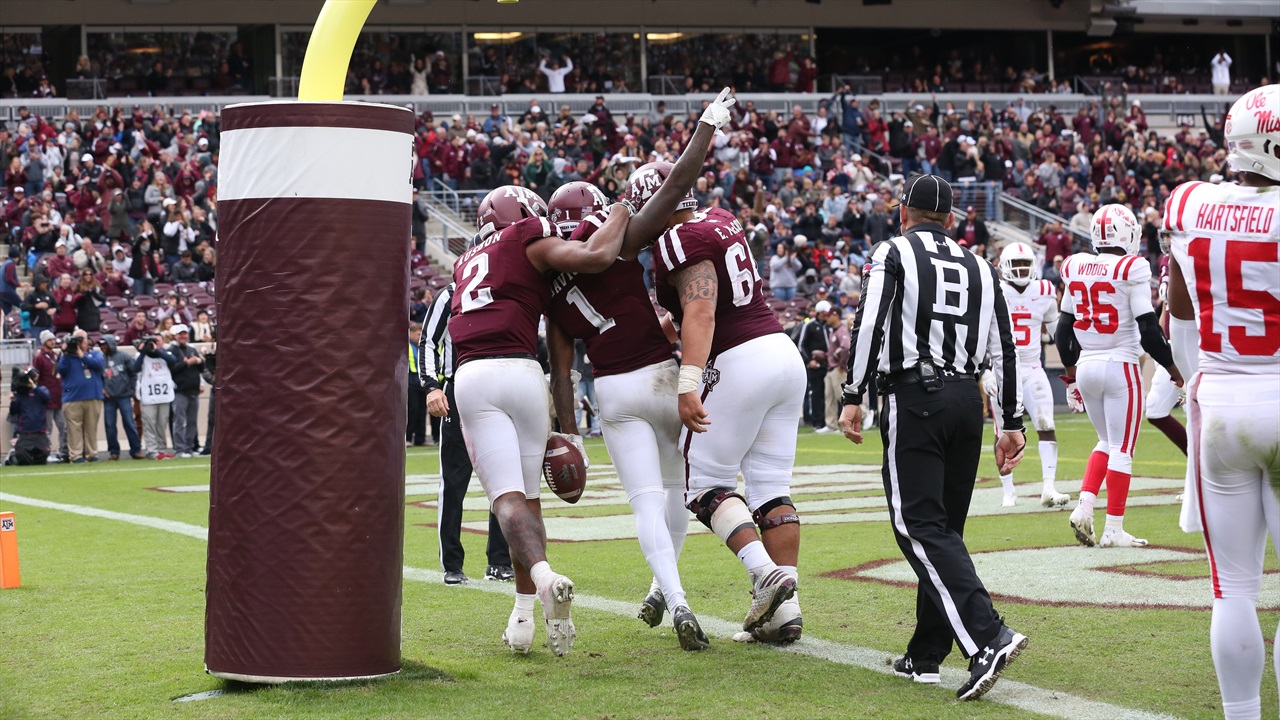 Photo by Matt Sachs, TexAgs
Texas A&M Football
Aggies will spend spring looking for hints of what to expect in 2019
---
Answers often aren't found without hints.
That's the case with spring football, which frequently provides more hints than answers. Three weeks of practice five months before the season won't necessarily reveal a starting lineup or guarantee an individual's level of performance come September, or in A&M's case August 31.
However, it may provide hints of a likely starting lineup, what players have made the most progress and who might be trending toward stardom.
That's what Texas A&M coach Jimbo Fisher probably hopes to begin learning when the Aggies start spring drills on Wednesday. The 15-practice grind will conclude with the Maroon-White Game on April 13.
During those sessions A&M will be looking for indications that adequate replacements can be found at tight end, center and running back.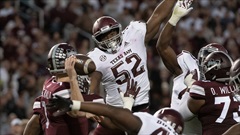 Clay Taylor, TexAgs
The Aggies will seek signs that several players like safeties Derrick Tucker and Leon O'Neal, defensive linemen Micheal Clemons and Bobby Brown, linebacker Buddy Johnson, cornerbacks Myles Jones, Debione Renfro and Charles Oliver and kicker Seth Small have progressed into reliable starters.
They will look for evidence quarterback Kellen Mond, receivers Kendrick Rogers and Quartney Davis and defensive tackle Justin Madubuike are raising their level of performance from solid starters to emerging stars.
A year ago newly-arrived tight end Jace Sternberger showed flashes in spring that he could be a significant contributor in the fall. He ultimately proved much more than that in earning All-American recognition. He's now departed for the NFL. That leaves the Fisher and tight ends coach Joe Jon Finley counting on heralded freshman recruit Baylor Cupp and sophomore Glenn Beal to ease that loss.
Similarly, the Aggies need to see indications that a mix of running backs Jashaun Corbin, Vernon Jackson and Cordarrian Richardson can replace at least a large portion of the production of All-American running back Trayveon Williams, who last season rushed for a school record 1,760 yards.
Yet, the most intriguing question may be the successor at center to Erik McCoy, who started all 39 games of his collegiate career.
Will junior Ryan McCollum, senior Colton Prater, redshirt freshmen Colten Blanton or Luke Matthews or someone else show they're capable of filling McCoy's role?
Those working at center figure to get tested severely on a daily basis. A&M's defensive interior line could be one of the best in the nation with Madubuike, Jayden Peevy and the 330-pound Brown, who is also projected to play at end.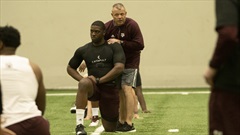 Elisa Schmitt, TexAgs
The outlook for the defensive front will be enhanced if 6-foot-6, 265-pound speedy junior Micheal Clemons continues to demonstrate the reportedly remarkable pass rushing progress he's made since recovering from a foot injury that sidelined him all of last season.
The outlook for the offense in general and the passing game in particular could be boosted with a strong spring showing by Mond, Davis and Rogers. All were good — and at times spectacular — as sophomores last season.
Mond passed for 3,107 yards and rushed for 474 yards in his first full season as a starter. Historically, quarterbacks have flourished in their second season under Fisher's guidance.
Should Mond's spring performance indicate he'll continue that trend, it could offer hints that an extremely successful autumn is coming.
Never miss the latest news from TexAgs!
Join our free email list
PRESENTED BY