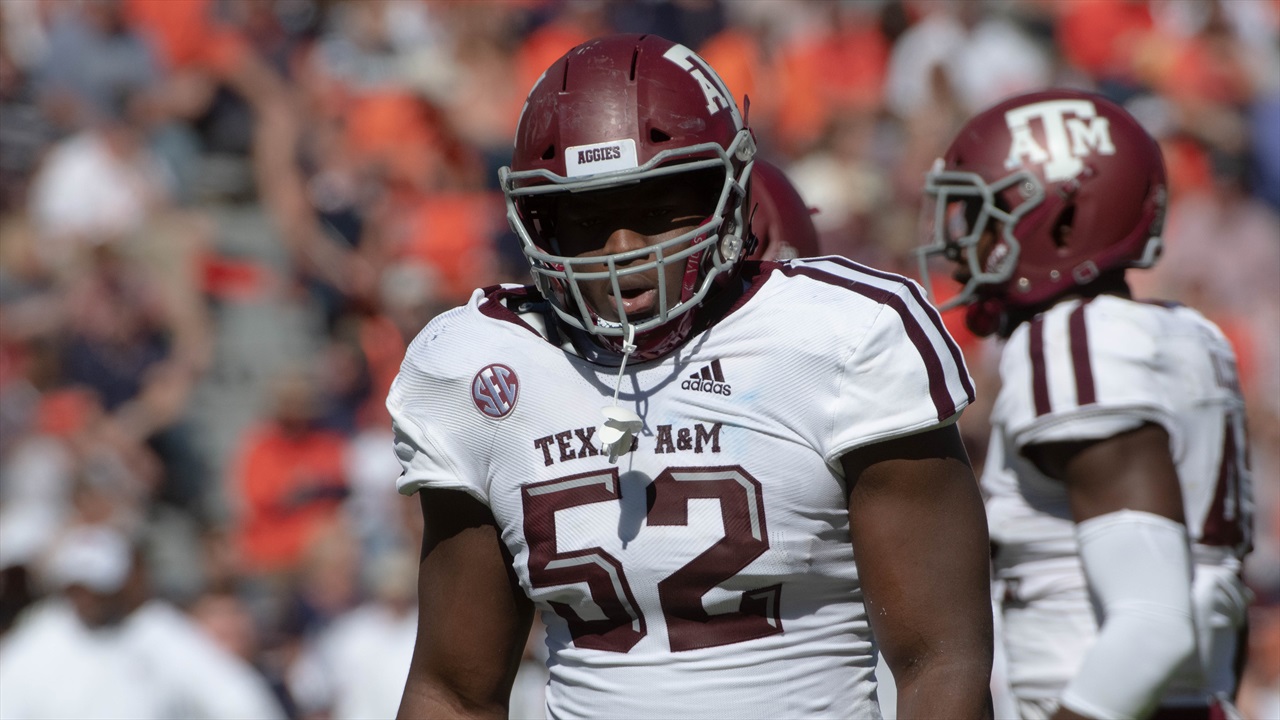 Photo by Andrew Kilzer, TexAgs
Texas A&M Football
Sky's the Limit: Madubuike has all the tools for a breakthrough 2019 campaign
---
The possibilities for Texas A&M junior Justin Madubuike in 2019 are grandiose if he works hard to perfect hand offs.
No, the 6-foot-3, 300-pounder isn't going to get a look at quarterback. He just needs to use the spring to work on keeping his hand off face masks.
No. 52 wreaks havoc like a B-52. He could be All-Southeastern Conference. He could be All-American. He could be an Outland and/or Lombardi Trophy recipient.
All that is within reach for A&M's overwhelming — though often overlooked — defensive tackle. He should aim high in '19. First, though, he should aim low. Madubuike is a bad man with a bad habit. Last season he was flagged four times for face mask penalties. Twice those penalties nullified sacks.
Two sacks might not seem like a big deal. But crunching the numbers makes it abundantly clear just how close Madubuike is to stardom. He'll grab the nation's attention if he can avoid grabbing face masks.
He posted 5.5 sacks and 10.5 tackles for loss in 2018. Those are actually quite impressive numbers for an interior defensive lineman, who often have to fight off guards and centers to get into the backfield or to make tackles near the line of scrimmage.
But Madubuike had sacks against South Carolina and Mississippi State negated because of face mask penalties, which did not factor into the result of the play. He didn't need to grab the mask to make the tackle. He just had bad hand placement. Or bad luck.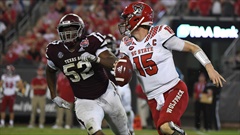 Adam Hagy/USA Today Sports
Add those tackles and Madubuike's output improves to 7.5 sacks and 12.5 tackles for loss. Again, might not seem like much until some very interesting comparisons are made. Alabama All-American nose guard Quinnen Williams won the Outland Trophy last season. He's projected among the top five players to be selected in this year's NFL draft.
Last season he posted eight sacks. That's just a half sack more than Madubuike's total had he avoided the face mask. Williams did have 19.5 tackles for loss compared to the 12.5 Madubuike could have had. Williams also posted 71 tackles, while Madubuike had 48.
Without the penalties Madubuike would've had 52 tackles. That's a substantial total for an interior defensive lineman. Mississippi State's Jeffery Simmons, a likely first round draft choice despite a knee injury, had 63 tackles last season.
Add one more tackle per game and Madubuike can rise from relative obscurity outside College Station to bona fide All-American candidate.
Williams did. Williams was virtually unknown before last year's breakout season. Indeed, he had just 20 tackles as a redshirt freshman in 2017. A year later, he's hailed as the best interior lineman in college football.
There are three big reasons Madubuike could make a similar leap:
• He's obviously really good and will be entering just his second season as a full-time starter. He'll also be motivated to play at an even higher level because he'll likely enter the 2020 NFL draft and will have a real shot at being a first round selection.
• He'll be on what projects to be a powerful A&M defensive front. He'll play alongside emerging Bobby Brown, underrated Jayden Peevy and athletic defensive ends Micheal Clemons and DeMarvin Leal.
That's a whole stable of war horses. As good as Madubuike is, opponents won't be able to focus solely on controlling him.
That's a whole stable of war horses. As good as Madubuike is, opponents won't be able to focus solely on controlling him.
• Opposing guards and centers may not be of the same elite caliber that Madubuke consistently went against last season.
Guards Hjalte Froholdt of Arkansas, Zack Bailey of South Carolina, Deion Calhoun of Mississippi State and Bunchy Stallings of Kentucky were all selected to at least one all-conference team last year.
So were centers Russ Piersbacher of Alabama, Garrett Bradbury of North Carolina State and Justin Falcinelli of Clemson. Mississippi State center Elgton Jenkins was not, but is considered as a second or third round prospect in the NFL draft.
Madubuike faced all those players at various times in 2018. None of them will be facing A&M in 2019.
No doubt, Madubuike will still face formidable offensive linemen, but the replacements might not be as good. Will Jenkins' successor be as talented? Will Froholdt's, Bailey's or Falcinelli's. Maybe. Maybe not.
A better Madubuike could be consistently lined up against linemen that aren't quite as talented as those he sparred with last season.
That could result in many more opportunities to get into the back field. That leads to many more opportunities for sacks and tackles for loss. That leads to chances for postseason honors and recognition.
That's all within reach, especially if he doesn't reach for the face mask.
Never miss the latest news from TexAgs!
Join our free email list