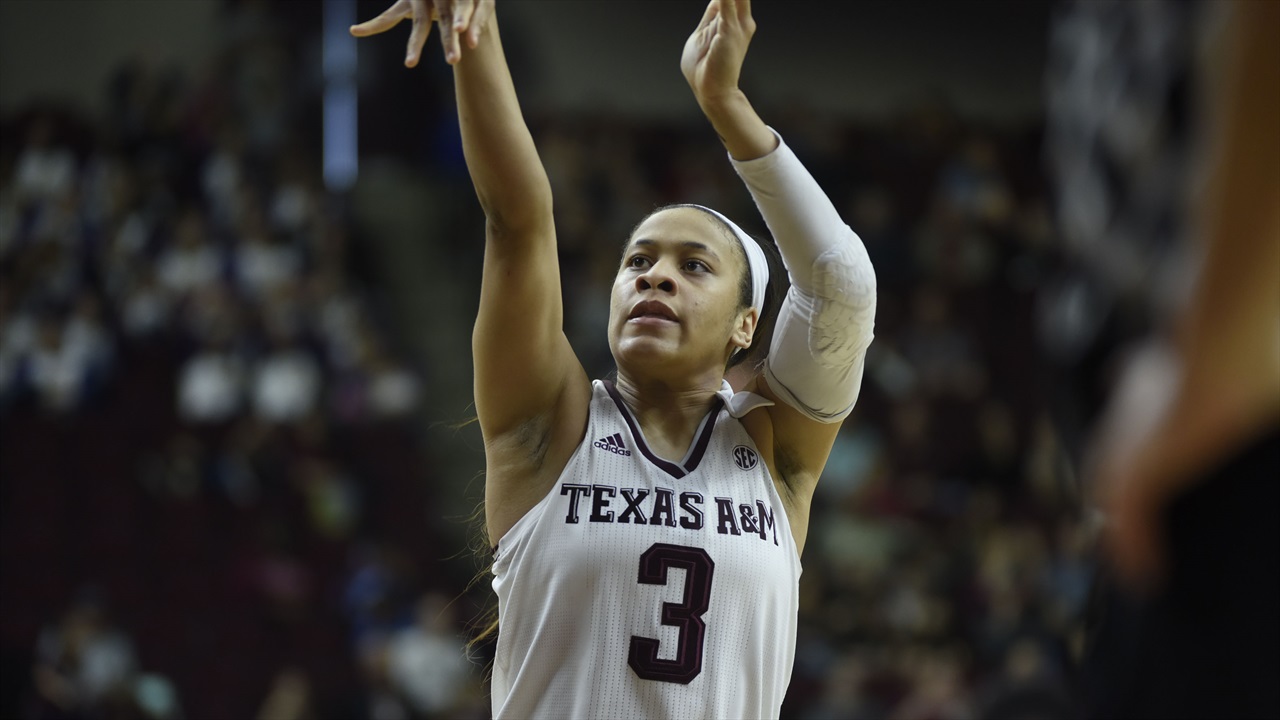 Photo by Margaret Connett, TexAgs
Texas A&M Women's Basketball
Chennedy Carter leads Aggies to 66-53 victory over Arkansas
---
Make it four straight and 23 total wins for the Aggie women's basketball team as they defeated the Arkansas Razorbacks 66-53 Sunday evening at Reed Arena to close out the regular season. With a 23-6 record, Texas A&M (23-6, 12-4 SEC) posts its best regular season since 2010-11 while matching its third-best regular season in school history.
Texas A&M was on fire in the first half of the game, building up a 41-26 lead over Arkansas (17-13, 6-10 SEC) by halftime. Chennedy Carter scored 20 of her 24 points in the first 20 minutes alone and was instrumental in helping the Aggies shoot 55.6% from the field in the second period.
"We are supposed to be dominant," said Texas A&M head coach Gary Blair. "We only had four turnovers in the first half, and we really played well."
"For a team that has already locked in seed for the SEC tournament, you hope for a little bit of let down, but we didn't get it."
The Aggies used a 16-2 second quarter run to set themselves up for a dominant win, but a cold, low-scoring second half posed challenges for the sophomore-led team. Texas A&M shot 7-20 in the third period, and with 9:02 remaining in the fourth, Carter took a hard fall and ended up with a splint around her right pinky finger. Her teammates were left to put the game away, but in the end, they didn't disappoint.
"Our goal was inside-first, outside-second," said Coach Blair. "We could see the three-point shot wasn't going, so we started going for more shots inside the paint."
The new plan worked tremendously for the Aggies, as they went on to out-score Arkansas in the paint 38-12 while out-rebounding them 53-33.
Both N'dea Jones and Shambria Washington were catalysts in the Aggies' domination from inside. Jones tallied 13 points and 16 rebounds, while Washington flirted with a triple-double, adding 8 points, 8 rebounds, and 9 assists. Chelsea Dungee was the Razorbacks' leading scorer with 15 points.
"I thought they played like a team that is playing to host an NCAA Tournament games," said Arkansas head coach Mike Neighbors. "For a team that has already locked in seed for the SEC tournament, you hope for a little bit of let down, but we didn't get it."
Texas A&M is the 3-seed in the upcoming SEC Tournament and has earned a bye to the Quarterfinals on March 8th. The Aggies will take on either 6-seed Auburn, 11-seed Alabama or 14-seed Vanderbilt on Friday evening.
A SPECIAL THANKS TO
Mac Resource Computers for their sponsorship of all women's basketball content produced throughout the season at TexAgs.com! For the seventh consecutive year, all WBB content will be available to you for free!
Never miss the latest news from TexAgs!
Join our free email list