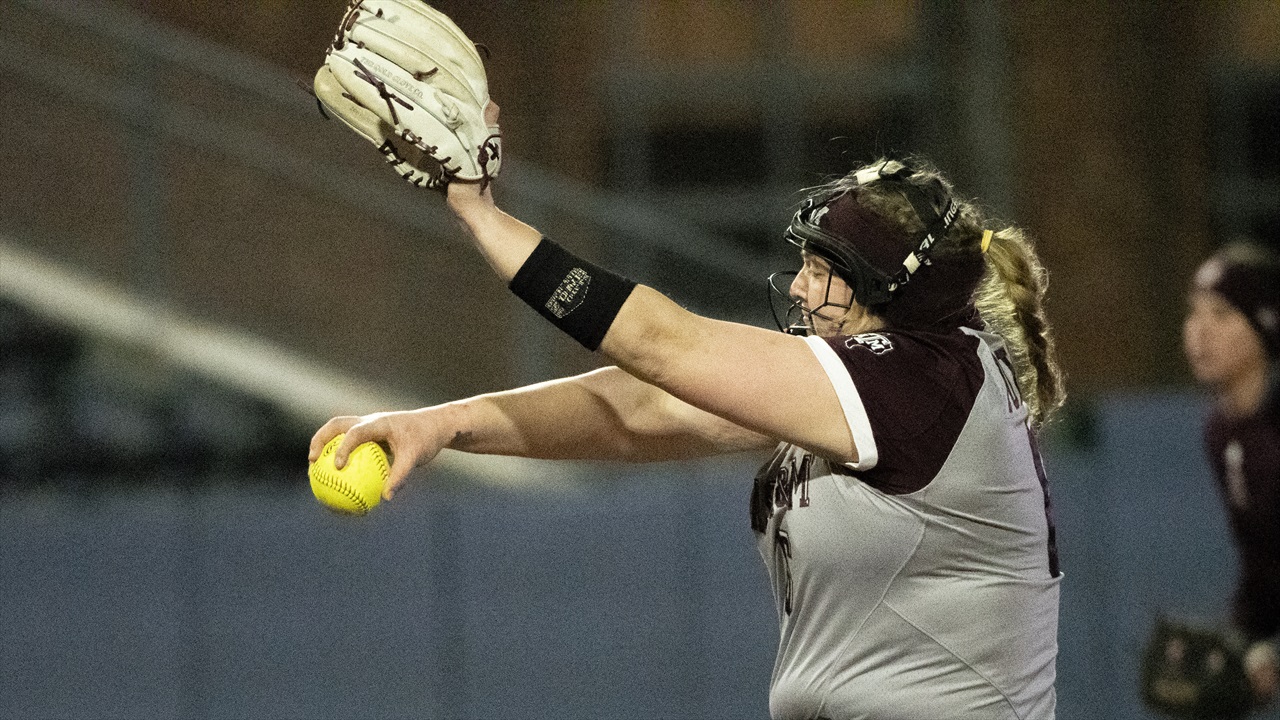 Photo by Elisa Schmitt, TexAgs
Texas A&M Softball
Aggies sweep day two of Texas A&M invite, prevail over Longwood, 4-1
---
Texas A&M softball improved to 13-6 on the year after defeating the Longwood Lancers, 4-1, for their second win of the day. The Aggies put together an impressive defensive performance led by sophomore pitcher Kayla Poynter. Texas A&M is now 4-0 this weekend in the Texas A&M Invite tournament.
Texas A&M never trailed in the game. Although they only had four hits in 21 at-bats, they still found ways to get on base and drive in runs. The Aggies did most of their damage offensively in the second and third innings. After capitalizing off a Longwood error in the bottom of the second for the game's first run, A&M kept the momentum rolling into the third frame.
Freshman Baylee Klingler got things started with a lead off single to begin the bottom of the third. After plating another run due to a wild pitch on ball four, Junior Payton McBride ripped a ball that was just inches away from being a homerun. She settled for an RBI double to give A&M a three-run lead.
Longwood would make things interesting in the fourth inning thanks to a solo homerun from Senior catcher Kaylynn Batten. However, this was the Lancers only hit and run of the game.
Longwood was kept off balance all night by Kayla Poynter who got the start in the circle for A&M. Poynter was locked in the entire game, finishing with 10 strike outs and earning her second win of the season. She is the first Texas A&M pitcher to account for 10 strike outs in a game this season.
"We just attacked the strike zone...We start with strikes and try to expand the strike zone [from there]".
"We just attacked the strike zone," Poynter said after the game. "We start with strikes and try to expand the strike zone [from there]".
Head Coach Jo Evans was very pleased with Poynter's performance vs Longwood. "She threw strikes on both sides of the plate… her presence was really good, she understood the umpire's strike zone and pitched to it," said Evans after the game.
The win was the second of the day for the Maroon and White as they took down Lamar, 10-7, earlier in the day. Texas A&M will be looking to remain undefeated this weekend as they prepare to take on Texas A&M Corpus Christi tomorrow at 12:15 p.m. in their final matchup of the Texas A&M Invite. The game will be streamed on SEC Network+.
Never miss the latest news from TexAgs!
Join our free email list