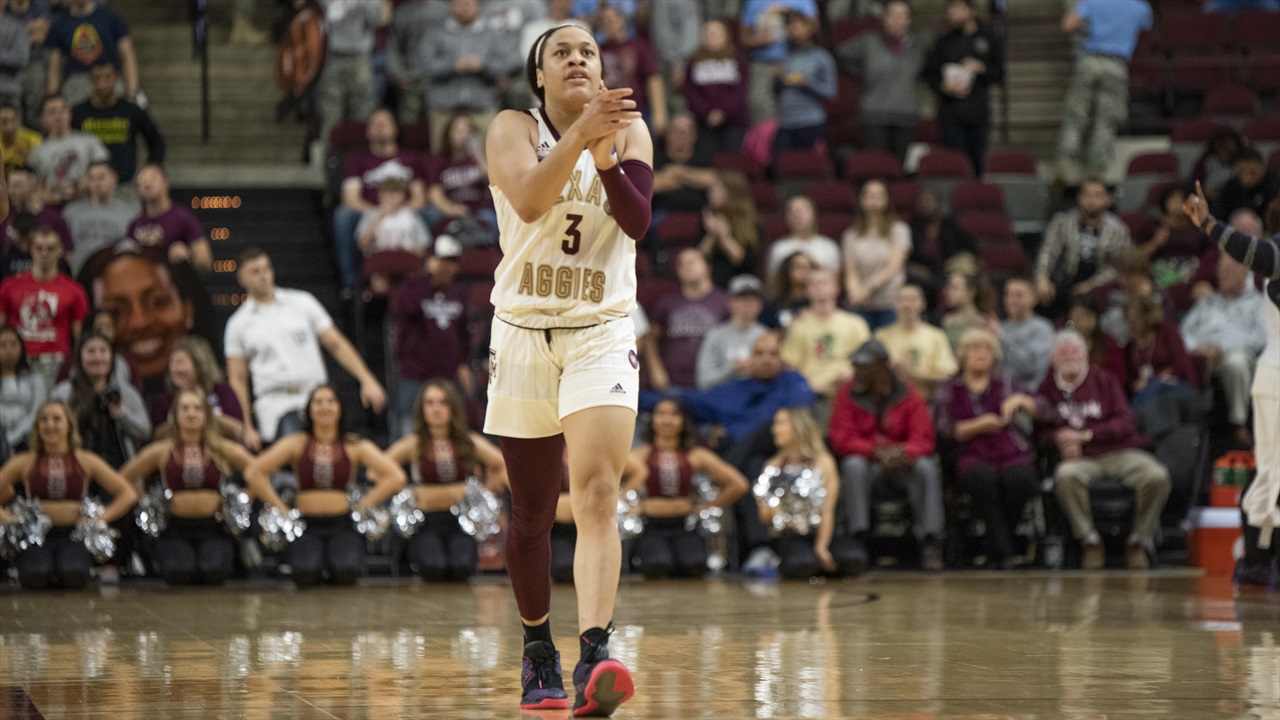 Photo by Elisa Schmitt, TexAgs
Texas A&M Women's Basketball
Texas A&M defeats Kentucky, 62-55, secures double bye in SEC tournament
---
The Texas A&M women's basketball team has found themselves on a metaphorical podium wearing bronze in the competition for seeding in the SEC Tournament.
The No. 19 Aggies (22-6, 11-4 SEC) secured the 3-seed in the end-of-the-year conference tournament with a huge road win over No. 11 Kentucky (23-6, 10-5 SEC) Thursday night 62-55.
Gary Blair's young team used an 11-3 run to end the third quarter as just enough momentum to carry themselves to a victory in Lexington, with eight of those points scored in a quick span of just one minute and 16 seconds.
Coming into the game, sophomore Kayla Wells, who finished with 14 points, spoke on her excitement for a big road test.
"It's fun to play in games like this," said Wells of Thursday's matchup. "This is the type of game that players like me and my teammates live for. We're going to prepare and go out there and play hard."
The first quarter of basketball confirmed the excitement of Wells and her teammates, with the Aggies jumping out to a quick 9-2 start that forced Kentucky to call a timeout two minutes and 39 seconds into the game.
A&M continued their hot start, increasing their lead to 12 and ending the quarter up 19-7. Chennedy Carter led the early attack, scoring nine points of her 24 total points.
Unfortunately for Texas A&M, basketball is a game of runs. And on Thursday, those runs were oddly extended to last quarters at a time.
After A&M's dominant first quarter, Kentucky responded with an explosive quarter of their own, climbing to within two points of A&M at the half. Kentucky's ability to bounce back wasn't without the help of unforced errors by A&M, though.
Five second quarter turnovers by the Aggies, four of them within the 8:49-7:59 minute mark, jumpstarted the Wildcats to embark on a 12-0 run.
It didn't help that A&M had a stretch where they went just one for eleven from the floor. Chennedy Carter's hot started cooled in temperature as she added only one point to her nine total in the first quarter. Post-intermission saw a short-lasting change of pace.
...the Aggies responded to a 41-40 Kentucky lead with an 8-0 run that was extended to an 11-3 run to put themselves in a good position to grind out a win.
The beginning of the third quarter featured an end to the eternal runs as both programs began the second half trading buckets. To the fortune of Texas A&M, bucket trading quickly ceased as the Aggies responded to a 41-40 Kentucky lead with an 8-0 run that was extended to an 11-3 run to put themselves in a good position to grind out a win.
A&M's success in the third quarter was strongly aided by the foul trouble of Kentucky freshman Rhyne Howard. Her 22 minutes played led to a mere seven points, less than half of her 16.7 average coming into Thursday's game.
Kentucky was able to keep the game close throughout the fourth quarter, cutting the A&M lead to one with just over four minutes remaining. It wasn't until a Ciera Johnson baseline jumper with 49 ticks to play, the last points scored of the game, that an A&M victory was sealed.
Johnson, who was a consistent force for the Aggies, finished with 16 points and 13 rebounds, her ninth double-double of the season.
A SPECIAL THANKS TO
Mac Resource Computers for their sponsorship of all women's basketball content produced throughout the season at TexAgs.com! For the seventh consecutive year, all WBB content will be available to you for free!
Never miss the latest news from TexAgs!
Join our free email list