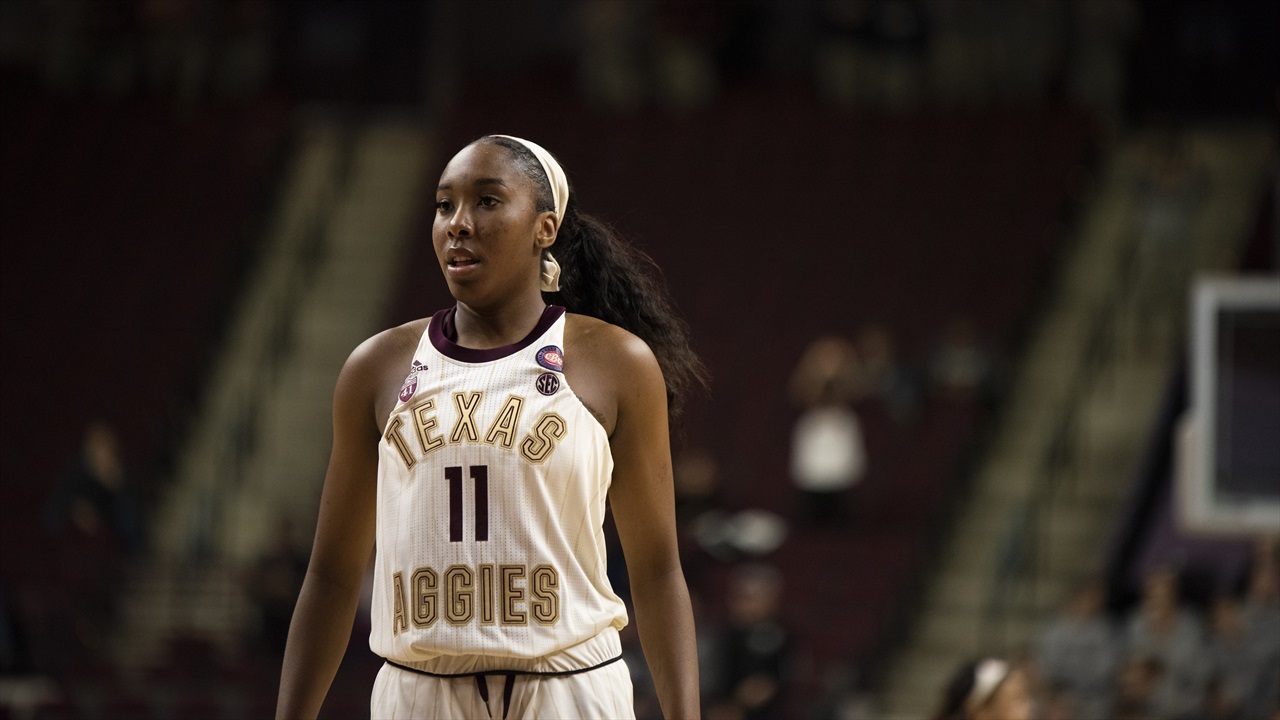 Photo by Elisa Schmitt, TexAgs
Texas A&M Women's Basketball
No. 21 Texas A&M gets back on track, defeats Tennessee, 79-62
---
Stephen Curry and Klay Thompson. Isiah Thomas and Joe Dumars. Both of these duos are up there with the greats, and after Thursday night's game against Tennessee, the Aggie duo of Chennedy Carter and Kayla Wells took a large step in the right direction to join the list of great guard pairings.
While the rest of the Aggies struggled to put points on the board, Carter (28) and Wells (29) combined for 57 points to lead Texas A&M (20-6, 9-4 SEC) to a 79-62 victory over Tennessee (17-9, 6-7 SEC).
"I felt it in warmups. This week, I put up a lot of shots, so I was confident in my shot. I just kept shooting it," said Kayla Wells postgame.
Wells' hot start was vital for A&M, as the rest of the team started off ice cold. The Aggies missed their first five shots, which included four attempts from behind the arc. Wells finished the first quarter with seven points, including one made three.
Also notable early was Ciera Johnson's first quarter foul trouble. Her two first quarter fouls forced Coach Gary Blair to sit her for the remainder of the half, but her teammates were able to fill in accordingly, especially on the glass. Coach Blair mentioned this as the key to the game.
"I thought the key to the ball game was how we stayed with them (Tennessee) on the boards early. That's hard to do against Tennessee. You just can't keep them off the boards." said Blair.
The Aggies finished the first half leading in all facets of the rebounding department against a Vols team that totals over 100 more offensive rebounds than them on the season.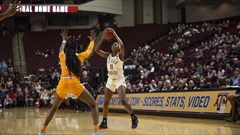 Elisa Schmitt, TexAgs
What was lost in scoring without Ciera Johnson, who averages 11.5 points per game, was made up for by Chennedy Carter coming alive to complete the duo with Kayla Wells. Both players scored 15 of A&M's 18 points in the quarter, nine of which came from behind the three-point line.
An intermission lead of five by the Aggies was quickly added to by a 14-2 run to begin the second half.
Shambria Washington, who finished the game with 11 points and career high seven assists, talked about the team's mentality starting the third quarter.
"Momentum," said Washington. "Keep it going. Don't give up our lead. I think we ended the half on a good note, and the first three or four minutes of third quarters are probably the most important of games. We didn't want to let up."
The Carter and Wells pairing continued their hot streak into the penultimate quarter that frustrated Tennessee.
Afterwards, head coach of the Volunteers, Holly Warlick, tipped her cap to the dynamic guards.
"Carter is going to get her points. Kayla was awesome. She did everything. She scored, she rebounded [and] she hit free throws. We couldn't stop her," noted Warlick.
The 27-12 third quarter scoring margin in favor of the Aggies was just the explosion that A&M needed to pull away, however, Coach Blair pointed to the defensive side of the ball as the reason for his team's success in that crucial ten minute span noting that, "You can make a defensive run and we made a defensive run."
This win was yet another test of mental toughness for a young Aggie team led by talented sophomores. Coach Blair credited a good week of practice as part of the bounce back after a 28-point loss at home to No. 5 Mississippi State.
"This team has not been a great practice team, but they practiced well the past two days because they were a little bit embarrassed on Sunday," Blair said.
Coach Blair also went on to praise his team's ability to respond.
"You can't put this team down. This team responds. That's what you have to do."
Looking forward, the Aggies are fighting for seeding in the SEC Tournament, to which Coach Blair has placed great emphasis on.
"We're trying to get a top-four seed in the SEC, and that would give us a double-bye in the SEC Tournament, which is huge."
After a day off of practice on Friday, Gary Blair's team will head to Gainesville for a road matchup against Florida on Monday, February 25th at 6 pm.
A SPECIAL THANKS TO
Mac Resource Computers for their sponsorship of all women's basketball content produced throughout the season at TexAgs.com! For the seventh consecutive year, all WBB content will be available to you for free!
Never miss the latest news from TexAgs!
Join our free email list
PRESENTED BY