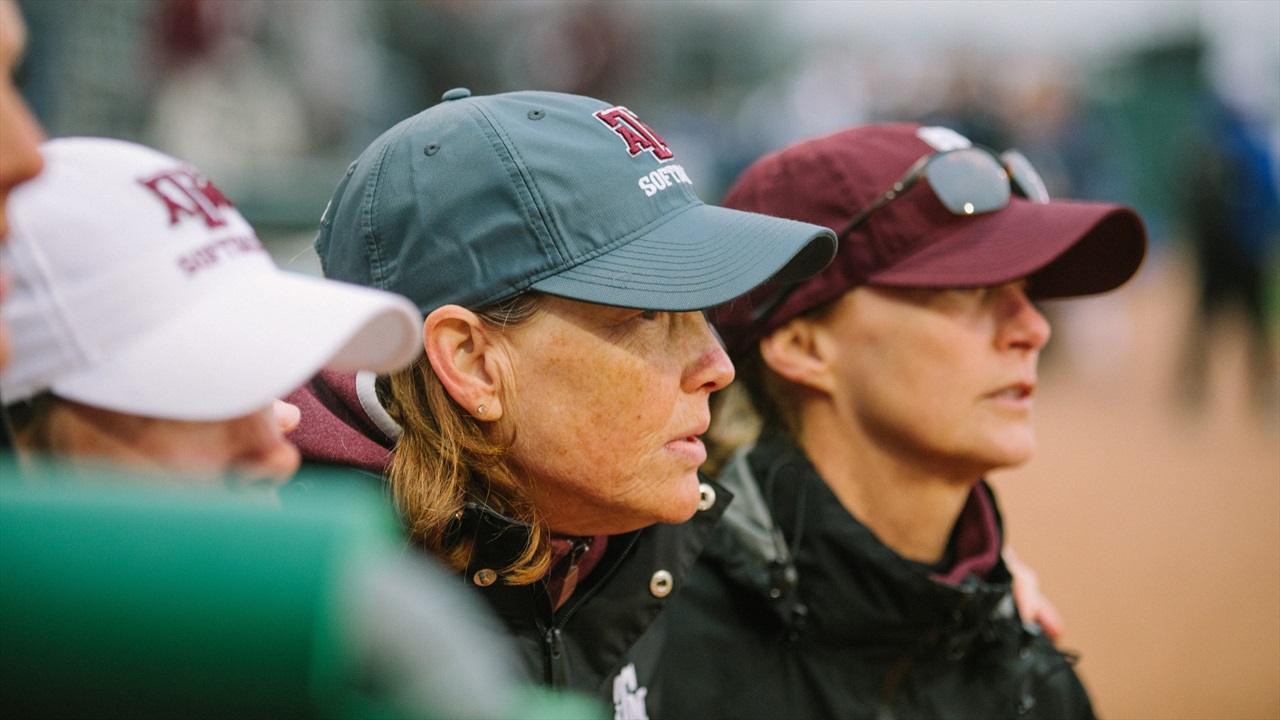 Photo by Rey Romo, TexAgs
Texas A&M Softball
Texas A&M fails to overcome sluggish start, falls to McNeese State 3-1
---
The No. 22 ranked Texas A&M Aggies fell short against the McNeese State Cowgirls in their final game of the weekend, by a score of 3-1. Coming into this game, Texas A&M had won three straight, including a tight 2-1 over McNeese that took extra innings to decide.
While A&M was managing to find wins this weekend, they were struggling to find success at the plate. A&M only managed to score 13 runs over the course of the whole weekend, with an average of 2.6 runs per game.
Today's game was no different from the rest of the weekend. The Ags only managed to muster up 4 hits and 1 run.
A&M got off to a sluggish start in the first inning when a Kylie Jones drop led to a double for McNeese first baseman, Demi Bourdeaux. With two on, Kayla Poytner walked Padyn Williams to load the bases with only one out. Poytner then walked Cori McCray, giving the Cowgirls a 1-0 lead with the bases still loaded. After a Poynter strikeout, freshman Morgan Smith failed to catch a fly ball into right field, allowing the runners on second and third to score, giving McNeese a commanding 3-0 lead.
From that point, the Aggies were much improved defensively, and only allowed 4 more hits and no runs during the remaining 6 innings. In particular, pitcher Kayla Poynter was a bright spot for the Aggies in her third appearance of the season at the mound, throwing 5 strike outs and earning an ERA of 2.38.
A&M only managed one hit up until the third inning, when they started finding some success at the plate. Smith redeemed her early mistake by hitting a deep single into center field to kick of the third inning. Kelbi Fortenberry followed that up with a single of her own, leaving Smith on third for Baylee Klinger. Klinger hit a deep fly ball that was caught, but allowed Smith to tag up for A&M's first run of the game. A&M struggled to find any sort of consistency from that point on.
During the 7th, Coach Jo Evans tried to inject some life into A&M's offense by calling on sophomore Abby Smith to pinch hit. Smith was able to generate a powerful hit into left field, but it was caught, leaving Gabby Moreno up next. Moreno hit a short pop fly that was easily dealt with by McNeese State's shortstop, Cori McCray. Another Fortenberry single and a Sartain walk gave A&M some hope with A&M's cleanup hitter Baylee Klingler stepping up to plate. A&M's hopes were dashed when Klinger hit a high pop fly to left field, ending A&M's weekend on a sour note.
A&M heads into the new week with a trip to California for the Mary Nutter Classic. This trip will provide A&M's toughest test to date, with games against 3 top 25 teams, including #2 UCLA. Games can be purchased through the Flo Softball's website.
Never miss the latest news from TexAgs!
Join our free email list