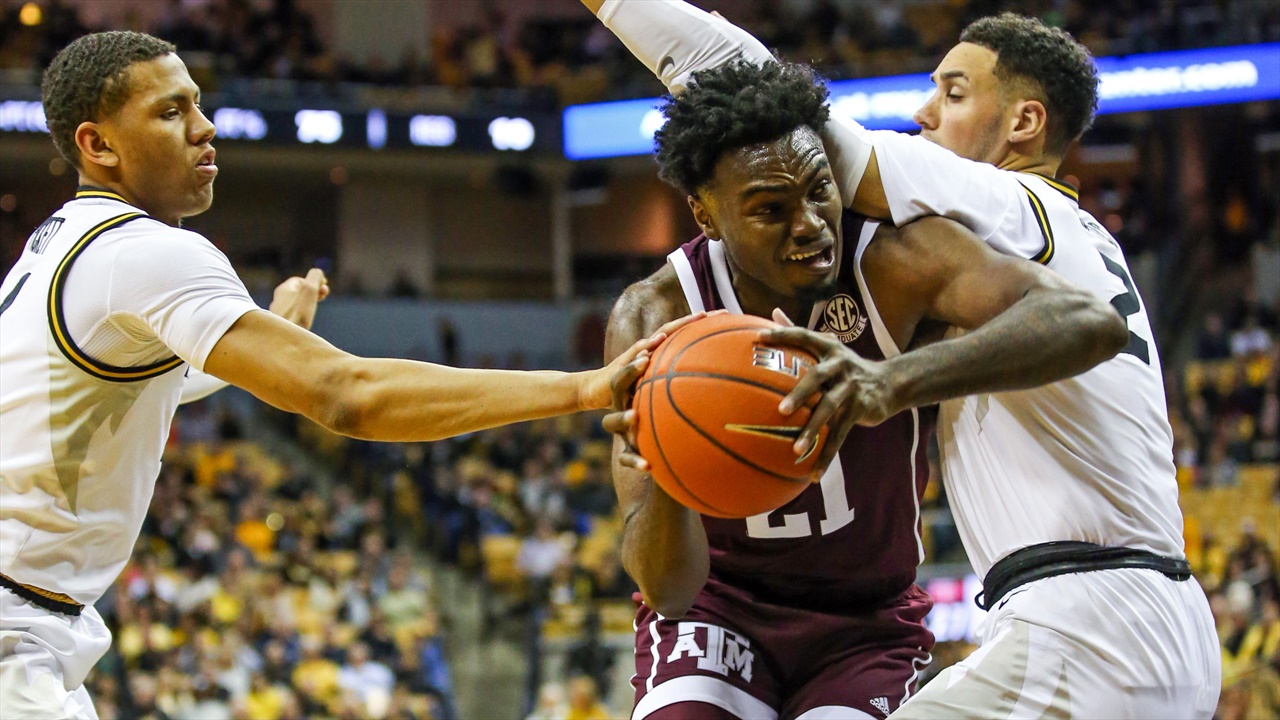 Photo by Jay Biggerstaff/USA Today Sports
Texas A&M Basketball
Battle in the Post: Christian Mekowulu's success key to a victory over South Carolina
---
There are different kinds of rebounds. There is the soft, fall-in-your-lap variety. And there is the physical, toughly-contested, take-it-away from a goon variety. The Aggies (10-3, 3-8) have rebounded with consecutive victories after getting off to a difficult start in the Southeastern Conference basketball race.

But skeptics might compare that rebound, which has come with back-to-back wins over SEC weaklings Missouri and Georgia, to the soft grabs after errant free throw attempts. The Aggies are going to have to get physical to continue their rebound and post a victory over South Carolina in a noon clash on Saturday in Columbia, S.C.

The Gamecocks (12-12, 7-4) have lost four of the last six games, but two of those losses were to No. 1 Tennessee and another was against Kentucky. They're not a dominant opponent, but they have posted almost twice as many SEC victories as Missouri and Georgia combined.

Also, with star 6-foot-9 post Fred Silva, South Carolina is much stronger inside than Missouri or Georgia.
"They are a better team," Texas A&M coach Billy Kennedy said. "We're going to have to have a really good effort for 40 minutes to beat this team. (Fred) Silva is a senior and he's a big kid who's been a factor in every game on both ends of the floor. Their guards are shooting the ball at a high level. They made 14 3's against Tennessee, so we're playing a very good team."
A&M is starting to look like a good team, too. Not only have the Aggies posted consecutive wins, but they've been competitive in recent losses to Ole Miss and Tennessee.
Guard T.J. Starks has scored 34 points in the last two games. Guard Wendell Mitchell had an off night and only scored nine points in a 73-56 victory over Georgia, but averaged 20.3 points in the previous three games.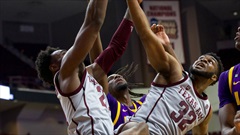 Lia Musgrave, TexAgs
But nobody is hotter than senior post Christian Mekowulu, who has posted 30 points and 25 rebounds in the last two games.
"I think he's been consistent with his effort," Kennedy said of Mekowulu. "It's just a matter of doing it against a better team. I really expect him to play well. But Silva is another level matchup. It's going to be a good matchup for him."
Mekowulu is expected to get some inside help from 6-foot-9 junior forward Josh Nebo, who has sat out the two games with a knee injury. Nebo had posted double-doubles in two of the three games before his injury.
Kennedy said Nebo was involved in practice on Friday and expected to play against South Carolina. The Aggies figure to need him because South Carolina's inside muscle isn't limited to Silva.
"Our lack of depth hasn't hurt us the last two games," Kennedy said. "In this game – because they play two bigs the whole game and bring another big off the bench – it's important we have Josh because of their interior depth is better than the last two teams we played."
Never miss the latest news from TexAgs!
Join our free email list